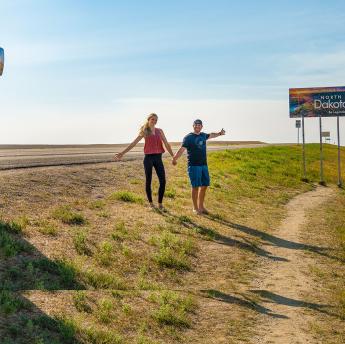 North Dakota Trip Ideas: Find Adventure Everywhere
North Dakota is wide-open spaces, beautiful landscapes, history, friendly people and much, much more. Come to North Dakota to Be Legendary.
Road trips have long been an American tradition and across North Dakota, every road leads to discovery. You'll find lodging, dining and incredible experiences fit for every budget. Here are some of the state's more popular routes and things to see and do along the way. These suggested routes lead through major cities and small towns; to attractions big and small; and to unique events and festivals that add to the Legendary charm of North Dakota. Take time to traverse one or all while listening to this playlist to keep you rolling down the road. You will be glad you did.
Journey Through North Dakota
The 2022 Midwest Living Road Rally is featuring North Dakota's road trip experiences in their June 2022 issue.

North Dakota Travel Guide
Who doesn't love a road trip? The new Travel Guide will help you plan an unforgettable trip. Order your free guide today to start planning your next North Dakota vacation!
Travel Awaits touts North Dakota
Hear what TravelAwaits.com has to say about North Dakota and what they recommend you should definitely see and do while here!