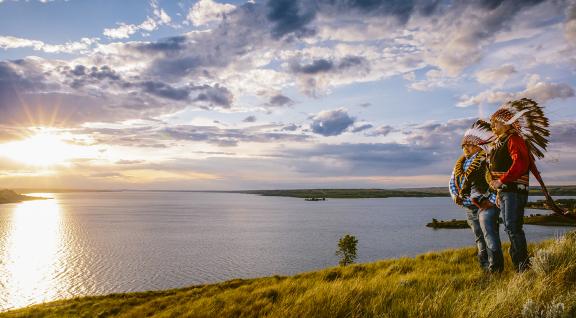 Native American Culture
The sovereign First Nations who share geography with North Dakota are an essential part of the state's history. From the bluffs of the Missouri River to the sweeping prairies and woodlands near the Canadian border, the legends of North Dakota are anchored by the culture of its first people. From Sitting Bull to Sakakawea, the state is rich in Native American history and culture, as well as history of explorers like Lewis and Clark who were intrinsically bound to the Native heritage. 
We welcome you to explore tribal lands and experience Native American culture, history, heritage, beauty and art through powwows, historic sites, interpretive centers, museum, Native-owned businesses, resorts, casinos, scenic byways and more.
There are approximately 30,000 Native Americans living in North Dakota. Though the individual tribes have distinct and different origins, histories and languages, Native Americans are united by core beliefs and values that emanate from respect for the earth and an understanding of humankind's relationship with nature.
Tribal Tourism
A Proud History
Just as the name "Dakota" means "friend" or "ally" in the Lakota language, the hand of friendship and hospitality is extended to you as you journey here to explore the tribal lands and discover the beauty of Native American culture.
Native American-owned Business Spotlight
Pemmican Patty Food Company
Q: What inspired you to start your business, and how has your Native heritage influenced the unique aspects of your business?
A: I started my business out of a personal, as well as a cultural, motivation. After working entry-level, low paying jobs all my life, I was fast approaching retirement age and looking for something more meaningful in the latter stages of life. I wanted to do something that truly mattered to me and others.  I also wanted to honor my mother's advice to be proud of my Native American and Metis (mixed race) heritage. Growing up outside the Turtle Mountain Indian reservation in North Dakota, I felt disconnected from my culture and identity. I wanted to reconnect with my roots and share them with others. My business is a way of learning and celebrating my heritage, as well as passing it on to future generations.
Q2: Are there any unique cultural or traditional elements integrated into the products or services your business offers?
A2: Pemmican Patty food products are inspired by my family tradition and the Native ways of my grandparents and ancestors. I want to revive the glory of pemmican, a food that sustained my people for centuries and almost disappeared like the buffalo. I also want to honor the spirit of entrepreneurship that my people showed when they adapted to changing circumstances and created new opportunities for themselves and their future generations. For example, the Metis people traded pemmican across the continent. My products use natural ingredients that reflect my culture and history, such as maple water, bison, and berries. They are healthy, clean, and delicious. They also tell a story of how I am carrying on traditional ways and values, such as community, food sovereignty, and pride in my heritage.