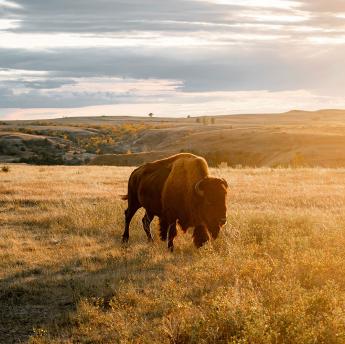 If you visit one U.S. national park this year, make it Theodore Roosevelt National Park. 
Set in the colorful canyons of the western North Dakota Badlands is a national park that deserves to be on your travel list. Without the crowds and waiting lines common to some parks, it's easy to discover a sense of freedom at Theodore Roosevelt National Park. Park trails and drives take you to scenic vistas with stunning views of the Painted Canyon and the Little Missouri River, a petrified forest and open range populated by bison, horses, elk, prairie dogs, and other wildlife.
In addition to the park trails, the Maah Daah Hey Trail offers 144 miles of non‐motorized single track through the Badlands and is recognized as one of the top mountain biking trails in the U.S.
Any season is a good season to enjoy the scenic wonders of North Dakota's Theodore Roosevelt National Park.
Theodore Roosevelt National Park had a transformative effect on the nation's "Conservation President" and it has the same effect on visitors today.
Visit all three units. The South Unit is the largest of the three and is anchored by the Old West town of Medora, a popular family destination, and don't miss the Painted Canyon Visitor Center east of Interstate 94. The North Unit near Watford City has a must-drive scenic byway with a breathtaking panorama at Oxbow Overlook, and keep an eye out for bighorn and longhorn sheep. Stop to see the cannonball concretions, giant cannonball-shaped rocks formed by wind and water. The Elkhorn Ranch Unit was the site of Roosevelt's North Dakota home where he lived and ranched.
Relax and unwind under a brilliant sunny sky or under the illuminating light of millions of stars. Reconnect with the great outdoors, with family and friends at Theodore Roosevelt National Park.
FOLLOW IN THE FOOTSTEPS OF A LEGEND