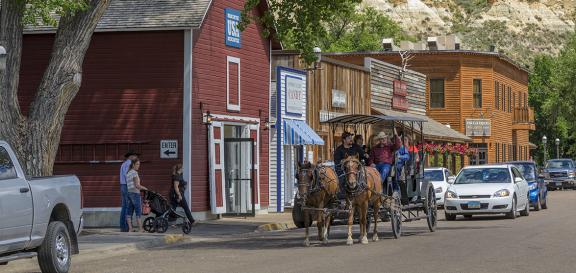 Medora
Medora is located in the Badlands of North Dakota and is the gateway to the south unit of Theodore Roosevelt National Park. Plan a vacation to this historic town and enjoy the beautiful scenery it has to offer. Theodore Roosevelt National Park is an outdoor enthusiast's dream, offering amazing road biking and hiking trails, camping and relaxation. Wildlife, including bison, deer, prairie dogs, wild horses and eagle, are plentiful. Check out Painted Canyon and be amazed at the natural beauty. A loop ride in the South Unit gets you up close with the varied wildlife in the park. 
With many options to choose from, there is no "typical" day in Medora. Your visit might include a horseback ride in the Badlands at the edge of town followed by a visit to the North Dakota Cowboy Hall of Fame. Grab some grub at Maltese Burger, Badlands Pizza and Saloon, Boots Bar and Grill or the Cowboy Cafe then take an evening drive or hike in the park. Cap the day with a meal and drink at Theodore's Dining Room in the Rough Riders Hotel.
Day two could start with a light breakfast before playing 18 holes on one of the more scenic golf course in the country, Bully Pulpit Golf Course. Whether you shoot 72 or 100, you're going to build up and appetite, so head over to Tjaden Terrace adjacent to the Burning Hills Amphitheatre for a pitchfork steak dinner with all the trimmings on the bluffs overlooking Medora. Then settle in for the nightly Medora Musical.
Click here for more information on more things to see and do in Medora
How to spend a perfect day in Medora, by Travel Awaits
The Legendary Town in the Badlands: Medora, ND
Step back in time when cattle was king on the prairie and Old West towns like Medora were gathering places for the people brave enough to settle in the rugged Badlands.