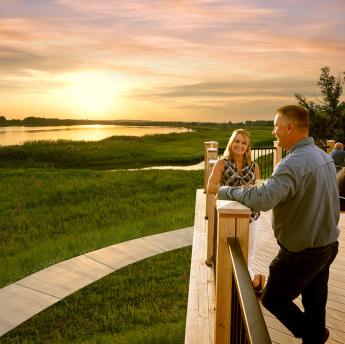 Enjoy arts, entertainment, shopping and vibrant downtown scenes in North Dakota cities
Thank you for your interest in North Dakota. Now is a great time to find inspiring vacation ideas and North Dakota's urban centers have all the amenities of major metros with a fraction of the crowds. Here you can find unique dining experiences, wineries and craft breweries, art museums, new hotels, concerts, festivals and other events, plus boutique and name-brand shopping.
Bismarck: The capital city, home to the North Dakota Heritage Center and State Museum, Art Alley 5.5, and extraordinary views of the Missouri River
Fargo: Our largest city, home to the Plains Art Museum, NDSU Bison football, and a downtown you don't want to miss
Grand Forks: Home to the Center for Aerospace Science and UND Hockey in the fabulous Ralph Engelstad Arena
Minot: Home to two of North Dakota's largest events, the Norsk Høstfest and the North Dakota State Fair, along with a thriving arts scene
Easy to get around and plenty of room to play
Discover something new and interesting as you experience the cities of North Dakota. Find art and adventure in Fargo, history and nightlife in Bismarck, the Roosevelt Zoo in Minot or enjoy shopping and golf in Grand Forks. No trip to North Dakota is complete without a taste of the city life.
Everything's Great When You're Downtown