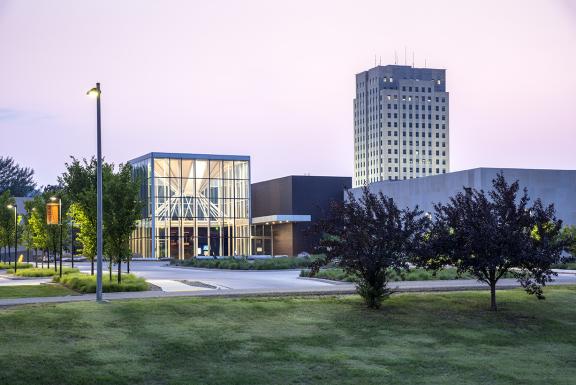 Bismarck & Mandan
The Bismarck-Mandan area has welcomed visitors since Lewis and Clark paddled up the Missouri River in 1804. The capital of North Dakota, Bismarck is a hub of culture, history and shopping. Don't miss attractions like the Dakota Zoo, the North Dakota Heritage Center and State Museum and Fort Abraham Lincoln. From the observation deck on the 18th floor of the North Dakota State Capitol, visitors get a bird's-eye view of just what it is that makes Bismarck a true destination. 
History stares back from the Fort Abraham Lincoln blockhouses on the bluffs to the southwest and boats ply the Missouri River, which separates Bismarck and Mandan. In the summer and fall, you can book a dinner cruise on the Lewis and Clark Riverboat or stop in the Huckleberry House a new restaurant by chef Cody Monson with modern comfort dishes inspired by North Dakotan & Scandinavian tradition and nestled inside the landing on the Missouri River.
Trees cover the Capitol Grounds just as they do the land on either side of the river, and buildings downtown bustle with life. Bismarck is a shining light of arts, culture, history and the great outdoors. Biking trails are plentiful on both sides of the river. And it's just a stone's throw between eclectic dining and entertainment venues and exciting outdoor things to do.
Things to see and do in Bismarck-Mandan
Unique places to dine in Bismarck-Mandan
 
Special events in Bismarck-Mandan
Witness the Culture and History of Bismarck, ND
From the first European explorers of Lewis and Clark to the nation's largest present day powwow, Bismarck/Mandan is a place to explore, learn and grow.