8 Stops on North Dakota Dinosaur Tour
North Dakota Heritage Center and State Museum
Fossil exhibits here trace the history of life in North Dakota from about 90 million years ago to present day. View the Corridor of Time and learn about North Dakota's prehistoric background through exhibits like Dakota the Dino-Mummy, the Mosasaur, a Paleocene Era Pond Exhibit, Mastodon and Bison latifrons skull.
612 E Boulevard Ave
Bismarck, ND 58505
United States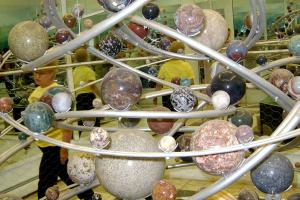 Paul Broste Rock Museum
One of North Dakota's most unique and interesting museums is named for a farmer who had an inordinate fondness for rocks, minerals and fossils. Broste amassed a huge collection over many years and built a museum out of field stone to house his collection.

Parshall, ND
United States
Three Affiliated Tribes Museum
See the cast of the skull of the giant bison, Bison latifrons, at this heritage center built to preserve history and culture of the Mandan, Hidatsa and Arikara people. The original skull was found along the shore of Lake Sakakawea near New Town.

New Town, ND
United States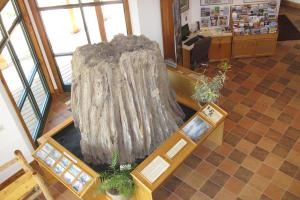 Long X Visitors Center
While excavating a prehistoric crocodile remains, a huge, beautifully preserved petrified tree stump was discovered still in growth position. After the rock was removed from around the stump it was determined to be nine feet in diameter and eight feet tall – the largest petrified tree stump ever seen in North Dakota.

Watford City, ND
United States
Dickinson Museum Center
North Dakota's dino gem houses 11 full-scale dinosaurs, including a real skeleton of a Triceratops. View a complete Triceratops skull in the museum's model lab and rare minerals and rocks from around the world.
231 W Museum Dr
Dickinson, ND 58601
United States
Dakota Prairie Grasslands, Medora Ranger District Office
Sixty-million-year-old crocodile remains from the famous Wannagan Creek fossil site on U.S. Forest Service administered land near Medora are featured in this small exhibit in the Medora Ranger District Office in Dickinson.
161 21st St. West
Dickinson, ND 58601
United States
North Dakota Cowboy Hall of Fame
The museum debunks the myth that horses did not inhabit North America until they were introduced by the Spaniards during the early days of conquest. See for yourself and view the skeleton of the 30-million-year-old horse, Mesohippus, proving horses are indigenous to North America.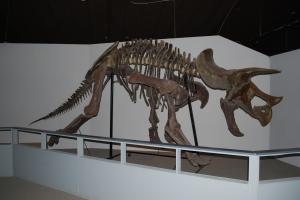 Pioneer Trails Regional Museum and Paleontology Department
This regional research and repository for history from within 100 miles of Bowman is active in archaeological and paleontological research and houses preservation collections relating to North Dakota history. The museum also showcases local artists and traveling displays and sponsors guest speakers.