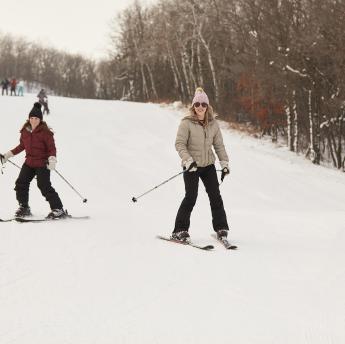 Winter Activities
Wintertime in North Dakota means it's time to get out and play, so take advantage of the unique recreational opportunities that can only be enjoyed this time of year. Admire the beauty of the white blanketed landscape as you enjoy cross-country skiing and snowshoeing, ice skating, ice fishing, downhill skiing, snowmobiling and more. Some of the most fun activities are those enjoyed by parents and kids alike. Take sledding, for instance. Grab a sled, find a hill and get busy creating lasting memories.
North Dakota has more than 2,800 miles of groomed trails spread out along 14 trail systems. And that's just the official Snowmobile North Dakota trails. Hundreds of miles of other trails lead to and through some of the most scenic areas in the state.
Anglers love the change of seasons. They go from open-water fishing from a boat or a shoreline, to ice fishing on an upturned bucket or a modern icehouse on the middle of a lake. The technique and bait may change, but the challenge and the excitement remain. Head to Devils Lake, Lake Sakakawea, Lake Audubon, Lake Metigoshe and hundreds of smaller lakes and rivers to chase northern pike, walleye and perch.
Year-round activities in the great outdoors have positive effects on health. Winter is a grand season for relaxing or vigorous outdoor recreation. Change up your routine with wildlife viewing, hiking and fat tire biking on thousands of miles of trails. Expect an average temperature of 24° Fahrenheit (-4° Celsius).
Looking for an adventure in lodging? Book a yurt! Yurts fall somewhere between a tent and cabin and they have transformed winter camping in the state. The yurts in North Dakota's state parks are luxurious with a rustic backwoods charm. They have heat and electricity, so there's no need to stoke the fire after returning from a chilly hike, unless you want to.
In North Dakota, three state parks feature yurts as part of their lodging packages: Cross Ranch State Park near Washburn, Lake Metigoshe State Park near Bottineau and Fort Ransom State Park near Fort Ransom.

Discover our Winter Adventures in North Dakota
Winter Adventures
In North Dakota, winter can renew your spirit. It's a season of opportunity to safely explore. To get fired up and put your inhibitions on ice. So get out the skis, skates and sleds. There's a winter wonderland to discover outside, and the warm welcome of open restaurants, shops and more inside.