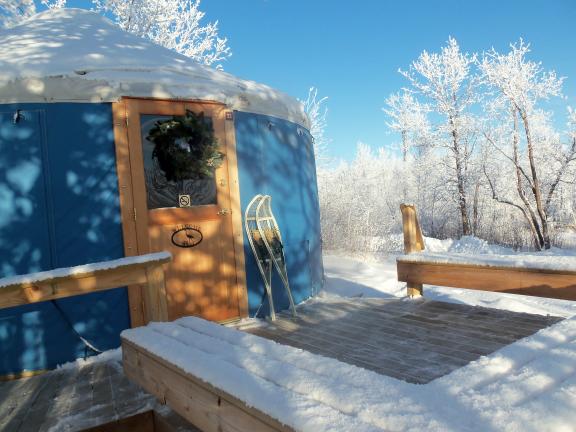 Yurting in North Dakota
Unique winter camping option awaits in state parks

A full moon rises over the snow-covered countryside, reflecting off the snow and through the trees devoid of leaves. The countryside is bathed in a surreal white landscapes, and ice chunks crack in the distance as they work their way down the Missouri River. It's an awe-inspiring scene, and when the cold gets to be to much, you can retire to the comforts of a yurt for an evening of hot drinks and fun with friends or family.
Yurts fall somewhere between a tent and cabin and they have transformed winter camping in the state. The yurts in North Dakota's state parks are luxurious with a rustic backwoods charm. They have heat and electricity, so you don't need to stoke the fire after returning from a brisk hike, unless you want to.
In North Dakota, three state parks feature yurts as part of their lodging packages:
The heated, spacious and sturdy framed circular structures are a step up for glamping it, but the newest yurts at Fort Ransom take the experience to a new level. The new yurts at Fort Ransom have two bedrooms, lofts and full bathroom - a luxury not seen in a lot of places. Cross Ranch State Park has three yurts and Lake Metigoshe has another. All three parks have excellent year-round recreational opportunities.