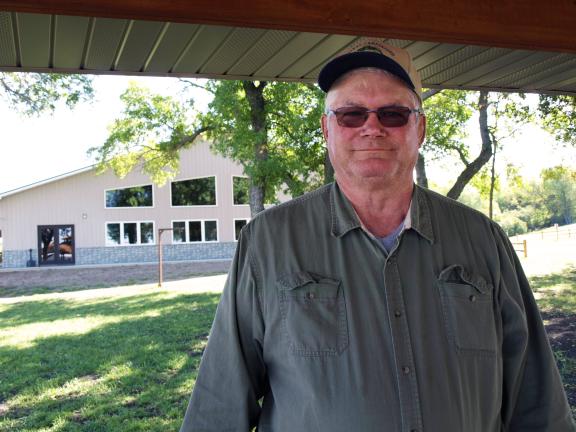 Bill Wood: Eastbay Campground
"We're always building another project here somewhere."
Summer mornings start bright and early for Bill Wood at Eastbay Campground on Devils Lake. Every day, you'll find Wood starting the coffee and getting ready to hear about yesterday's catch or today's plans from his guests. The campground's self-proclaimed "chief cook and bottle washer" insists that it's his favorite part of the day.
Bill has lived his whole life on a farm southeast of the town of Devils Lake. He and his wife, Valerie, farmed the land until 1998 when the lake reached a level at which they started losing pasture land. They knew they would somehow have to supplement the farming income. With land slowly being gobbled up and a nearby campground over capacity with people looking for sites, an opportunity presented itself to the Woods, and Eastbay Campground was born.
Over the next two years, Bill and Valerie built the foundations for this recreational escape while still trying to keep the farm running. "By the year 2000, I was out of the farming and built the bait shop up there," Wood said. They were in the campground business full-time. Bill and Valerie were not alone in using lifelong agriculture skills to build new businesses in and around Devils Lake. Bill states "most people don't realize that the lake came up an average of 16 inches a year for 15 years" when the flooding was at its worst. "It caused a lot of stress for the community," he added. Communities around the lake have pulled together again and again to build new ways of life, in turn providing great tourism opportunities.
To become a family-oriented destination, Bill and Valerie used that can-do spirit to grow Eastbay Campground and add new amenities every few years based on the needs their guests. Some of these include boat rentals, kayaks, sand volleyball, a fish-cleaning station, playground, gazebo, cabins and the beautiful new Odessa Center that seats around 400 people.
And what does a campground that's 16 miles away from Devils Lake mean to the community? Bill states that on any given day during the summer he can go into town and see his guests all over town supporting the community.
In the Devils Lake area, when Eastbay Campground is full, Bill also recommends:
Outside of the Devils Lake area, Bill encourages his guests to visit Medora, especially the Medora Musical and the Pitchfork Fondue. He loves the wide-open area and the views from that location.