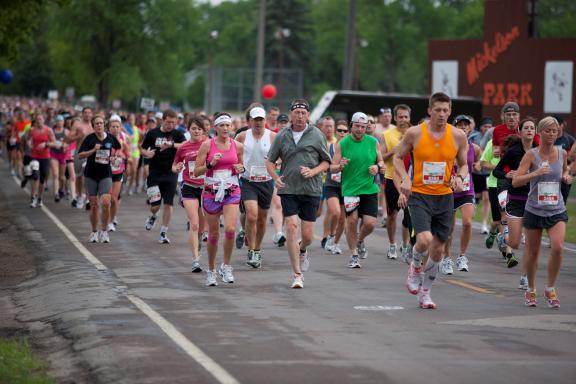 Running on Anything but Empty
If lacing up the shoes and hitting the pavement or trail is your idea of fun, let's go!
Some people run to stay in shape; others to get somewhere in a hurry; and others just because they can and they have fun doing it. For those who run, there are always others who enjoy the activity just as much and enjoy jogging along while carrying on a conversation. North Dakotans and their guests are no different. They run marathons or walk 5K charity events. They have their favorite course they follow every day or they pace themselves through the challenge of an ultra-marathon. Several running clubs bring like-minded people together, including Bis-Man Runners in Bismarck, Lake Agassiz Pacers in Fargo , Magic City Striders in Minot and Red River Runners in Grand Forks.
North Dakota runners find camaraderie in gyms and running clubs and by taking part in several events in the state. For fun on the run, check these out:
If marathons and half-marathons are a little too much to bite off, there are shorter events in which to line up:
And finally, if pushing yourself to the extreme is your idea of fun, Extreme North Dakota Racing is for you. None of its events are what anyone would call typical. And it's that way for a reason. Adrenaline junkies and those who to push their bodies to the limits will enjoy these events.