Visit Ranches, Farms and Gardens Throughout North Dakota
Experience North Dakota agritourism at the sites found all around the state
Eastern North Dakota
Adams Fairview Bonanza Farm, Wahpeton 
Listed on the National Register of Historic Places because of agricultural significance. Tour this craftsman bungalow, built in 1880s and extensively remodeled in 1904.
Bagg Bonanza Farm, Mooreton
One of the last remaining bonanza farms in the U.S. The centerpiece of the 15-acre farm is a fully restored 21-bedroom main house. National Historical Landmark.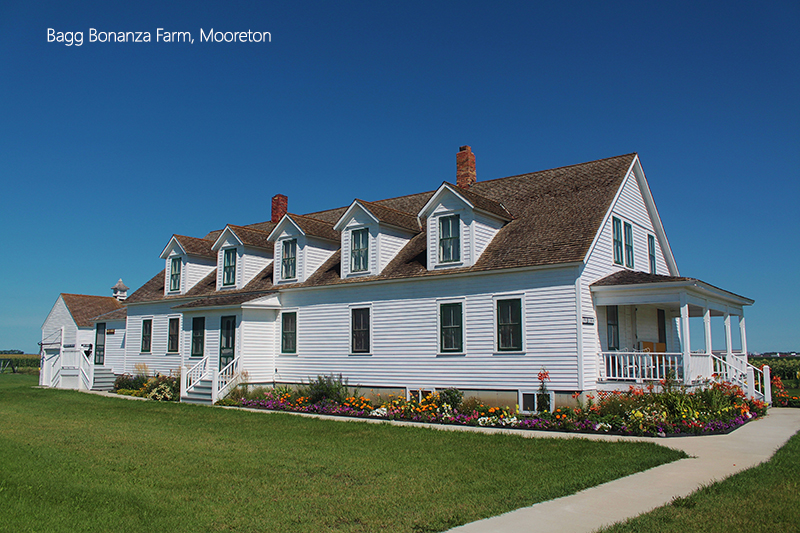 The Children's Museum at Yunker Farm, Fargo
Hands-on exhibits and creative, unique learning opportunities for children and families. The museum includes mini-golf, train and carousel rides, children's gardens, nature trails and a playground.
Northern Crops Institute, Fargo 
Situated on the campus of North Dakota State University, this unique facility is only minutes from the farm fields which yield much of the world's food and supports the promotion and market development of crops grown in a four-state region. 
Bonanzaville, USA, West Fargo 
Self-guided tour of 40 buildings includes authentic log cabins, school house, church, train depot and mansion. Automobile, tractor and airplane collections. Annual summer events.
Japanese Garden, Grand Forks 
A gift from the residents of Grand Forks' sister city, Awano, Japan, this lovely and unique garden features the beauty of rocks, water, hills, trees and plants throughout the landscape of Sertoma Park. 
North Dakota Mill & Elevator, Grand Forks 
The North Dakota Mill & Elevator is a state-owned milling facility that produces spring wheat and durum flour by processing of North Dakota's grain crops into high-quality products. The North Dakota Mill and Dakota Maid products are distributed for commercial and retail sale throughout the country and worldwide. Tours by appointment only. 
Siouxland Buffalo Ranch, Grand Forks 
Ranch features herds of buffalo, a meat processing plant and a buffalo gift shop.
Maple River Winery, Casselton
Tour and wine sampling takes about an hour. Pride of Dakota gift shop.
Red Trail Vineyard, Buffalo 
Trail Vineyard is one of the largest vineyards in the state. The site is surrounded by trees and the tasting room is a restored 100-year-old granary.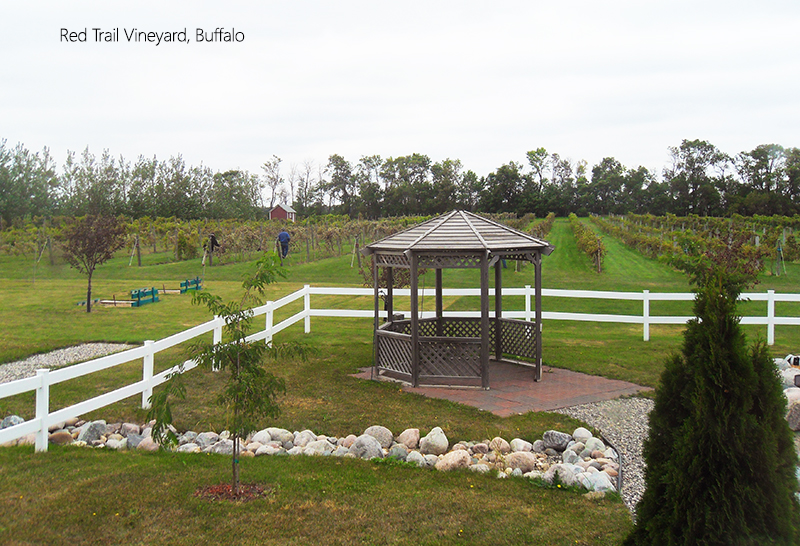 Agriculture Hall of Fame, Rosebud Visitor Center, Valley City
Exhibits explain crops and livestock raised in North Dakota and the role they play in feeding the world. Also view displays on the history of bonanza farms, the Homestead Act and Tree Claim Act, and how they helped make North Dakota an agricultural leader.
Toy Farmer Museum, LaMoure 
Historic barn contains collectible farm toys, displays and gifts.
NDSU Langdon Research Center, Langdon
This 710-acre center conducts research designed to maintain and improve northeastern North Dakota's vital agricultural economy.
North Dakota Wooly Girls, Wales
North Dakota's oldest operating wool mill, Wooly Girls creates original, handmade wool felt vests, hats, mittens and more from the wool of the artists' sheep. Their designs are one-of-a-kind and made from 100% North Dakota wool.
Central North Dakota
Rolling Plains Adventures, McKenzie 
There is no limit to the fun and hospitality that Rolling Plains Adventures offers! This family owned hunting paradise provides North Dakota hunting from September through March and lodging year-round. Enjoy plentiful wildlife, recreation and scenic beauty while you enjoy plush accommodations and the finest pheasant hunting North Dakota has to offer.
Coteau Ridge Ranches, Pingree 
Tour a working buffalo ranch. Adventure packages and lodging for nature tourists available. Tours conducted only for groups of 10 or more by appointment.
North Dakota Wind Farm, Edgeley
North Dakota's first wind farm with 41 wind towers located along Highway 13. Information kiosk located at northeast corner of the wind farm.
International Peace Garden, Dunseith 
2,339-acre botanical garden commemorating peace between the United States and Canada. Known for its bell tower, thousands of flowers and a 9/11 Memorial made from wreckage of the World Trade Center. Questions on passport for the Peace Garden? Click here for details.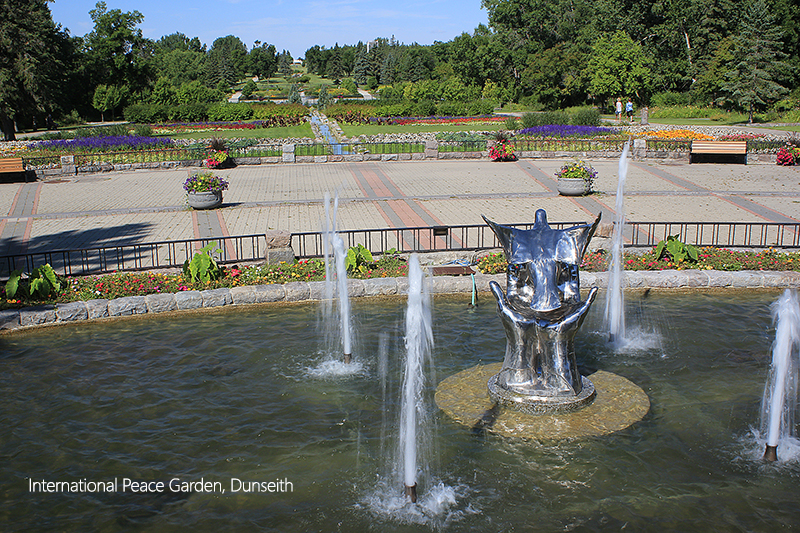 Black Butte Adventures, Velva
Black Butte Adventures is a hiking/biking and agriculture tourism destination near Sawyer. The Effertz family invites you to visit the region and stretch your legs while learning about the area's history, agriculture and native prairie.
North Dakota Forest Service Nursery, Towner
The only state tree nursery in North Dakota specializes in evergreen seedlings for conservation planting. Produces 1.3 million trees per year.
First Farmers Exhibit, Lewis & Clark Interpretive Center, Washburn 
The Mandan and Hidatsa Indians were the first farmers in the state, and were the first to trade their vegetables to other American Indians in the fall. Their crops would play a very important part in the survival of the Corps of Discovery during the winter of 1804-05.
NDSU Research Station, Minot
Research is conducted on small grains, oilseeds, row crops, legumes, forages and other specialty crops. Production is evaluated for no-till and conventional tillage cropping systems.
Western North Dakota
Pointe of View Winery, Burlington 
North Dakota winery specializing in native fruit and honey wines like apple, chokecherry and rhubarb and other varieties.
Maltese Cross Cabin, Medora
Built during the winter of 1883-84, the Maltese Cross Cabin was Theodore Roosevelt's first home in Dakota Territory.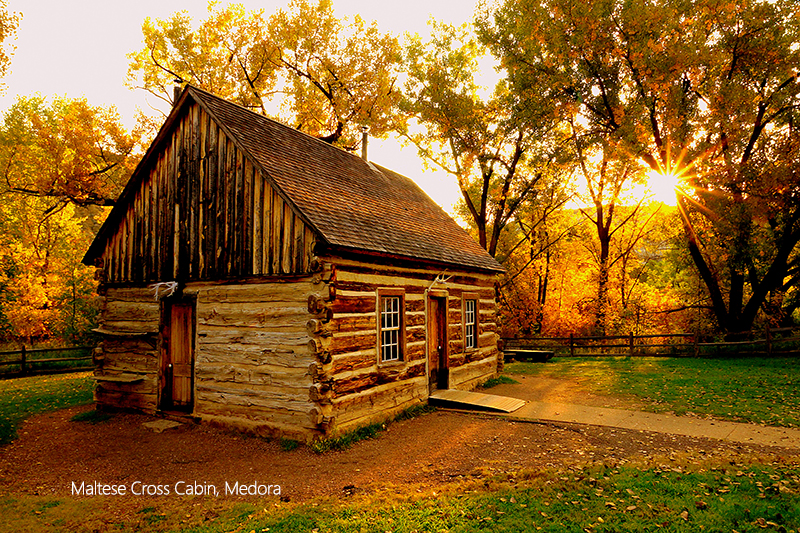 Medora Riding Stables, Medora 
Friendly trail guides and well-trained horses take you on a Badlands adventure along buttes and paintbrush canyons.
North Dakota Cowboy Hall of Fame, Medora 
Center of western and American Indian heritage and cultures, ranching and rodeo, trail drivers and homesteaders. Also features the impact of the horse on the Plains.
Buffalo Gap Ranch, Medora
Badlands ranch just outside Theodore Roosevelt National Park's South Unit with special events, horse boarding, lodging and an on-site restaurant.
Logging Camp Ranch, Amidon 
Logging Camp Ranch invites you to share in the beauty of the Little Missouri River Valley, the cedars and pines, the abundant wildlife and the rugged buttes and canyons of the Badlands.
This 1,200-acre research center was established in 1945 for agricultural field research and pure seed increase. Today, it specializes in crop research and Extension education activities and in foundation seed production.