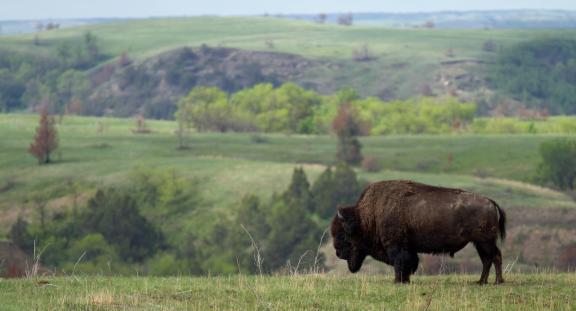 Theodore Roosevelt National Park North Unit Scenic Byway
With majestic herds of bison roaming lush meadows and breathtaking backdrops of brilliantly colored rock formations set against wide-open blue skies, Theodore Roosevelt National Park is a quintessential "Wild West" setting. Established in 1947 to memorialize President Theodore Roosevelt's cherished time in the North Dakota Badlands, the park not only nods to the president's conservation ethic, but it serves as a living reminder of the dramatic beauty found within unspoiled wilderness.
Experience the rugged splendor of the park for yourself with a drive along the Theodore Roosevelt National Park North Unit Scenic Byway. The byway begins 15 miles south of Watford City from U.S. Highway 85 and proceeds west through the North Unit of the park. As 82 percent of the North Unit is designated wilderness area, the drive promises ample scenic views and opportunities for spotting wildlife such as bison, prairie dogs, bighorn sheep, coyotes and even an occasional moose.
Hiking – both day hiking and backpacking – are major activities in the North Unit, and the byway offers several areas for detours along the way.
Along the drive, pull over for an easy hike at Little Mo Nature Trail, where you'll find a 1.1-mile unpaved outer loop and a 0.7-mile ADA-accessible paved inner loop. Grab a brochure at the trailhead to learn more about this river bottom habitat.
For a more challenging hike, you won't want to miss Caprock Coulee Trail, which leads up a strenuous incline all the way to the top of a grassy butte, where awe-inspiring views along the ridgeline make the climb well worth it. Take a look at the park's hiking trail map for even more excursions during your trip.
Near Caprock Coulee, spend some time at the River Bend Overlook, where you can take in panoramic views of Little Missouri River winding through the valley, surrounded by native grasslands with the vibrant badlands in the distance.
For another spectacular viewpoint, continue along the byway until you reach Oxbow Overlook, located near the west end of the byway. This vantage point offers an up-close look at the badlands, from the smaller, undulating hills in the base of the valley to the jutting rock walls along the edge, striped with vivid colors.