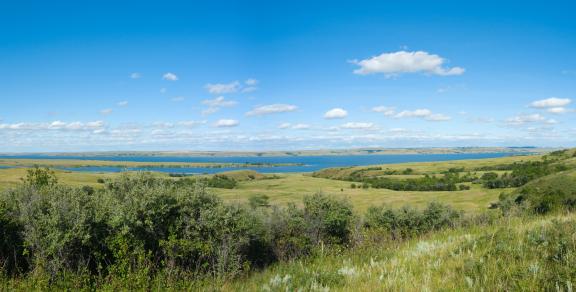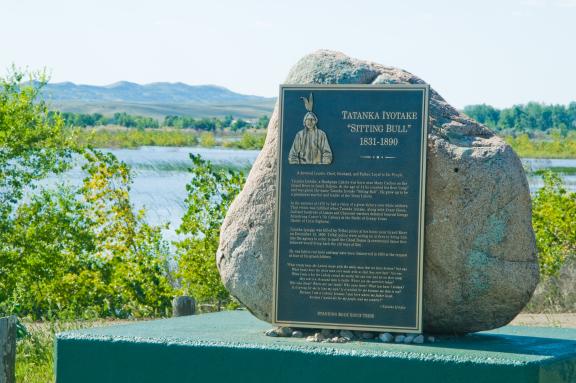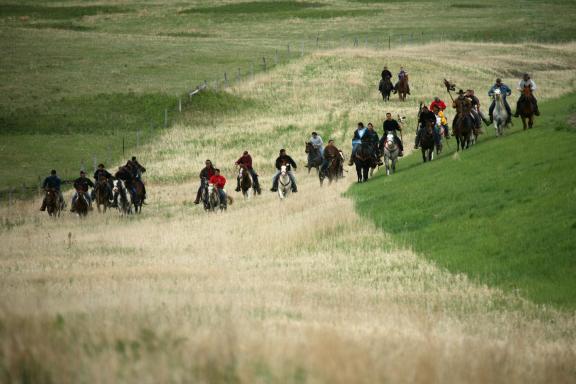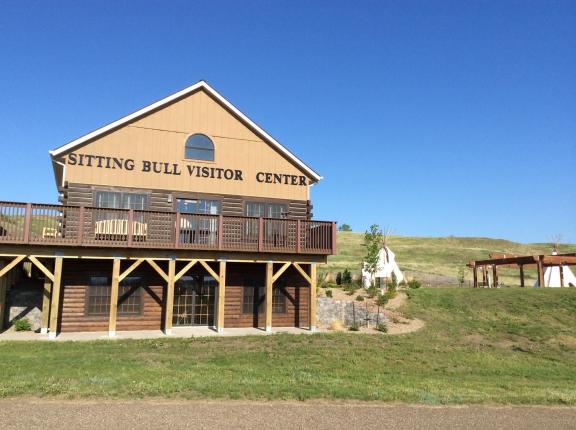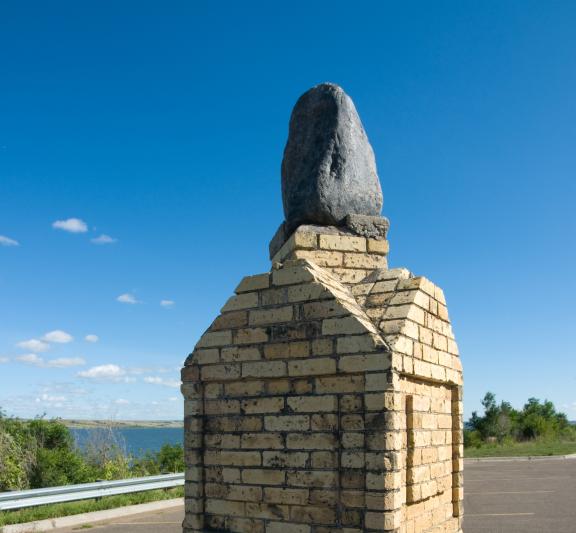 Standing Rock National Native American Scenic Byway
Follow the footsteps of legends when you traverse the Standing Rock National Native American Scenic Byway. This is the place where Meriwether Lewis and William Clark made numerous stops during their expedition, and it is the final resting place of their guide Sakakawea. This area also was home to Lakota spiritual leader Sitting Bull, and mountain explorers such as Jedediah Smith and Jim Bridger passed through. The entire byway is within the boundaries of the Standing Rock Sioux Indian Reservation and begins at the Cannonball River, continuing south along highways 1806 and 24 to Mobridge, S.D.
Paralleling the scenic byway route, the Missouri River sparkles in the distance, with rounded bluffs that make up the eastern border of the Missouri River flood plain. Prairie Knights Marina is located adjacent to Lake Oahe, a 371,000-acre lake on the Missouri River, offering public access, electrical RV sites, showers and a picnic area. Lake Oahe offers some of the best fishing in the region. Walleye, trout and other game fish are simply waiting to supply dinner.
Three one-mile hiking and mountain biking trails are also located at the marina. The trails offer botanical and interpretive signage, restrooms, a picnic shelter and are ADA accessible.
As you continue along the byway to Fort Yates, keep an eye out for herds of colossal bison roaming sprawling pastures.
In Fort Yates, a former military post established in 1874, take a quick picture of the only original building remaining from the town's early military days: the Fort Yates Stockade. Named after Captain George Yates, who met his demise at the Battle of the Little Big Horn, this fort housed soldiers and at one time, Chief Sitting Bull.
While you're in Fort Yates, pay your respects at Sitting Bull's original burial site, where he was laid to rest in 1890. While most recognized for his vital role in the Battle of the Little Bighorn and his involvement in the traveling Buffalo Bill's Wild West Show, Sitting Bull also was a fierce advocate for his Lakota people.
Before leaving Fort Yates, stop by Standing Rock Monument. Legend has it that the rock is the petrified form of a woman and her child, and this symbolic rock inspired the name Standing Rock Sioux Reservation, which is comprised of 2.3 million acres of beautiful prairie.