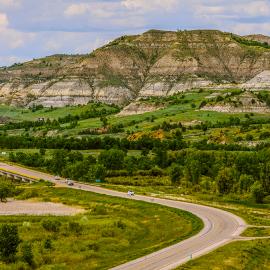 North Dakota Scenic Byways and Backways - And More
Open roads. pristine green, red and golden backdrops, wildlife, waterways in their most natural environments and one-of-a-kind cultural and historic attractions are all found along North Dakota's Scenic Byways and Backways. 
Visitors are encouraged to get out and explore the wonders that beckon from each route. By car, motorcycle or even bike, these designated pathways are your key to the state's best vistas and experiences.  Byways are paved surfaces while backways are generally gravel and dirt roads.