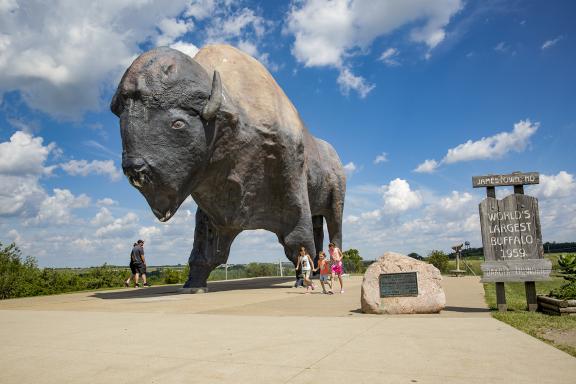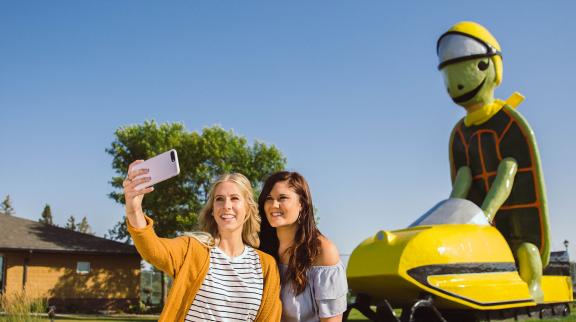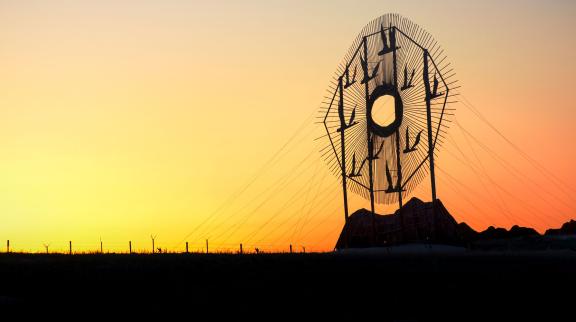 North Dakota's Larger-Than-Life Sculptures
Don't miss these amazing giant sculptures scattered throughout North Dakota.
Have you ever seen a 38-foot-tall cow? How about a 26-foot-tall buffalo? You can see these giants in New Salem and Jamestown, and much more scattered throughout North Dakota. Take a memorable drive down the Enchanted Highway, a 30-mile stretch dotted with giant metal sculptures. On your travels across the state make sure to check out these Larger than Life sculptures:
Tommy Turtle: The world's largest snowmobile-riding turtle in Bottineau is a tribute to the area's excellent winter activities.
Wee'l Turtle: In Dunseith, you'll find the Wee'l Turtle, a huge artistic work that is truly a one-of-a-kind. Constructed of more than 2,000 wheels painted green, it is a must-see tourist attraction.
Viking Statue: 25-foot-tall Viking overlooks the small town of Fort Ransom. Wally the Walleye: The world's largest walleye is in Garrison.
Zombie Golf Giant: Click here to view "Big Gene," a 15-foot-tall guardian at the Garrison Golf Course.
World's Largest Buffalo: Dakota Thunder, a 60-ton concrete tribute to the buffalo, watches over the Frontier Village and the city of Jamestown.
Salem Sue: The world's largest Holstein cow stands above the town of New Salem and looks out over I-94 and the many dairy farms in the area.
Enchanted Highway: The Enchanted Highway to Regent features the world's largest metal sculptures produced by artist Gary Greff.
Northern Lights Tower: This 88 1/2-foot-tall illuminated steel structure, coated with multi-colored shades of metallic paint in Rugby, is dedicated to one of Northern Plains' most stunning natural phenomena, the spectacular Northern Lights.
Theodore Roosevelt: This 20-foot tall bust of Theodore Roosevelt calls Watford City home. It welcomes visitors to the Roosevelt Inn that celebrates the legendary president just outside of the National Park named after him. 
Sandy: The world's largest sandhill crane in Steele honors the great birding in the Central Flyway.
Rusty the Turtle: The two-ton turtle greets visitors to Turtle Lake.
Wally the Walleye is a 26' fiberglass statue that represents the great walleye fishery at nearby Lake Sakakawea.
Wahpper the Catfish: The world's largest catfish is in Wahpeton in southeastern North Dakota.
Meriwether Lewis, William Clark, and Mandan Chief Sheheke: The 12-foot-tall steel statues at the Lewis and Clark Interpretive Center in Washburn.
Seaman the Dog: Meriwether Lewis' dog, Seaman escorted the Corps of Discovery to the Pacific Ocean, the 6 foot steel statue can be seen in Washburn.
Wheat Monument: A permanent tribute in Williston to progress made from pioneer days to present day. The monument to agriculture rises 35 feet and black granite panels are made from same stone used in Vietnam Memorial.