Winter in North Dakota: Embrace the Change
Don't fret the oncoming winter, embrace the opportunities it presents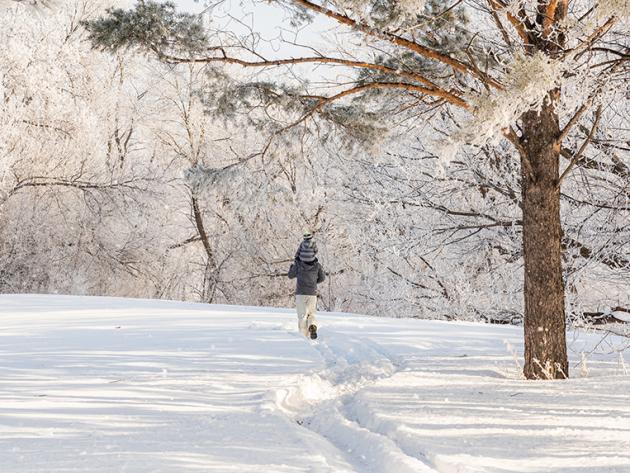 Winter is a beautiful time to enjoy North Dakota. Embrace the outdoor adventure and opportunities. It won't last long, so take advantage of these North Dakota adventures:
Wildlife Viewing in Theodore Roosevelt National Park: If you think bison are impressive in the summer, you should see them covered in snow. Scout out wildlife on the trails within Theodore Roosevelt National Park, or look for then on the scenic drive to Wind Canyon, then go into Medora for a warm drink and soft bed.
 Click here for more on the Theodore Roosevelt National Park.
Star Light, Star Bright, a Million Stars I See Tonight: North Dakota is among the best places to see the sites in the celestial heavens – northern lights included. Find a dark place, not hard in the countryside, look to the skies and watch. On a clear night, millions of stars will twinkle and the northern lights will often dance across the horizon. Click here to learn more.  
Open-Water Fishing: Wait. What? Yep, open water year-round. Despite below-zero weather, open-water fishing in available year-round at Nelson Lake near Center and the Missouri Tailrace at Garrison Dam. Darkhouse spearfishing is just what it the name implies.
 Click here for the best ice fishing hotspots. 
Snowshoeing the Maah Daah Hey Trail: A pair of snowshoes adds an interesting twist to a day hike in the Badlands. Strap on a pair to make follow the trail up and down over buttes and through draws, stopping often to take in the scenery. Click here for more on the Maah Daah Hey Trail. 
Ski Frost Fire: The downhill ski and snowboard area in the Pembina Gorge near Walhalla installed new lifts and is open again for skiing. Schuss or weave to your heart's content, then and eat and warm up by the fireplace in the lodge.
 Click here for more on Frost Fire Park.
Cross-Country Skiing at Cross Ranch State Park: This park is built for cross-country skiing, trails wind through the woods, along the riverbank. Deer watch intently and the cozy warmth of a yurt will complete an unforgettable day. Click here for more on Cross Ranch State Park.
Ice Fishing Devils Lake: Can 33,000 anglers be wrong? Don't worry, there's plenty of room on this big lake, one of the top fisheries in the nation. Spend a day on the ice with a guide or by yourself, catch your limit. Then do it again tomorrow. Click here for more on Devils Lake. 
Snowmobile the Turtle Mountains: The Turtle Mountains area along the Canadian Border is a premier snowmobile area, with consistent snow and 177 miles of trails in a woodland unique to North Dakota. The trail systems links up with the Canadian trail system at the International Peace Garden. Click here for snowmobiling the Peace Garden Trail.
Make it a Skate Date: Town Square Park in downtown Grand Forks is flooded every winter to make a skating rink - it is, after all, Grand Forks. Glide around with friends or family, then slide over to one of the city's quaint coffee shops, pubs or eateries. Click here for more skating information. Skaters also have a home among hikers and skiers at Icelandic State Park near Cavalier as the park has added a skating rink to its winter offerings.
Fat Biking at Lake Metigoshe State Park: It's one thing to hike a snow-covered trail, it's another thing to bike that trail. Fat tire winter biking has taken off and the trails at Lake Metigoshe State Park are perfect for it. A cozy cabin in the woods with a roaring fire awaits after a day on the trails. Click here for more about Lake Metigoshe State Park. 
Lehr It Is!: It figures that a town centered in a land of small lakes would be surrounded by fish. Pothole lakes are stocked full of walleye, northern pike and perch. No need to crowd around, there are enough hotspots and comfortable housing to accommodate everyone. 
Where the Reindeer and Big Cats Play: The reindeer at Minot's Roosevelt Zoo don't pull sleighs, but they enjoy being out in the snow nonetheless. The snow leopards don't mind if you come around either, nor to the Amur tigers, African lions or Kirk's Dik Dik. Winter actually is a better time to see the animals active.
Snowboard Huff Hills: Get gnarly on the bluffs above the Missouri River. Ramps, kickers, rail, barrels and even stump jumping await on the terrain park.
 Click here for more on Huff Hills. 
Trade Stories at the Fort: Visit Fort Union near Williston to get a feel for winter living in a trading post on the Northern Plains. The reconstructed fort, called the "Grandest on the Upper Missouri" was a hub of trade between tribes and trappers at the confluence of the Missouri and Yellowstone rivers. Click here for more on Fort Union Trading Post.
Tubing in the Mountains: When you get tired of skiing and snowboarding, pick up a tube and make some runs down the tubing park at Bottineau Winter Park in the Turtle Mountains. Race down and be towed back to the top. Repeat over and over. Click here for more on Bottineau Winter Park.
Nature's Wonders: North Dakota can be visually stunning in the winter. Look for sundogs, ice circles on rivers and beautiful silhouettes created by hoarfrost.
This is only a small sampling of the many ways to Be Legendary this winter in North Dakota. There are many other things to see and do. Click here for all the ways to Be Legendary.