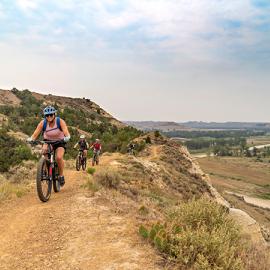 13 Fantastic Hiking and Biking Trails in North Dakota
Hiking and biking trails criss-cross North Dakota, creating a patchwork of routes that lead to whatever the soul seeks. Hiking trails range from difficult on the Maah Daah Hey to easy on recreational paced routes in larger cities. Bikers can peddle slowly along river bottoms and grasslands or furiously climb some of the steep grades in the Badlands. Take your pick of this baker's dozen.
Little Missouri State Park
More than 25 miles of trails crisscross this popular park's stunning Badlands terrain. Most trails are accessible only by horseback or foot. You must bring your own horse. Bobcats, mule deer, golden eagles and other wildlife roam this primitive North Dakota park.
Lake Metigoshe State Park
Nestled in the scenic Turtle Mountains on the shores of Lake Metigoshe, this state park includes several miles of rolling hills and multi-use trails. Check out the cabin rentals available in summer and winter.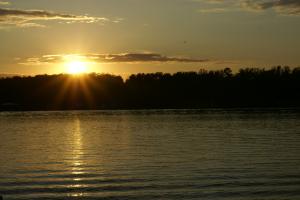 Turtle Mountain State Forest
Hike the winding, heavily wooded trails of the Turtle Mountains. Both day-long riding facilities and primitive camping are available at Strawberry Lake. Rest your legs and take a leisurely drive along the Turtle Mountain Scenic Byway.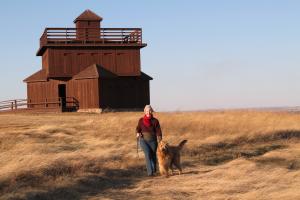 Fort Abraham Lincoln State Park
Portions of the military post, including the Custer House, have been reconstructed. Travel back in time on your own steed or join a trail ride across these historic North Dakota grounds.
North Country National Scenic Trail
This trail is a premier footpath that links communities, forests and prairies across seven northern states. Much of the NCNST in North Dakota is located on open, rolling prairie, perfect for scenic strolls and photo ops.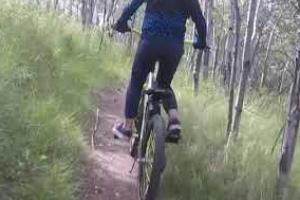 Harmon Lake
Northwest of Mandan, Harmon Lake has a nice sandy beach area and several trails. Current trails for hiking and biking cover 9 and 13 miles, with more in the works.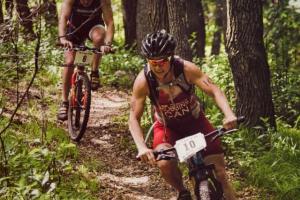 Pipestem Creek Trail
Winding 8-mile trail packs plenty of heart-pumping fun into a relatively small area. If eight miles is too much of a challenge, take on the 3-mile outside loop that is great for hiking, a challenging mountain bike ride or an off-road run. 
Jamestown, ND
United States
Theodore Roosevelt National Park - North Unit
Get spectacular views along the 14-mile scenic drive, which features turnouts with interpretive signs. Self-guided nature trails take you through coulees and breaks. Visit the prairie dog town, Oxbow Overlook and the Edge of Glacier Pullout.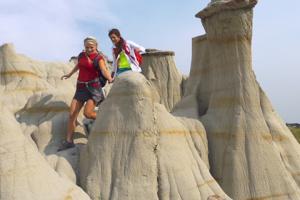 Theodore Roosevelt National Park - South Unit
Admire the 26th president's contribution to conservation at this national park. The North Dakota Badlands provide a scenic backdrop, and you may spot buffalo, deer, elk, bighorn sheep, wild horses, mule deer and prairie dogs. Want more action? Options include hiking trails through the Badlands, trail rides on horseback and canoeing the Little Missouri River.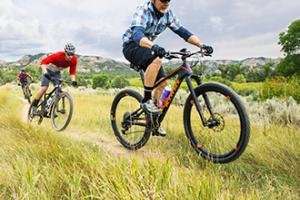 Maah Daah Hey Trail
This 144-mile trail runs through the South Unit and the North Unit of Theodore Roosevelt National Park and offers hiking in badland and rolling prairie landscapes, along with opportunities for overnight camping and wildlife sightings that include mule deer, coyotes, an occasional golden eagle, bison and feral horses.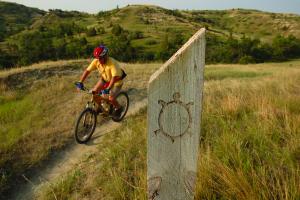 Little Missouri National Grasslands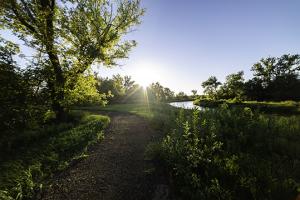 Cannonball Trail
The Cannonball Trail is a 1.5-mile natural walking path alongside the Cannonball River flowing through Mott. Nature lovers, bird watchers and exercise enthusiasts get a closer connection to the river and the towering trees.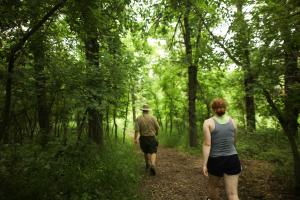 Fort Ransom State Park
Located in a picturesque, heavily-wooded valley, this state park is located on the Sheyenne River Valley National Scenic Byway. Float the Sheyenne River during the summer (kayak and canoe rentals are available) and snowmobile and cross-country ski during winter months. Don't miss the annual Sodbuster Days celebrations, with demonstrations of early homesteading life.