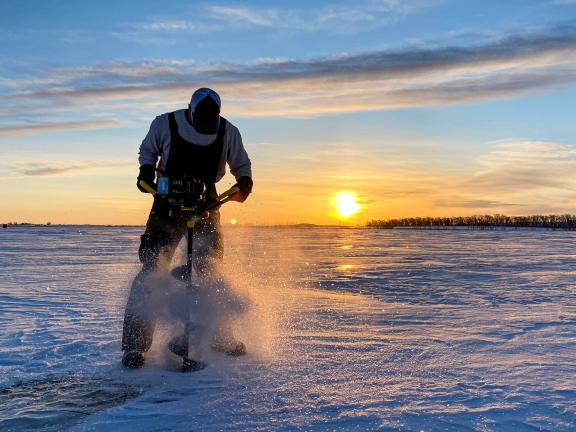 Winter Fishing: Nice to be on the ice
Ice fishing is a popular winter activity in North Dakota.
When rivers and lakes throughout North Dakota ice over, avid anglers drill a hole and keep on fishing. Ice fishing practices in North Dakota run the gamut, from a bucket on the ice to elaborate icehouse setups that include televised football and tasty foods, while others may prefer darkhouse spearfishing. Regardless of your technique, ice fishing provides hours of recreation. Be sure you check on the ice conditions before heading out. Temperature differences and other conditions will affect ice.
Embrace the Norwegian lifestyle known as "friluftsliv" which translates to "free air life." Year-round activities in the great outdoors and connecting with nature have positive effects on health, mind and body. 
Some of the best places to ice fish in North Dakota:
Click here for more details on ice fishing in North Dakota