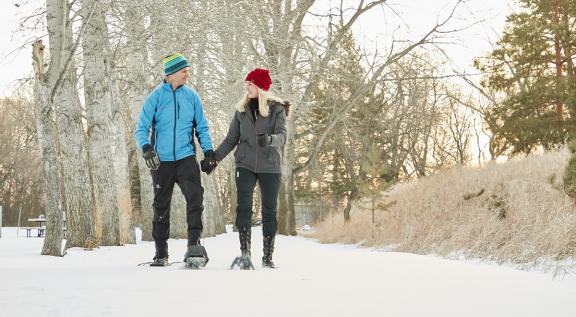 Take a Hike This Winter in North Dakota
North Dakota's trail systems provide unique outdoor experiences during the winter
A person can squeeze a lot of trail time into a short winter day. A little snow and a bright blue sky are part of the allure of winter in North Dakota. Embrace the shorter days and snow-covered ground by hiking the trails solo or joining other adventurous souls. Thousands of miles of trails in North Dakota await, so make plans to enjoy them or blaze your own trail through the snow.
A comfortable pair of hiking boots or snowshoes can cut a path through Theodore Roosevelt National Park along the Maah Daah Hey Trail, or along several other smaller trails found within the park. What can you see on a winter hike? Everything you can see any other season including amazing scenery, bison grazing in large, sometimes snow-covered herds, wild horses running along bluffs or frolicking in the valleys, eagles soaring overhead and the ever-present prairie dogs. Experts say that winter is a great time for viewing wildlife as they are more concentrated and located in more visible areas.
If you are looking for something on a slightly smaller scale, trails crisscross North Dakota's 13 state parks. All offer picturesque scenery and several have all the equipment you'll need right on site. Don't be surprised to find deer and other winter animals within trees and along the trails.
Of the eleven National Scenic Trails, the North Country National Scenic Trail (NCT) is the longest and is the only one found within North Dakota. It is open for year-round use and approximately 225 miles (of an estimated 475) of the NCT are completed. This includes longer (backpackable) segments within the Sheyenne National Grasslands, along Lake Ashtabula, along the New Rockford Canal, within Lonetree Wildlife Management Area and along the McClusky Canal.
Shorter, (day-hike) segments may be found within the Ekre Grassland Preserve, between Colfax and Walcott, the Sheyenne State Forest, at Fort Ransom State Park, from Kathryn to Clausen Springs Recreation Area, within Valley City, at Audubon National Wildlife Refuge, and at Lake Sakakawea State Park.
Cross-country skiers can rent skis at Cross Ranch State Park, Fort Ransom State Park, Fort Stevenson State Park and Lake Metigoshe State Park. Cross Ranch, Fort Stevenson and Lake Metigoshe also have snowshoe rentals.
Best trails to cross country ski
Click here to learn more about winter activities in North Dakota
Click here for more winter activities in North Dakota state parks