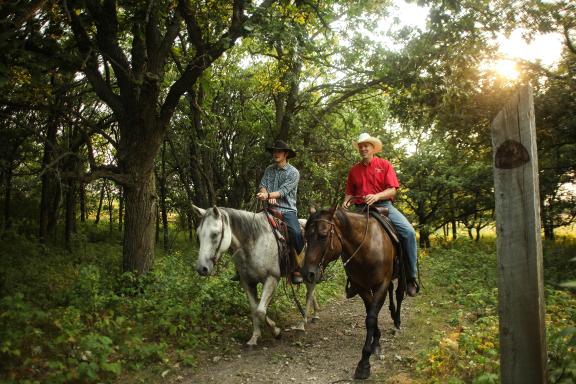 Places to Camp With Your Horse in North Dakota
Plan your camping and horseback riding adventure with these North Dakota overnight sites.
Saddle up for an overnight western adventure on horseback. North Dakota offers plenty of places to set up camp with your horse.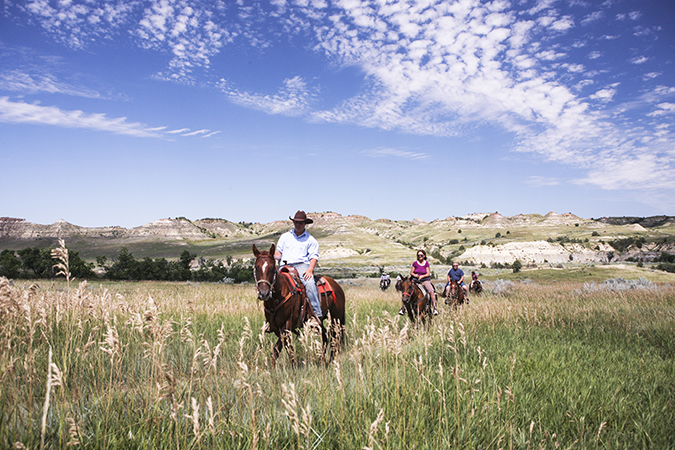 Those wishing to bring their own horses into the Badlands frequently use Sully Creek, with its horse corrals and primitive camping facilities as their staging area. Located near the historic western town of Medora, the park trails connect with those on the nearby Little Missouri National Grassland.
King's Guest Ranch is a great place to stay with or without horses. What makes them different is that they offer a private experience for guests away from all the tourists and hussle and bussle of town. Yet it is only an easy 8-mile drive to the town of Medora to visit all the tourist attractions if desired.
More than 25 miles of trails crisscross the Badlands terrain of the 6,000-acre park, most of which is accessible only on horseback or foot. The park provides corrals for those bringing in their own mounts. An especially good time to ride in this park is the spring, when the Badlands come alive with blooming cactus and wild lilies. Bobcats, mule deer, golden eagles and other wildlife roam this primitive setting.
Guests get the true "cowboy experience" at Black Leg Ranch, McKenzie, 701-367-3737. Horseback riding, nature hikes, ATV riding, cattle branding, hunting, ranch history and more.
Sheyenne Oaks Horse Camp and RV Park
For horse enthusiasts, there are individual horse corrals available in a central area. If you would like to ride, but don't own a horse, we can help with that, too. Leonard, 701-361-8566
Roundup Group Horse Campground - Theodore Roosevelt National Park
Bar X Guest Ranch - Medora, 701-872-6100
Buffalo Gap Guest Ranch and Trailhead - Medora, 701-623-4200