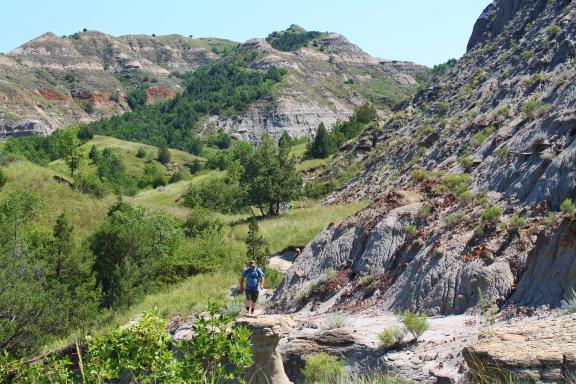 Adventures in North Dakota
Experience the serene to the extreme in your own North Dakota adventure
North Dakota has always attracted adventure seekers. Native Americans traversed the prairie on buffalo hunts. Lewis and Clark navigated the waters of the mighty Missouri River. Early pioneers found solitude and resilience in the wide open spaces. Today, North Dakota offers visitors new adventures such as hiking, biking, kayaking, birding, winter sports, horseback riding and more. Experience the serene to the extreme in your own North Dakota adventure.
Click here for 11 great North Dakota outdoor adventures
Horseback Riding and Ranch Experiences
Horses are a part of North Dakota's heritage, present throughout the state's history. Enjoy guided trail rides or immerse yourself in Western ranch life.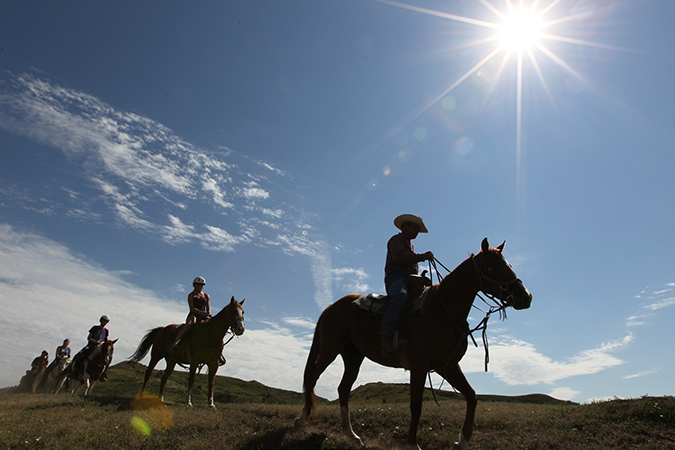 Logging Camp Ranch 18 miles NW of Amidon, 701-279-5501, loggingcampranch.com
Lone Butte Ranch Grassy Butte, 701-863-6864, lonebutteranch.com
Medora Riding Stables Medora, 701-623-4444, medora.org/do
Rolling Plains Adventures McKenzie, 701-367-3737, rollingplainsadventures.com
Sheyenne Oaks Horse Camp Leonard, 701-361-8566, sheyenneoaks.com
Birding Trails
Find out why North Dakota is ranked as one of the top 10 birding hot spots in North America.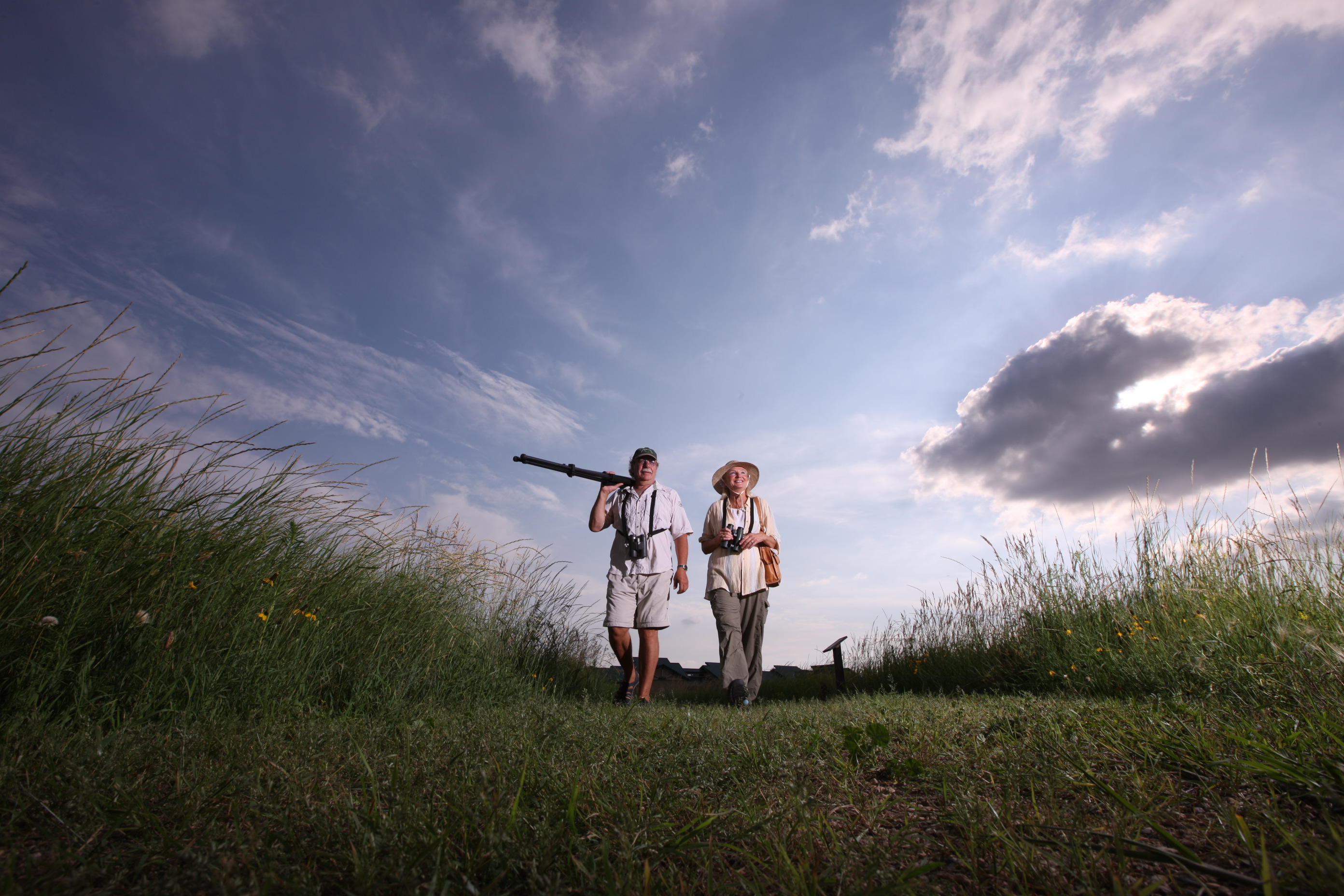 Birding Kulm Kulm. Day-to-day sightings for this impressive birding area are recorded on its website. 701-647-2451, fws.gov/refuge/kulm_wmd
Birding on the Lewis & Clark Trail Williston. Contact the Williston Convention & Visitors Bureau for a birding route map and checklist. 800-615-9041, visitwilliston.com
Bismarck-Mandan Birding Drive Bismarck and Mandan. Three routes lead to the best birding sites in the Missouri River Valley. 800-767-3555, bismarckmandancvb.com
Central Dakota Birding Drive Drake and Anamoose. More than 300 species can be seen along the Souris and Sheyenne rivers. 888-921-2473, birdingdrives.com
International Adventure Trail Bottineau. More than 100 species of songbirds have been identified in the Turtle Mountains. 701-228-5410
Lake Region Birding Trail Devils Lake. The trail includes 11 featured sites within national wildlife refuges, state parks, waterfowl production areas and a county park. 800-233-8048, devilslakend.com
Minot Birding Minot. Five exceptional national wildlife refuges are just a short drive away from Minot. 800-264-2626, fws.gov/refuges
Lakes and Rivers
North Dakota's lakes and rivers offer adventure for any water enthusiast. Whether your sport is paddling, sailing or pontooning, you'll find excitement here.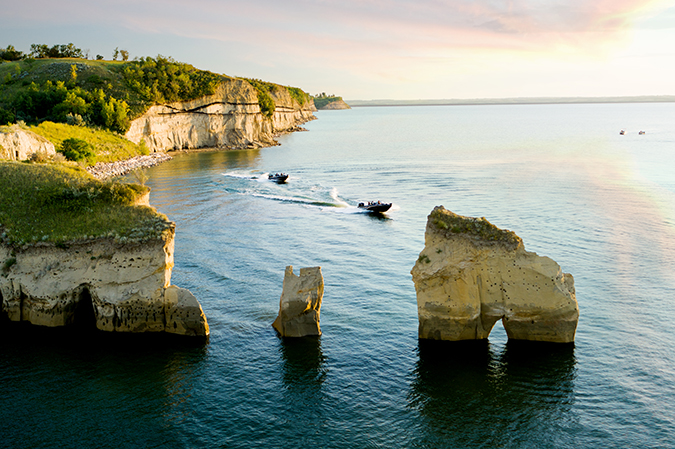 Confluence Canoe Trail This nine-mile canoe adventure near Williston is on one of the longest rivers in the U.S. 800-615-9041, visitwilliston.com
Devils Lake Anglers feast on walleye, pike, perch and many other species while recreational boaters soak up sun. 800-233-8048, tourism.devilslakend.com
Jamestown Reservoir Boat launches, picnic shelters, swimming beaches, walking and biking trails. 701-251-9145, discoverjamestownnd.com
Lake Ashtabula Water activities along the North Country Trail near Valley City. mvp.usace.army.mil/Missions/Recreation/Lake-Ashtabula-Baldhill-Dam/
Lake Metigoshe Only miles from the Canadian border near Bottineau, this is water recreation with an international flavor. parkrec.nd.gov
Lake Oahe South of Bismarck on the Missouri River, Lake Oahe flows into South Dakota. nwo.usace.army.mil/Missions/Dam-and-Lake-Projects/Missouri-River-Dams/Oahe/
Lake Sakakawea Lake Sakakawea is one of the largest man-made lakes in the US, with more shoreline than the state of California. 701-654-7411, ndtourism.com/best-places/lake-sakakawea-water-wonderland
Lake Tschida West of Bismarck, the lake was created by the Heart Butte Dam. 701-584-2201, laketschida.com 
Little Missouri River North Dakota's only designated State Scenic River offers canoeists a chance to revel in Badlands splendor. parkrec.nd.gov
Little Muddy Canoe Trail A six-mile canoe trail on the Little Muddy River, east of Williston. 800-615-9041, visitwilliston.com
Missouri River Flowing from our western border through central North Dakota, the Missouri offers a scenic route to canoeists following the path of Lewis & Clark. 701-654-7411, parkrec.nd.gov
Mouse (Souris) River Bordered by three national wildlife refuges, this north-central waterway is a haven for North Dakota wildlife species. Two refuges have canoe trails varying in length from three to 13 miles. parkrec.nd.gov
Pembina River A scenic river meandering through miles of lush, unbroken forest in northeastern North Dakota. parkrec.nd.gov
Red River Canoe through the heart of the Red River Valley along the eastern border, passing bountiful farmland, bottom land forest and tall grass prairies. River Keepers
Sheyenne River A gentle river winding through varied terrain in eastern North Dakota. parkrec.nd.gov
Water Recreation and Rentals
Want to get on the water but didn't pack a canoe? Find what you need to create an adventure without the hassle.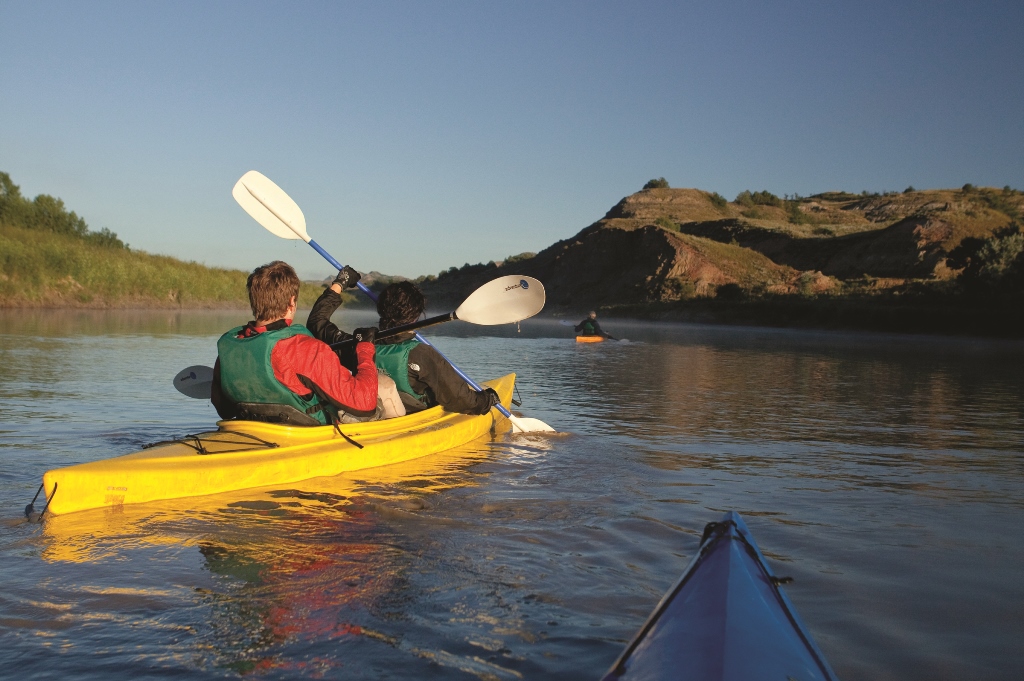 Boathouse on the Red Grand Forks. Paddle the Red River that naturally flows North. 701-474-0131
Dakota Canoe and Kayak Rentals Linton. Experience the Missouri River like Lewis & Clark did centuries ago. Shuttle service available. 701-321-1804
Dakota Waters Resort Beulah. Full-service resort on Lake Sakakawea offers daily and hourly boat rental and guide services. 800-473-5803 dakotawatersresort.com
Indian Hills Resort Garrison. Full-service resort on Lake Sakakawea features a variety of camping and lodging from tents to condos. Daily pontoon rentals available. fishindianhills.com/
Lund's Landing Ray. Full-service resort on Lake Sakakawea with charter boat tours and boat, kayak and canoe rentals. Summer: 701-568-3474; winter: 701-641-0175
Missouri Kayak Adventures Bismarck. Kayak the Missouri River and Lake Sakakawea with rentals, guided tours and shuttle services. 701-226-5204, missourikayakadventures.com
North Dakota State Parks Great canoeing opportunities and canoe and kayak rentals are available at Cross Ranch, Lake Metigoshe, Lewis & Clark and Fort Ransom State Parks. 701-328-5357, parkrec.nd.gov
Paddle On Rentals Mandan. Kayak, canoe and stand-up paddleboard rentals are available. Shuttle service. 701-663-5580. paddleonnd.com
Tailrace Adventures Riverdale. Canoe and kayak rentals are available at this stop near Sakakawea State Park. 701-654-7600
Woodland Resort Devils Lake. This full-service resort offers boat rentals and guide services on the shores of Devils Lake. 701-662-5996, woodlandresort.com
Geocaching
Ready for a real-world treasure hunt? Get out your smartphone or GPS and start hunting for the state's many hidden geocaches. Get the details and cache coordinates for over 2,000 caches and counting at geocaching.com. 
Hiking
Hit the trail and experience the sites and views you won't see from behind a windshield. Even more trails available at NDtourism.com.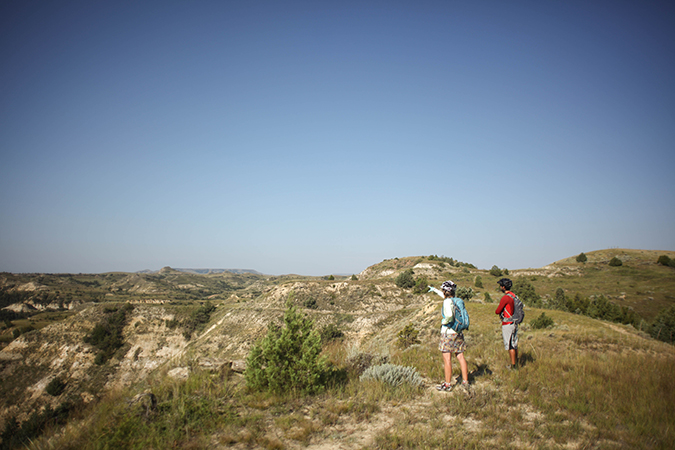 Fort Union Trading Post Follow the footsteps of Lewis and Clark at this national historic site at the confluence of the Missouri and Yellowstone rivers. 701-572-9083, nps.gov/fous
Knife River Indian Villages This national historic site along the Knife River marks a historic Native American site. 701-745-3300, nps.gov/knri
Little Missouri National Grassland Badlands and grasslands offer prime hiking opportunities. North: 701-842-2393; South: 701-225-5151, fs.usda.gov/dpg
Maah Daah Hey Trail Nationally acclaimed 144-mile non-motorized biking, hiking and horseback trail in western North Dakota. 701-227-7800, mdhta.com/
North Country National Scenic Trail Following the shores of Lake Sakakawea and Lake Audubon, the trail continues along the Garrison Diversion Project canals and winds through forested valleys. northcountrytrail.org
North Dakota State Parks All 13 state parks offer ample hiking opportunities. Trail guide available on the website. 701-328-5357, parkrec.nd.gov
Sheyenne National Grassland Take a hike through the only National Grassland in the tallgrass prairie region of the US. 701-683-4342, fs.usda.gov/dpg
Theodore Roosevelt National Park Hiking and nature trails for every skill level in the scenic Badlands. North: 701-842-2333 South: 701-623-4466, nps.gov/thro
Biking Trails and Rentals
North Dakota's varied topography offers mountain bikers many choices, from rolling hills to rugged buttes. Open landscape calls to road bikers, who may hop on the Northern Tier Route or follow the Lewis & Clark Trail.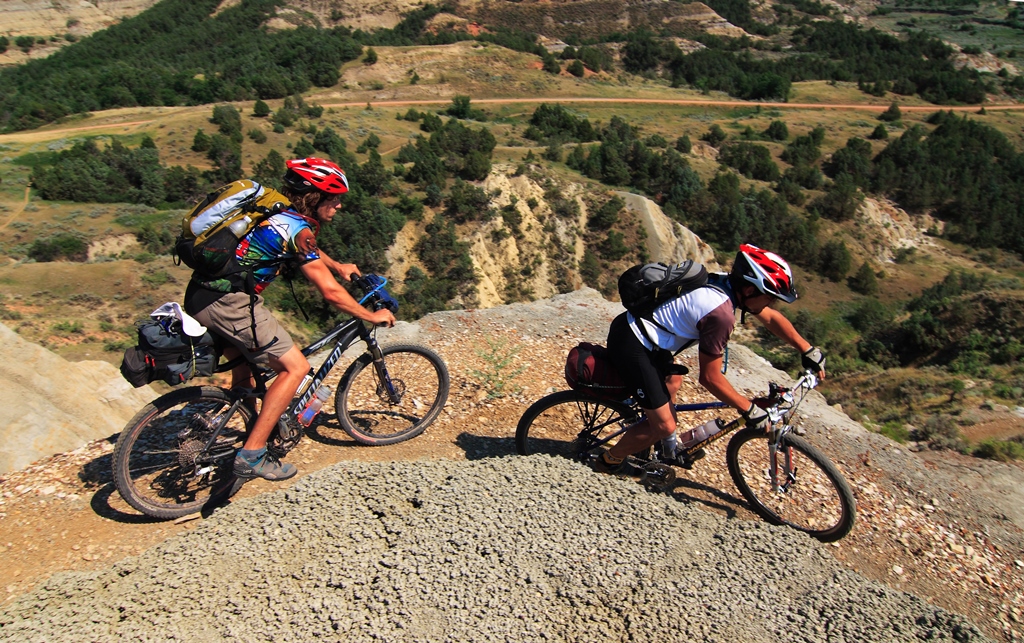 Maah Daah Hey Trail Nationally acclaimed 144-mile non-motorized biking, hiking and horseback trail in western North Dakota. 701-227-7800, mdhta.com
North Dakota Byways & Backways For particularly scenic treks, check out our state's designated scenic byways and backways. https://www.ndtourism.com/bywaysbackways
Bike Rentals Didn't bring your own wheels? Get rentals and trail tips at local bike shops.
     Dakota Cyclery Medora, 888-321-1218, dakotacyclery.com
     701 Cycle and Sport Bismarck, 701-221-9833, 701cycleandsport.com
     Great Northern Bicycle Co. Fargo, 701-280-1796, gncycles.co
     The Ski & Bike Shop Grand Forks, 701-772-5567, skiandbikeshop.ne
     Lindenwood Bike Rentals Fargo, 701-356-2106, fargoparks.com/lindenwood-rentals
Events
Want to try something unique? These outdoor experiences are definitely Facebook, Twitter and water cooler-worthy adventures of a lifetime. For a full events listing, visit NDtourism.com.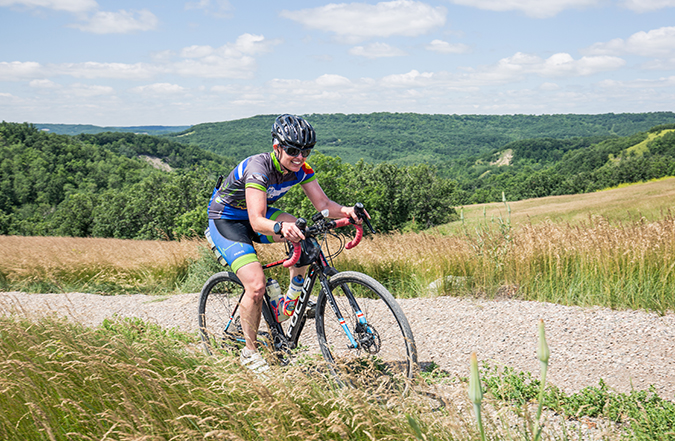 CaNDak Bicycle Tour Participate in this 400-mile fully-supported loop tour riding across North Dakota in August. 701-463-2345, CaNDak
Come Dig with Us Walhalla. In July, help excavate an 80 million-year-old fossil at the Pembina Gorge. Open to anyone 15 years or older. 701-549-2707, walhalland.org
ENDracing Grand Forks. From the Uff Da Mud Run to off-road triathlons and more, check out this organization's listing of extreme race adventures. endracing.com
Fargo Marathon Fargo. Three days of activities in May draw more than 24,000 participants annually. fargomarathon.com
Fort Seward Wagon Train Jamestown. This week-long adventure in June takes travelers back in time living like the pioneers did. 701-424-3744, covered-wagon-train.com
Gear Grinder Mountain Bike Race Jamestown. Off-road mountain bike race in August with three divisions to fit all levels. 701-252-3982, jamestownparksandrec.com
Heritage Outbound Knife River Indian Villages at Stanton. Snowshoe across the archaeological site while discussing winter 200 years ago, then gather around a roaring fire in the earthlodge for a traditional feast. 701-328-2792, history.nd.gov/events/index.html
Maah Daah Hey 100 Race Watford City. So much more than a mountain bike trek, this August race is one of the toughest (and greatest) cycling events in the west. experienceland.org
Potholes & Prairies Birding Festival Four days of guided tours in June through the prairies and wetlands of North Dakota, one of the world's birding hotspots. 888-921-2473, birdingdrives.com/our_festival.html
ShiverFest Devils Lake. Every third weekend in February, the hearty gather for winter fun. Try hockey, kite flying and ice golf, along with snowmobile races, sleigh rides and a youth ice fishing tournament. 800-233-8048, devilslakend.com
Winter Fun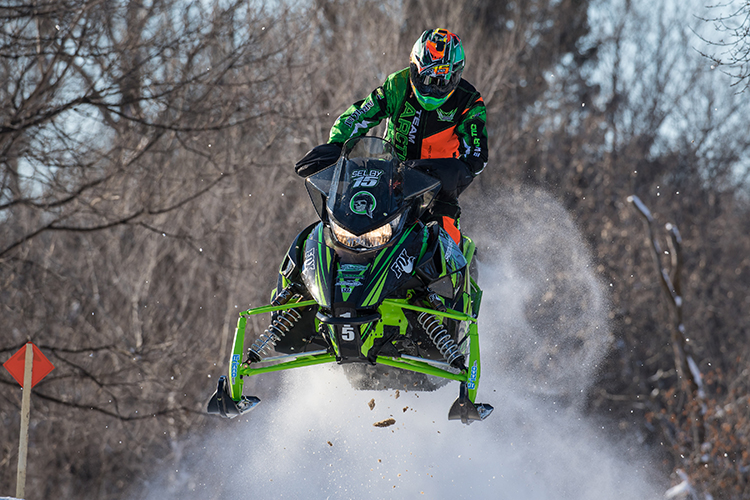 Winter doesn't stop the adventures in North Dakota. With downhill ski runs, tubing slides, frozen lakes and thousands of miles of snowshoeing and snowmobiling trails, North Dakota is a winter recreational hub. 
Click here to see how you can take advantage of winter.