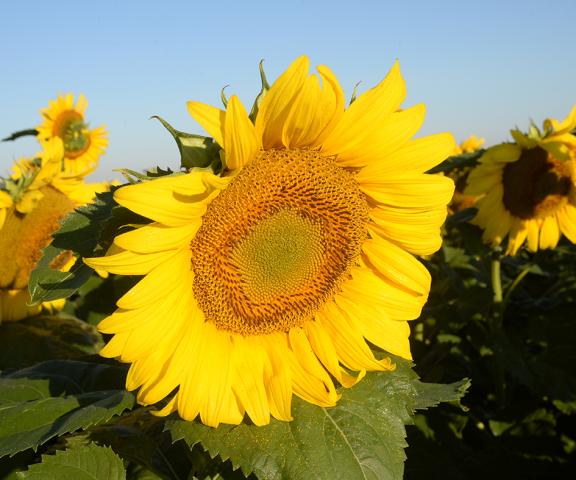 Brighten your day with the amazing sunflower
North Dakota isn't a stranger to brightly colored crops that reach the peak of the growing season in mid-summer. If you are on the road at that time and into the fall, take time to take a look around.
Vast tracks of Flax take on a bluish-purple look; canola radiates with bright yellow buds that stretch to the endless blue sky; soybeans vine out in a sea of green; and wheat goes through various stages of green and golden brown before the harvest in the fall. Flax – which can appear as water in the distance – and canola bloom in late June through July.
Nothing, however, compares to the amazing sunflower.
Perched atop strong stalks and shining bright yellow toward the rising sun, the heads appear as millions of individual suns heralding the start of another day in North Dakota. Perhaps they play a role in North Dakota's high ranking among the happiest states in the nation. After all, you can't help but smile when you come upon some of the large fields scattered throughout the state.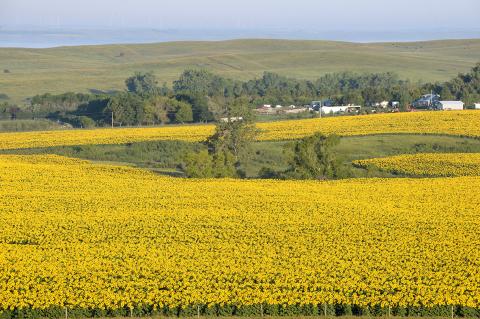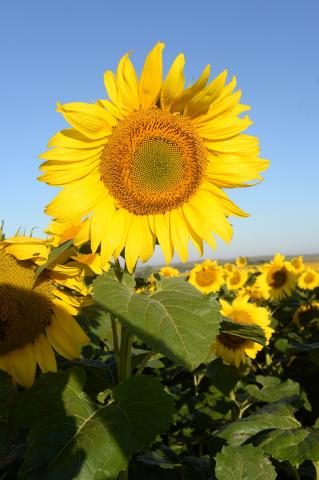 Where do you find them? Pretty much everywhere, but not in the same place each year. Growers rotate crops as a way to manage and maintain soil health and fertility. What is a wheat field this year, may be a sunflower field next year. Click here for our weekly sunflower update in August and September.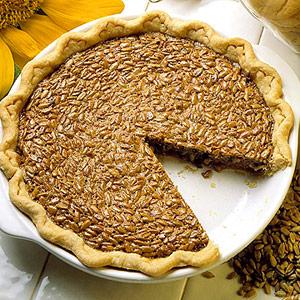 But let's get back to sunflowers. North Dakota Tourism often receives calls from soon-to-be fiances wanting to know where to find sunflower fields as a location to pop the question. The best time to do so varies, as the fields reach their peak colors depending on planting and weather. The best time is usually late July to early and mid-August. Most landowners don't mind visitors stopping to look at the fields as long as they are respectful and don't enter or drive into the fields.
It's from here that your snack for next year's football of baseball games originated. It's also the ingredients for other delicacies like North Dakota sunflower pie. North Dakota leads the nation in sunflower production and its uses include bird feed, confectionary seeds, sun butter and sunflower oil.
Go to the National Sunflower Association website to learn more about Sunflowers.