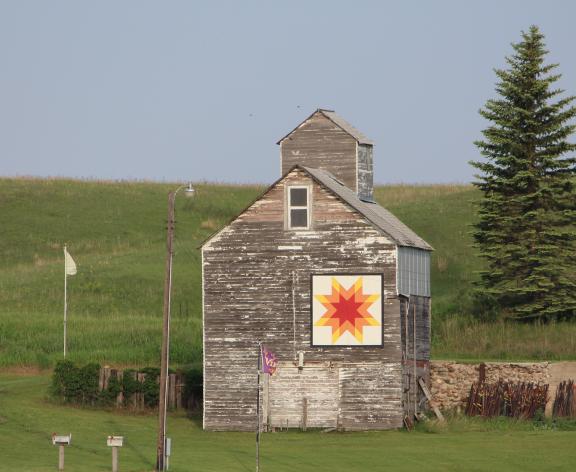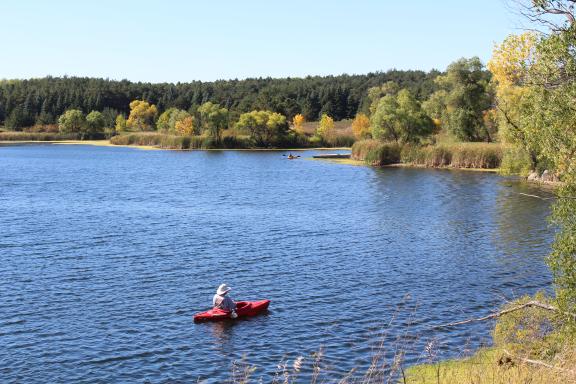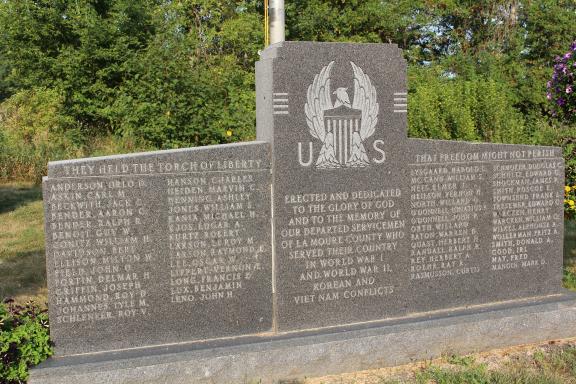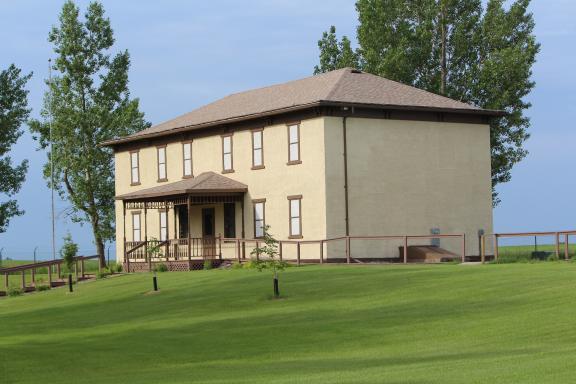 Chan SanSan Scenic Backway
Experience the charming pastoral scenery of the James River Valley when you drive along the 32-mile Chan SanSan Scenic Backway. Located in the south central area of North Dakota, this stretch of roadway bisects LaMoure County, beginning at State Highway 46 and running south to the county line, taking you through Adrian, Dickey, Grand Rapids and LaMoure.
Explore the backway with this roundup of interesting attractions, and along the way, keep an eye out for even more historic spots that reveal glimpses into the valley's Native American culture and early settler life, like the Native American earthen mounds between Adrian and LaMoure. For even more local charm, look for colorful barn quilts along the backway.
At the northern end of the Chan SanSan Scenic Backway, anglers won't want to miss a stop at Heinrich-Martin Dam, where the 19-acre lake is a prime location for catching bluegill, largemouth bass and white crappie.
Get a glimpse into early life in North Dakota at three rare pony truss bridges built in the early 1900s. These distinctive bridges cross the James River near Adrian and Dickey.
Just north of Grand Rapids, you'll find LaMoure County Memorial Park, a sprawling 42-acre park nestled along a secluded bend in the James River. This is an ideal spot for a quiet picnic in lush fields or even an overnight stay in one of the cabins or campsites. The park also features plenty of family-friendly activities: the two-story LaMoure County Museum and one-room schoolhouse, a playground and a baseball diamond.
Walking distance from the park, Memorial Park Country Club is located just across the river. This nine-hole, par-36 golf course features wide-open green spaces, a putting green and a driving range.
Continue down to LaMoure to see the Beaux Arts-style LaMoure County Courthouse, completed in 1909. With dramatic Corinthian columns, a metal-covered dome and arched windows, this structure on the National Register of Historic Places is an impressive stop.
On the west edge of LaMoure, you can see the Red Wing Paddleboat, which was built in 1914 to transport passengers and goods on the James River. It was restored in 1971.
Meanwhile, on the east side of LaMoure, the Toy Farmer Museum is located in an early 1900s converted barn showcasing vintage farm toys of all makes and models. Plan in advance for a guided tour.
At the southern end of the Chan SanSan Scenic Backway, enjoy a variety of water sports – boating, personal watercraft, water skiing, swimming and fishing – at 409-acre Lake LaMoure.