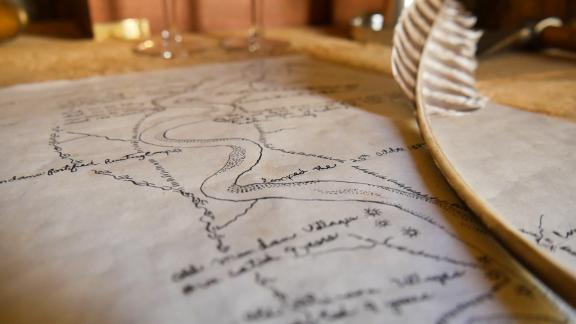 History & Culture
The Corps of Discovery spent more consecutive days at Fort Mandan than any other place along the Lewis and Clark Trail. Members constructed Fort Mandan as their winter camp in 1804-1805 near the Missouri River and present-day Washburn (35 miles north of Bismarck). Also nearby were Mandan, Hidatsa and Arikara villages numbering up to 5,000 inhabitants – more than the population of St. Louis in 1804. The Corps of Discovery was greatly aided by Sakakawea (or Sacagawea), the Native American guide and interpreter. While that is a big part of American history, it's just part of what makes North Dakota legendary.
Lewis and Clark
At Washburn, the Lewis and Clark Interpretive Center has a river view, replica dugout canoe and gallery devoted to Karl Bodmer prints and actual artifacts from the expedition. This section of the Missouri River appears much as it did two centuries ago. Fort Mandan, the party's winter headquarters, has been reconstructed nearby.
Fort Mandan, Washburn
The winter headquarters for the Corps of Discovery was constructed by the expedition and named after its Native American hosts. The fort's location was carefully chosen so as to avoid the politics of associating with one village over another. A full-sized replica of Fort Mandan stands along the Missouri River near Washburn. Visitors will find the fort's rooms looking as if the expedition were still present. Fort Mandan is fully furnished year-round and features a visitor's center with a gift shop. Re-enactments, blacksmith shop and interpretive events tell the legendary history of this fort.
Lewis & Clark Interpretive Center, Washburn
The Lewis & Clark Interpretive Center is a world-class facility that focuses on Lewis and Clark's voyage of discovery through the area from 1804-1806. Exhibits portray all Native American groups encountered by Lewis and Clark. You can touch the four-ton canoe, hand-carved from a cottonwood tree, replicating those used during the expedition. A gallery displays a complete set of reproduction prints by Karl Bodmer, the artist/explorer who followed the explorers' trail a quarter-century later along the Missouri River. Here you can wrap yourself in a buffalo robe or carry a baby cradle on your back like Sakakawea carried her son. You can listen to the peaceful sound of a Mandan Indian flute or a high-stepping fiddle tune like those played by Pierre Cruzatte on the expedition. Visitors can shop for Lewis and Clark books, traditional art, gifts and more. The center is located at Washburn.
Knife River Indian Villages National Historic Site, Stanton
Between 3,000 and 5,000 Mandan, Hidatsa and Arikara Indians inhabited this area between the Knife and Heart rivers near Stanton until the 19th century when disease began wiping out the people and culture. The site has a reconstructed and furnished earthlodge and more than 60 ground depressions. It was here that Lewis and Clark first met Sakakawea.
On-A-Slant Indian Village and Fort Abraham Lincoln State Park, Mandan
On-A-Slant Indian Village near the confluence of the Missouri and Heart rivers south of Mandan was one of the traditional Mandan villages. The Corps of Discovery camped across the Missouri River from the site in October 1804, and their journals report that the ruins of the then-abandoned village were still visible. This state historic site has reconstructed earthlodges, an interpretive center and campground facilities.
On-A-Slant Indian Village is part of the 75-acre Fort Abraham Lincoln State Park, which features General George Custer and his wife, Libby's, home reconstructed to its 1876 appearance. It also has reconstructed barracks, a commissary store with gift shop, infantry blockhouses, stables and soldiers' cemetery. 
Missouri-Yellowstone Confluence Interpretive Center, Williston
The new Confluence Interpretive Center opened in 2003 to tell the story of the confluence of the mighty Missouri and Yellowstone rivers. The 39-foot-high plaza offers visitors the same magnificent view the Lewis and Clark Expedition members enjoyed. Nearby is the reconstructed 1870s Fort Buford infantry barracks. 
Keelboat Park, Bismarck 
Docking at the Port of Bismarck on the Missouri River, the 100-foot Lewis & Clark Riverboat is a fun place to spend a summer evening dining on buffalo and walleye and enjoying the memorable view. Stroll along the east bank of the Missouri River at Keelboat Park. Climb aboard steamboat and keelboat scale replicas and admire the metal sculptures of Lewis, Clark and Sakakawea, as well as an art sculpture of Thunderbirds created by United Tribes Technical College students. 
A section of the great Missouri River has been dammed, creating a magnificent lake named for Sakakawea. With more miles of shoreline than California, the big lake is an angler's paradise with walleye, Chinook salmon and northern pike.
Fort Union National Historic Site, Williston 
In April 1805, Lewis and Clark's expedition arrived at the confluence of the Yellowstone and Missouri rivers. Twenty-four years later, Fort Union was built and became the largest trading post on the Missouri in the mid-1800s. Today, it features a reconstruction of the Bourgeois House containing a museum, book store and a reconstructed Indian Trade House where you can purchase replicas of actual trade items that were bartered with the Native Americans.
Tours, a living history program and special interpretive events are featured each summer. A spectacular fur trade rendezvous takes place annually the third week in June at Fort Union.
North Dakota Heritage Center and State Museum, Bismarck
Experience the beauty and wonder of the new galleries and exhibit spaces. Thousands of artifacts and specimens, high-tech displays, and interactive exhibits help tell the story of our state. Start your chronological journey through time with the Adaptation Gallery: Geologic Time. Dinosaur tracks in the Corridor of History floor lead you to the story of early North Dakota life and geology, featuring life-sized skeleton casts of a Tyrannosaurus rex and a Triceratops ready to battle. 
Heritage & Heroes
North Dakota Cowboy Hall of Fame, Medora
Center for western heritage and cultures. American Indian, ranching and rodeo. Trail drivers, homesteaders and the sport of rodeo and the impact of the horse on the development of life on the plains of North Dakota.
Medora Musical and Pitchfork Fondue, Medora 
Broadway-style musical show in spectacular Burning Hills Amphitheatre. The surrounding hills resound with music and laughter at this fast-paced, song-and-dance professional extravaganza. 
Chateau de Mores, Medora
The promise of vast fortunes brought the Marquis de Mores to the fledgling settlement of Little Missouri. In six months, he built a 26-room hunting chateau, founded the town of Medora (named after his wife) and constructed his meatpacking plant.
Gardens
International Peace Garden, Dunseith
Travel 12 miles north on Highway 3 on United States/Canadian border to the 2,339-acre botanical garden commemorating peace between the United States and Canada. More than 150,000 varieties of flowers, floral clock, Peace Chapel, International Music Camp.
Pipestem Creek, Carrington
Exquisite birding and lodging opportunities. There are three renovated granaries and a train depot. Visit the charming gift shop, which is in a restored 10-sided granary.
Forts
Step into life on America's last frontier at these authentic historic fort sites.
Native American Culture
Learn more about Native America culture in North Dakota here