North Dakota Culinary Trail
North Dakota leaves no point on the culinary spectrum untouched. Foodies will find award-winning modern cuisine, family-owned spots serving comfort food classics and plenty of stops to satisfy the sweet tooth. Eat your way across North Dakota and sample authentic German and Norwegian dishes, refined farm-to-table fare and classics that'll leave you nostalgic for home – just remember to leave room for dessert. Click here to start your tour of North Dakota events and festivals. Remember to call ahead to find out if the locations listed here have changed dining hours, capacity or delivery methods due to current ND Smart Restart protocols.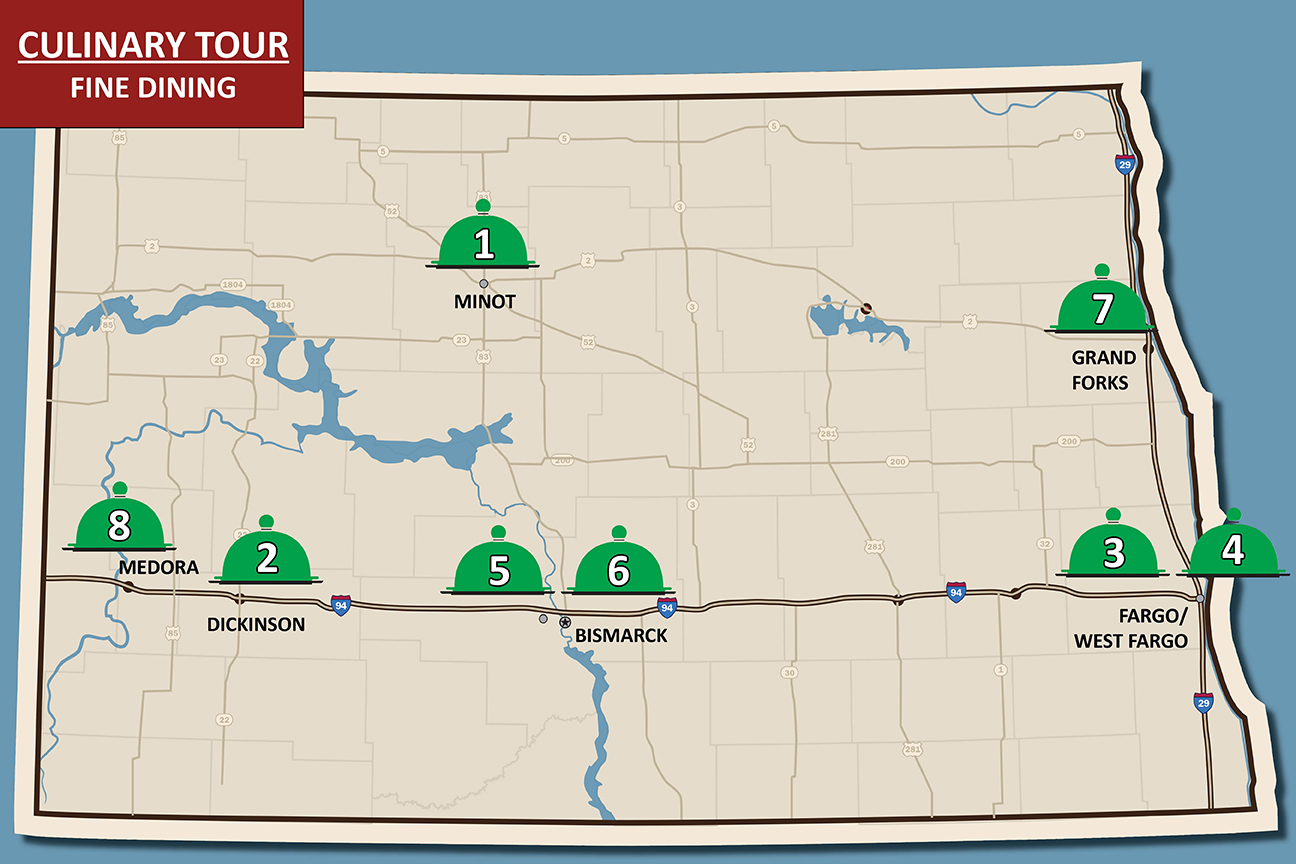 FINE DINING
1. 10 NORTH MAIN
10 N. Main St., Minot
701-837-1010
A warm ambience with local art and extensive wine list complement 10 North Main's fare, including locally raised bison, in downtown Minot.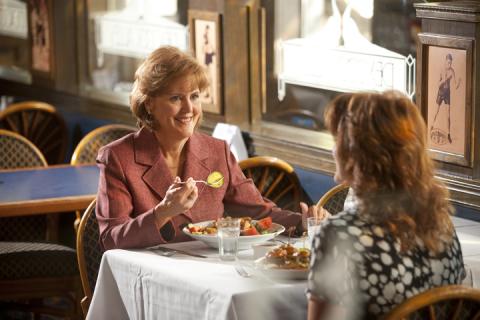 2. BRICKHOUSE GRILLE
2 W. Villard St., Dickinson
701-483-9900
Serving fresh, simple and seasonal food in historic downtown Dickinson. Enjoy a libation in the B2 Lounge upstairs before sitting down to dinner.
3. HODO RESTAURANT
101 Broadway N., Fargo
701-478-6969
With their refined menu, HoDo chefs were recently nominated for the culinary industry's prestigious James Beard award.
4. MEZZALUNA
309 Roberts St., Fargo
701-364-9479
Locally sourced ingredients are the backbone of Mezzaluna's menu full of sophisticated food and swanky cocktails. Historical features make for eclectic ambiance.
5. PEACOCK ALLEY
422 E. Main Ave., Bismarck
701-255-7917
Peacock Alley prides itself on using only the highest quality cuts of beef, and is located in the historic Patterson Hotel building. Established in 1933 following the Prohibition Era, it has a rich history and retains its historic charm.
6. PIROGUE GRILLE
121 N. Fourth St., Bismarck
701-223-3770
Named after the boats Lewis and Clark used to traverse the Missouri River, diners are treated to feast on local specialties like walleye, bison and the famous rhubarbtini.
7. SKY'S
22 S. Third St., Grand Forks
701-746-8970
Sky's serves hand-cut steaks, appetizers, soups, salads, sandwiches and lavosh.  Chef's specialties created weekly. Cloud 9 Lounge on site.
8. THEODORE'S DINING ROOM
301 Third Ave., Medora
701-623-4444
Situated in the historic Rough Riders Hotel, Theodore's Dining Room puts a modern spin on the traditional cuisine of the wild, wild West.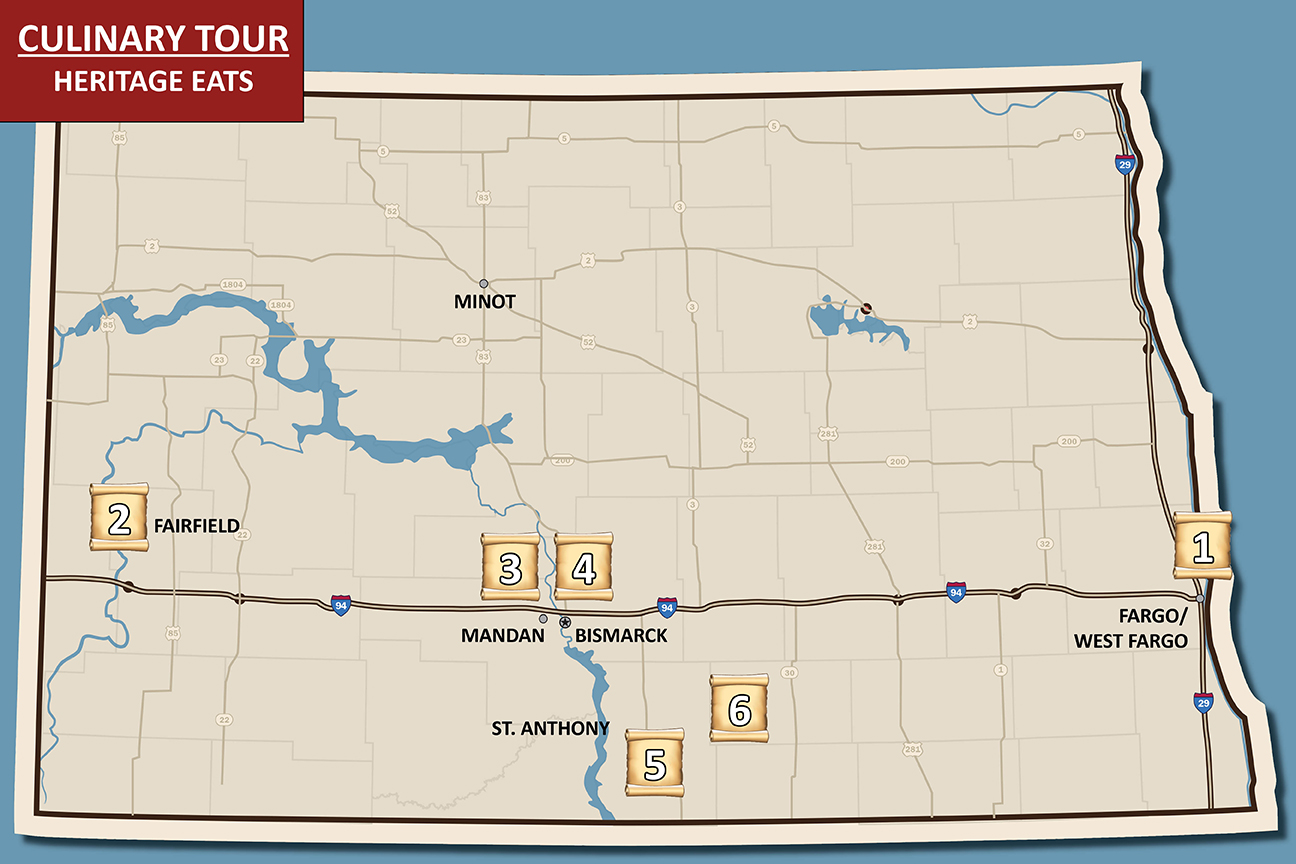 HERITAGE EATS
1. FARGO KRINGEN LODGE #25
722 Second Ave. N., Fargo
701-232-9222
Promoting and preserving Nordic heritage through authentic eats every day – from lefse to rommegrot pie – guests are guaranteed an authentic taste of Norway.
2. FOUR CORNERS CAFE
2000 Highway 85 SW, Fairfield
701-575-8422
Four Corners serves up local Ukrainian heritage with homemade pyrohy/pierogie and borscht soup.
3. FRIED'S FAMILY RESTAURANT
1010 Boundary Street NW, Mandan
701-667-1127
Fried's (pronounced FREEDS) is truly a family affair, serving scratch-made pies, caramel rolls and comforting knoephla soup made fresh daily. Plates piled high with German-American fare.
4. KROLL'S DINER
1915 E. Main Ave., Bismarck
701-255-3850
A North Dakota staple that's been serving German specialties like fleischkuechle since 1972, this is the original Kroll's location. Skinny jeans not advised.
5. MODEL BAKERY
117 N. Broadway, Linton
701-254-4687
A classic German bakery serving 11 flavors of kuchen and fresh blanchenda every day, don't miss the homemade doughnuts.
6. WHITE MAID DRIVE-IN
301 Main Ave., Napoleon
701-754-2777
Serving a variety of cuisine, from Mexican to German, and of course, American.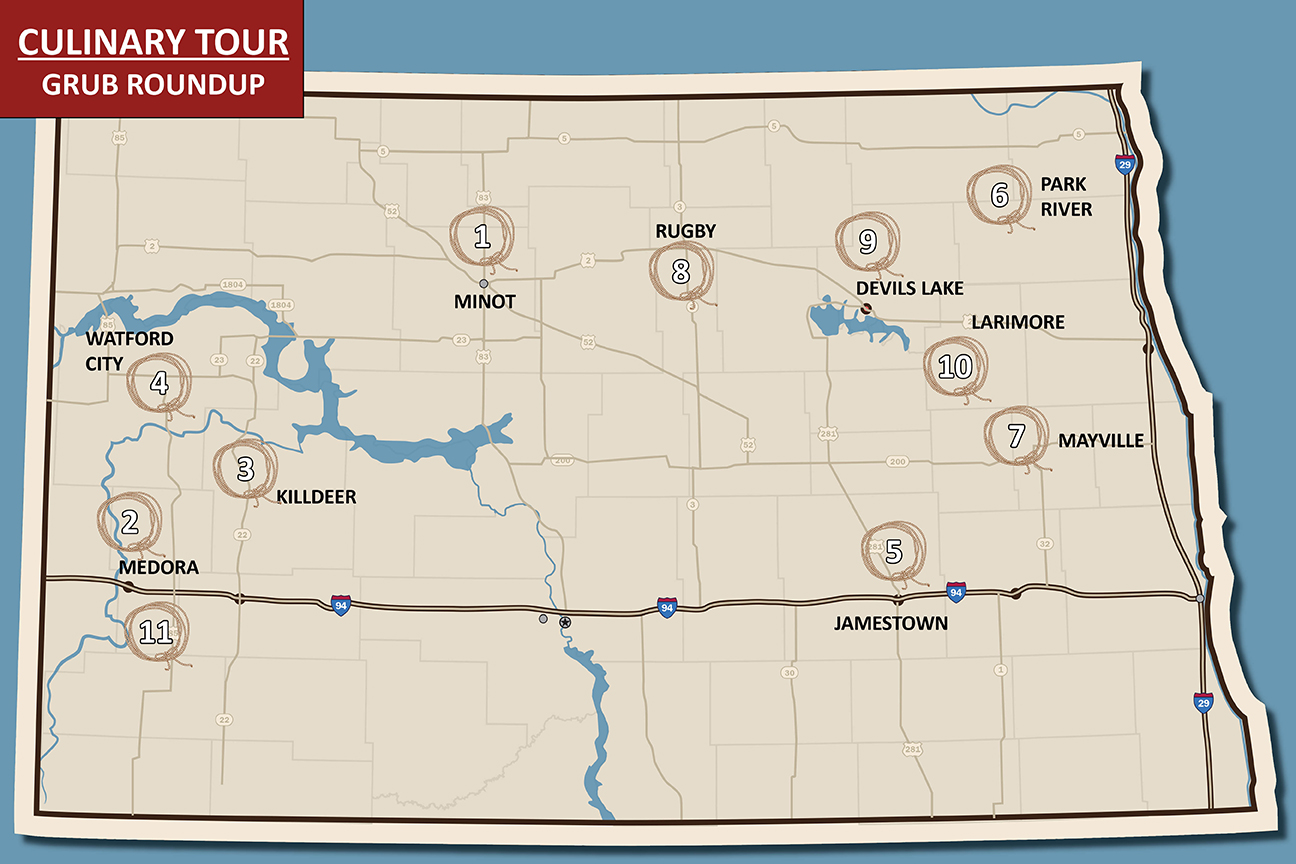 GRUB ROUNDUP
1. CHARLIE'S MAIN STREET CAFE
113 Main St. S., Minot
701-839-6500
This down-home joint in downtown Minot sticks to Midwestern classics – chicken fried steak, sirloin steak and hearty roast beef dinners.
2. COWBOY CAFE
215 Fourth St., Medora
701-623-4343
Cowboy Cafe is a rustic spot known for its hot beef sandwich slathered with mashed potatoes and gravy.
3. BUCKSKIN BAR AND GRILL
64 Central Ave. S., Killdeer
701-764-5321
With a rustic atmosphere and a history dating back to the early 1800s, Buckskin Bar & Grill is a North Dakota landmark serving hearty burgers, steaks and pizza.
4. OUTLAWS BAR AND GRILL
120 N. Main St., Watford City
701-842-6859
Mouth-watering steaks and decadently delicious Pizookie.
5. FRONTIER FORT BAR & GRILL
1838 Third Ave. SE, Jamestown
701-252-7492
Located on the edge of the Frontier Village. Head to the upper level of this fort for hearty portions of prime rib and buffalo steak.
6. GRAMMA JO'S KITCHEN
709 Park St. W., Park River
701-284-7177
Home-cooked meals just like at grandma's house, Gramma Jo's offers good prices, fast service and a
7. SOHOLT BAKERY
40 E. Main, Mayville
701-788-3261
Great folks running a great bakery with great goods. 
8. ROCKIN RELICS
205 S. Main Ave., Rugby
701-208-1365
Old-fashioned soda fountain, diner and antique store serves an assortment of salads and sandwiches, burgers, desserts and more.
9. THE RANCH STEAKHOUSE
1119 ND 20, Devils Lake
701-662-6630
The Ranch Steakhouse offers the level of honest hospitality for which Midwesterners are known for worldwide, along with the quality of food and drink that has made it an iconic restaurant that has stood the test of time.
10. LARSON'S DRIVE INN
North Dakota Highway 18, Larimore
701-343-2037
For nearly 40 years, Larson's has been serving up tasty eats, including tit smothered fries topped with everything but the kitchen sink.
11. PITCHFORK STEAK FONDUE
Chateau Road, Medora
701-623-4444
The cooks at this Medora hotspot pile steaks on pitchforks for a western-style fondue. Scenic views of the Badlands accompany this unforgettable dining experience.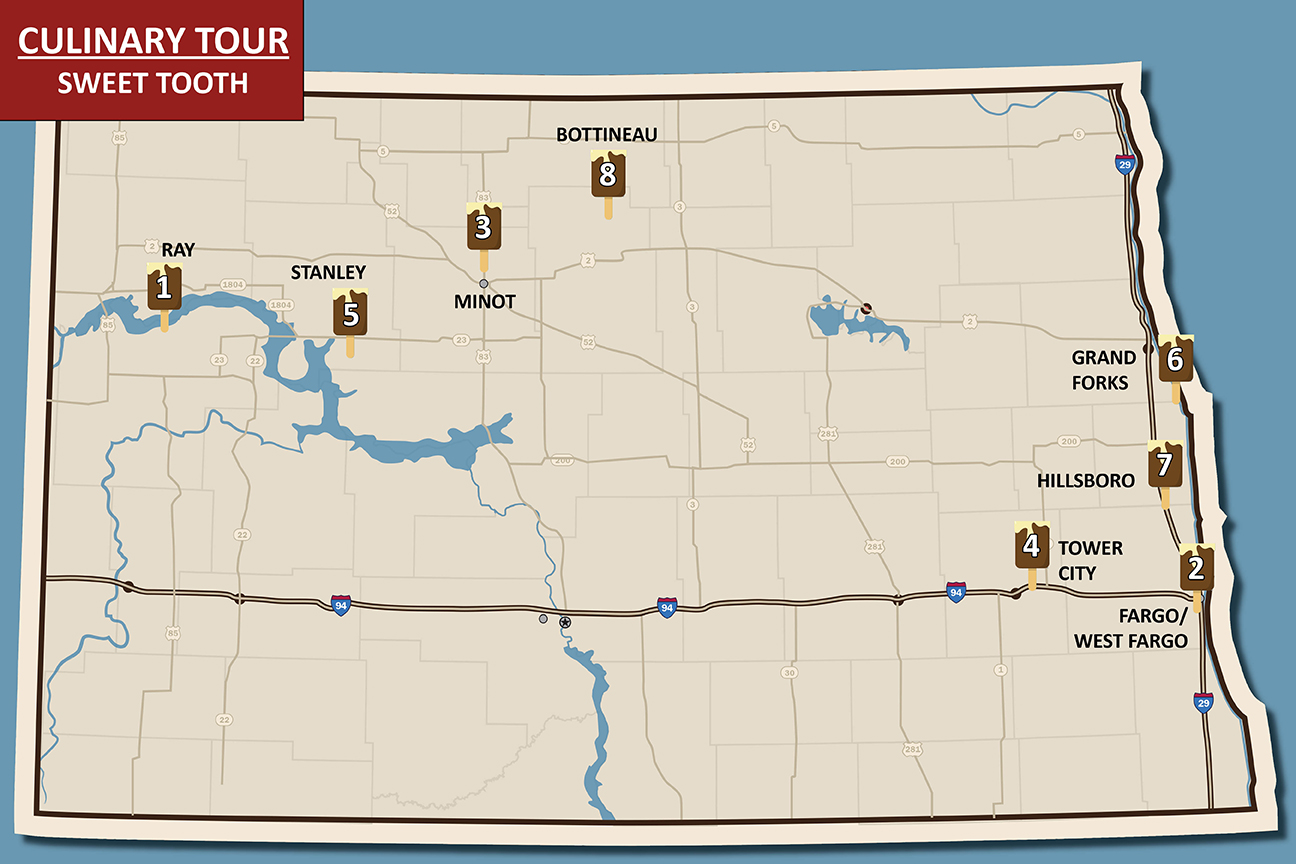 SWEET TOOTH
1. LUND'S LANDING
11350 ND 1804, Ray
701-568-3474
Savor the homemade Juneberry pie a la mode for a sweet treat on the shores of Lake Sakakawea.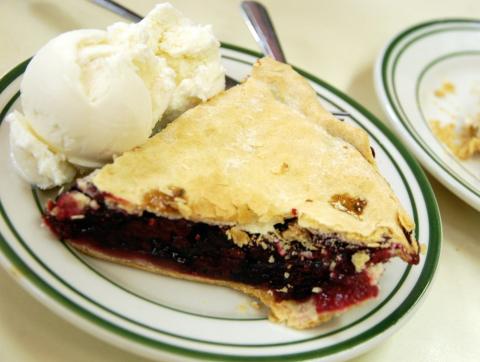 2. NICHOLE'S FINE PASTRY
13 Eighth St. S., Fargo
701-232-6430
Made-from-scratch European pastries, cakes and confections beg to be devoured from the display case at Nichole's.
3. MINOT'S DAILY BREAD
1500 S. Broadway, Minot
701-837-6904
You can always find something delicious and new made with the best of ingredients.
4. TOWER TRAVEL CENTER
101 Maiden Lane, Tower City
701-749-6000
Hungry travelers find freshly baked breads and homemade pies.
5. DAKOTA DRUG
107 S. Main St., Stanley
701-628-2255
The last known Whirl-A-Whip machine at Dakota Drug mixes up ice cream treats filled with delicious goodies. Choose from Oreos, peanut butter, watermelon candies or even dill pickles.
6. WIDMAN'S CANDY CO.
106 S. Third St., Grand Forks
701-775-3480
Widman's famous chocolate-covered potato chips, affectionately known as "Chippers," are the perfect blend of salty, crunch and sweet.
7. OUR TOWN BAKERY
3 N. Main St., Hillsboro
701-636-2156
The aroma of freshly baked treats accompanies lunch diners as they browse rows of croissants, tarts and ooey-gooey rolls.
8. PRIDE DAIRY
517 Thompson St., Bottineau
701-228-2216
Created as a place where local farmers could bring their surplus cream, dating back to June of 1930.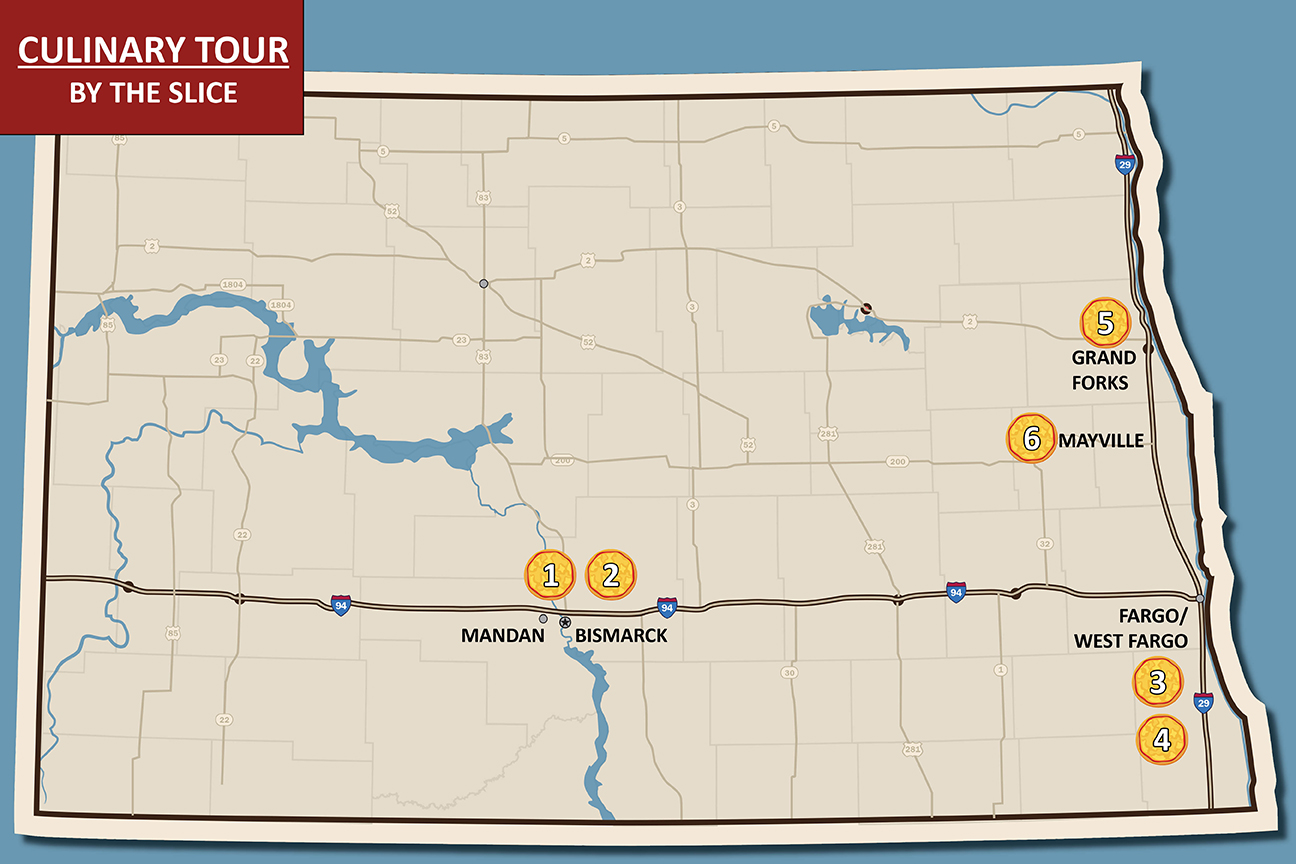 BY THE SLICE
1. A & B PIZZA
1017 E. Interstate Ave, Bismarck
701-222-3108
People's choice as Bismarck-Mandan's best pizza.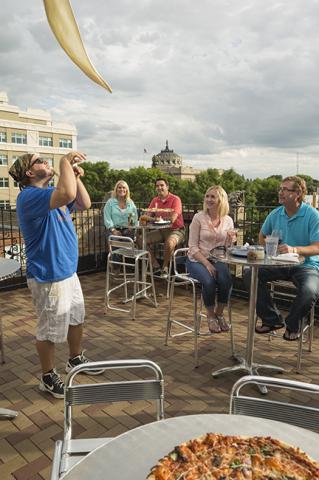 2. FIREFLOUR PIZZA
111 N. Fifth St., Bismarck
701-323-9000
Fireflour in downtown Bismarck bakes authentic, Neapolitan-style pizza topped with gourmet ingredients like hand-pulled mozzarella in downtown Bismarck.
3. BLACKBIRD WOODFIRE
206 Broadway N., Fargo
701-478-1968
Blackbird is passionate about feeding the prairie homemade, wood-fired pizzas crafted with flour milled from North Dakota wheat.
4-5. RHOMBUS GUYS
312 Kittson Ave., Grand Forks, 701-787-7317
606 Main Ave., Fargo, 701-540-4534
Consistently voted "Best Pizza," Rhombus Guys tops its pies with an eclectic mix of mix ingredients ranging from pulled pork to tater tots.
6. PIZZA SHOP
47 Second Ave. SW, Mayville
701-786-3273
Sticking to tradition since 1964 with homemade pizzas, subs and burgers. Try the pepperoni, peanut butter and jalapeño pie for an unexpectedly scrumptious combo.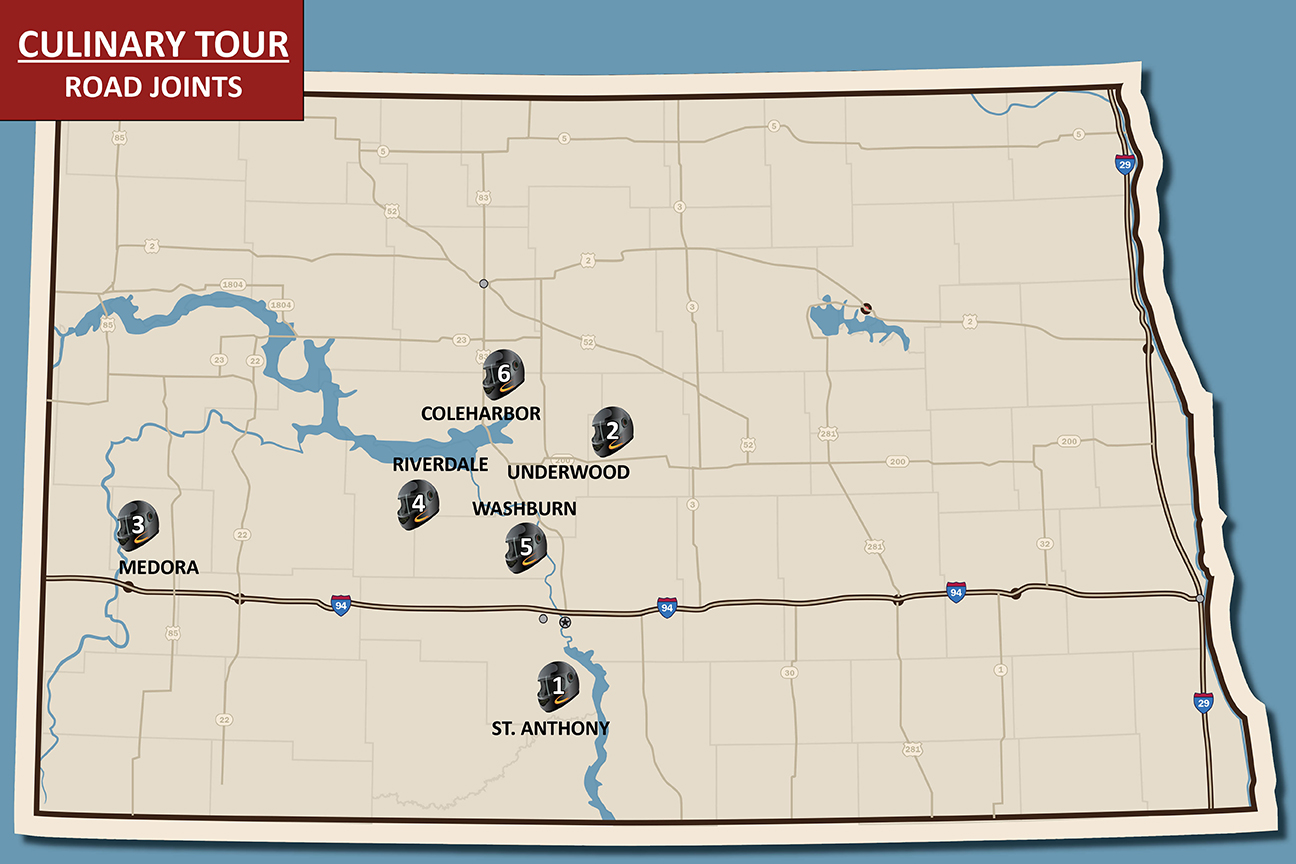 ROAD JOINTS
1. RUSTY'S BAR AND GRILL
St. Anthony
701-445-2022
Ride up on a horse or a hog and enjoy a bite to eat or a full-blown meal and refreshing drink. It's more that just a burger joint.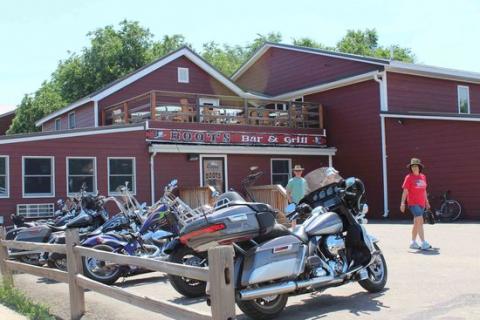 2. RUSTED RAIL BAR AND GRILL
Underwood
701-442-3033
Top off the tank and the belly at this stop along Highway 83 between Minot and Bismarck.
3. BOOT'S BAR AND GRILL
Medora
701-623-2668
In downtown Medora, Boot's is a biker stop for drinks, dining and music throughout the summer.  
4. KNIGHTS BAR AND GRILL
Riverdale
701-654-9559
Located in Riverdale within the Riverdale High Lodge. Good food and a great area for a day trip along Lake Sakakawea.
5. CAPTAIN'S CABIN
Washburn
701-462-8383
Riders from Bismarck, Minot and points east and west of Highway 83 often hit up the joint as part of a day's ride.
6. HARBOR BAR
Coleharbor
701-442-3129
Location, location, location ... plus food, drink and great biker joint atmosphere.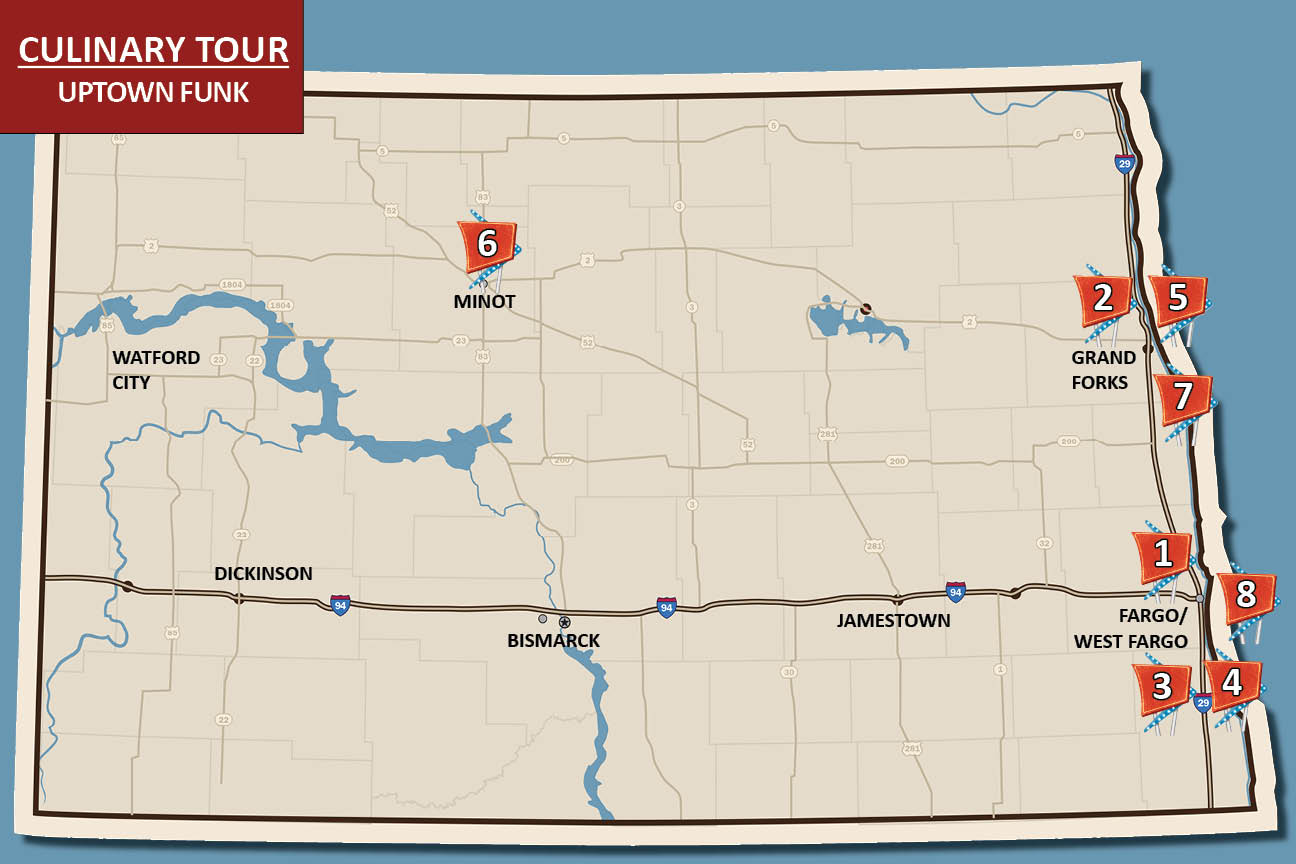 UPTOWN FUNK
1-2. VINYL TACO
520 First Ave. N., Fargo, 701-365-8226
1970 S. Columbia Road, Grand Forks, 701-757-2300
Mexican street food and drinks served in a vibrant, music-themed space. "Tuned-in music and turned-on tacos."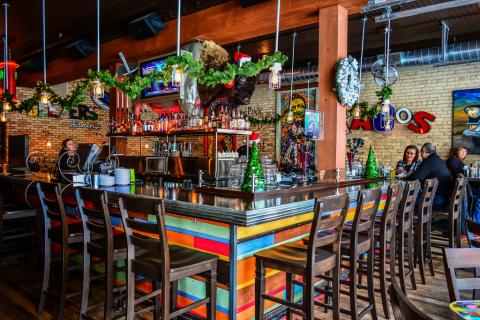 3. WÜRST BIER HALL
630 First Ave. N., Fargo
701-478-2437
True to its name, Würst Bier Hall serves more than 30 brews and a dozen sausages, including classic bratwurst and exotic jackalope links. Don't forget to follow Das Boot Rules.
4-5. RHOMBUS GUYS
606 Main Ave., Fargo, 701-540-4534
312 Kittson Ave., Grand Forks, 701-787-7317
Rooftop dining and pizza. What a great combination.
6. THE STARVING ROOSTER
30 First St., NE, Minot, 701-838-3030
Distinctive North Dakota establishment offering mighty tasty pub grub along with a wide range of great beers, wines and other bar delights. 
7-8. RED PEPPER
1011 University Ave., Grand Forks, 701-775-9671
1105 19th Ave. N., Fargo, 701-205-1702
Landmark diner and mainstay near UND campus since 1961. Enjoy the "Grinder" here or at the Fargo location.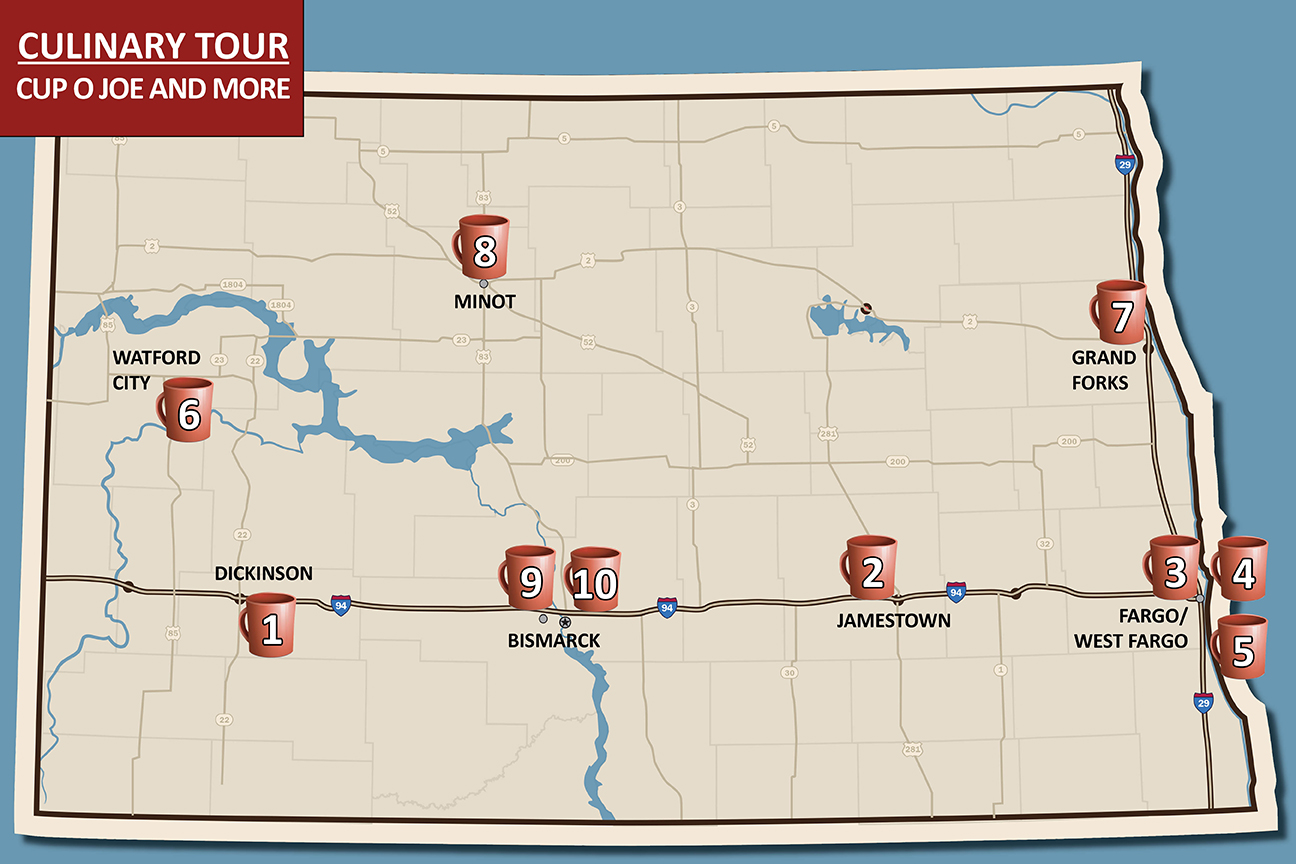 CUP O' JOE ... AND MORE
1. THE BREW
215 Sims St., Dickinson
701-483-2759
Dickinson's hip little coffee house takes pride in its beans and beverages. Pop in for a coffee, tea or sweet treat to get you through the day.
2. PLANTATION COFFEE BAR
113 Business Loop W., Jamestown
Organic, fair trade tea and coffee. We work with local dairy suppliers and bakeries to source the freshest, highest-quality offerings. Enjoy a drink on the patio.
3. TWENTY BELOW COFFEE
14 Roberts St., Fargo, 
Sip, share, savor. Slow down with us and get some coffee.
4-5. BABB'S COFFEE HOUSE
604 Main Ave., Fargo, 701-272-0222
100 First Ave. S., Jamestown, 701-251-2227
Fun relaxing atmosphere to chill with friends, relax on your own or impress business clients.
6. DOOR 204
204 N. Main St., Watford City
701-842-6441
Take a pick of more than 50 flavors served pristine hot, cold or uncomfortably lukewarm. As coffee lovers ourselves, we work to make sure our flavors are dialed.
7. URBAN STAMPEDE
324 Kittson Ave., Grand Forks
701-746-9531
Landmark welcomes students, professionals and leisure patrons for gourmet coffee drinks and baked goods and art exhibitions in "The World's Smallest Gallery."
8. BROADWAY BEAN AND BAGEL
1701 S. Broadway, Minot
701-839-2732
Minot's oldest  coffee shop
9. BONESHAKER COFFEE
1501 Mapleton Ave., Bismarck
701-530-0850
Coffee brewed fresh daily and enjoyed on plush chair and couches.
 
10. MIGHTY MISSOURI COFFEE COMPANY
411 Fraine Barracks Road, Bismarck
701-759-2949
Located within 701 Cycle and Sport, Mighty Missouri is a gathering place for those who enjoy an active lifestyle.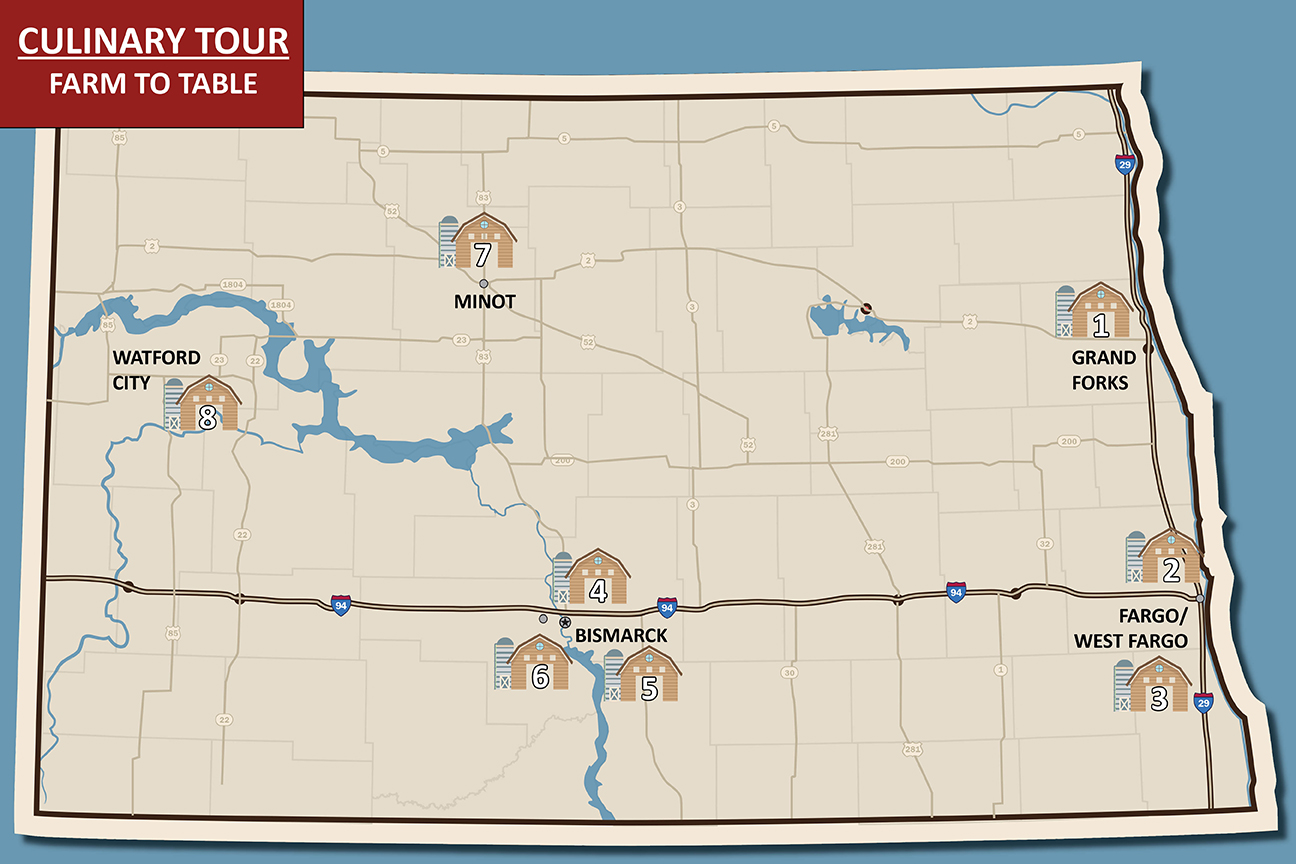 FARM TO TABLE
1. NORTH DAKOTA MUSEUM OF ART CAFE
261 Centennial Drive, Grand Forks
701-777-4195
The cafe uses fresh ingredients with thoughtful preparation to offer a wide variety of delicious dishes.
2. HODO
101 N. Broadway, Fargo
701-478-1000
Savor the perfect combination of locally and organically grown fresh ingredients, tantalizing dishes, intimate settings and knowledgeable servers.
3. MEZZALUNA
309 Roberts St., Fargo
701-364-9479
Mezzaluna utilizes locally sourced products in a seasonally inspired menu based on traditional American fare served in a refurbished 1917 office and warehouse. A diverse wine list has been created to complement the cuisine.
4. TERRA NOMAD
514 E. Main Ave., Bismarck
701-751-2070
Terra Nomad provides a holistic experience through ambience, food, coffee and clothing; a meeting place for the modern-day nomad.
5. PIROGUE GRILLE
121 N. Fourth St., Bismarck
701-223-3770
Food is sourced from top quality seasonal ingredients, featuring local and organic components whenever possible.
6.  BUTTERHORN
210 E. Main Ave., Bismarck
702-751-0802
The cuisine focuses on French and Italian influences while incorporating local ingredients to promote the use of seasonal produce and proteins from North Dakota and surrounding states.
7. SOURIS RIVER BREWING
32 Third St. NE, Minot
We use locally sourced and the freshest ingredients available to create our quality beers and food.
8. OUTLAWS BAR AND GRILL
120 N. Main St., Watford City
701-842-6859
Outlaws' Bar and Grill prides itself on its mouth-watering, locally sourced USDA Choice steaks.
FAIRS AND FESTIVALS
North Dakota's fairs an festivals are wonderfully unique and based a lot on the culture of the location: Ukrainian in the Dickinson area; Germans around Wishek and Strasburg; Icelandic near Mountain; and Norwegian throughout the state. Food is a big part of that, and sampling delicacies from around the world is a must when attending events like these:  
MARCH
Bacon and Beer Festival, Fargo
JUNE
Ribfests in Bismarck, Fargo and Walhalla
Rhubarb Festival, Grand Forks
Turkey Barbecue, Aneta
JULY
Best of the West Ribfest, Watford City
North Dakota State Fair, Minot
Ukrainian Festival, Dickinson
Watermelon Days, Hebron
AUGUST
Chokecherry Festival, Williston
Corn Feed & Old Settler's Day, Bismarck
Deuce of August Icelandic Festival,
Mountain
Watermelon Feed, Washburn
SEPTEMBER
Norsk Hostfest, Minot
Oktoberfests in Hazen, Jamestown and
Mandan
Potato Bowl USA, Grand Forks
Pumpkinfest, Walhalla
Sunflower Festival, Enderlin
OCTOBER
Sauerkraut Day, Wishek
GooseFest, Kenmare