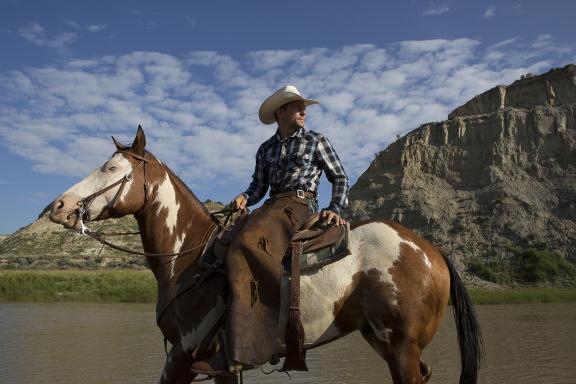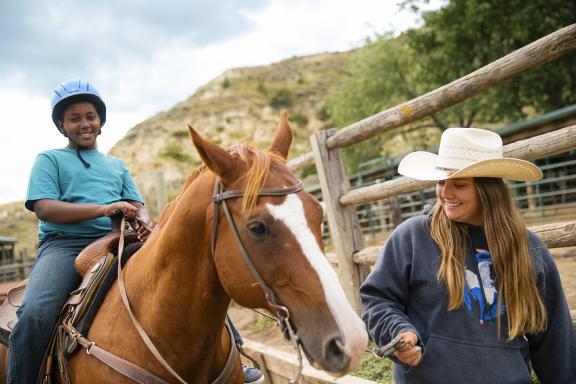 Saddle Up for Horseback Riding North Dakota-Style
Hit the dusty trail and explore North Dakota's state parks and recreation areas by horseback.
You're never too old to play cowboy. North Dakota has a number of exceptional areas to see from the saddle. Hit the trail on your own horse, or enjoy a short ride at the Medora Riding Stables or ride as part of a ranch vacation at Black Leg Ranch.
North Dakota Horseback Riding Areas
Theodore Roosevelt National Park
Explore North Dakota's Badlands just as Theodore Roosevelt did, on horseback. The South Unit of the park has more than 80 miles of marked horse trails, plus countless unmarked trails carved by the park's buffalo herd. Riders are permitted in all areas of the park except for camping and picnicking areas and nature trails. A group horse campground is available in the South Unit by reservation and backcountry horse camping is allowed. Horse rentals and guided trail rides are also available. Popular riding areas include Petrified Forest, Halliday Wells and Painted Canyon. Be sure to watch for bison, wild horses, long-horned cattle, elk and deer. Horse trails can also be found in the North Unit.
Those wishing to bring their own horses into the Badlands frequently use Sully Creek, with its horse corrals and primitive camping facilities as their staging area. Located near the historic western town of Medora, the park trails connect with those on the nearby Little Missouri National Grassland.
More than 25 miles of the trails crisscross the Badlands terrain of the 6,000-acre park, most of which is accessible only on horseback or foot. The park provides corrals for those bringing their own mounts. An especially good time to ride in this park is the spring, when the Badlands come alive with blooming cactus and wild lilies. Bobcats, mule deer, golden eagles and other wildlife roam this primitive setting.
Nestled in the scenic Turtle Mountains on the shores of Lake Metigoshe, this state park includes several miles of non-motorized, multi-use trails on rolling hills. The acquisition of an adjacent camp area significantly adds to the existing trail opportunities and also provides cabin rentals for park users in the summer and winter months.
More than 7,000 acres provide miles of winding, scenic trails in the heavily wooded Turtle Mountains. Both day-long riding facilities and primitive camping are available at Strawberry Lake.
Located in southeastern North Dakota, the Sheyenne National Grassland includes a 25-mile segment of the North Country Trail. The trail covers flat, open prairie and is open to all non-motorized traffic. Maps are available at the U.S. Forest Service district office.
Little Missouri National Grassland
This ranger district in southwestern North Dakota includes hundreds of miles of roads and trails open for multiple use. Check with the ranger office for directions and topography maps.
US Forest Service, McKenzie Ranger District
In addition to hundreds of miles of two-track trails and gravel and scoria roads, this ranger district includes 14 miles of marked multi-use trails on primitive roads over rolling plains and steep Badlands. Designated trails include the Long X Loop Trail, an 8.5-mile double-track trail, and the Summit Trail, a 4.5-mile single-track trail leading to a campground. Check with the ranger office for directions and trail maps.
Fort Abraham Lincoln State Park
Rich in both military and early Indian history, Fort Abraham Lincoln was once an important infantry and cavalry post. It was from this fort that Lt. Col. George Armstrong Custer and the 7th Cavalry rode out on their ill-fated expedition to the Little Bighorn. Portions of the military post, including the Custer House, have been reconstructed.
The Maah Daah Hey Trail is a 146-mile non-motorized trail for biking, hiking and horseback riding. The trail begins near Amidon, approximately 40 miles south of historic Medora, and meanders north through the south and north units of Theodore Roosevelt National Park.
For more information, contact the U.S. Forest Service at 701-225-5151, the National Park Service at 701-623-4466, or the North Dakota Parks and Recreation Department at 701-328-5357.