Growing agritourism in North Dakota
Ignite your curiosity with sight, sound, touch and taste of agritourism
The motto "Strength from Soil" is found on North Dakota's coat of arms and governor's flag. This prestigious symbol highlights North Dakota's second-largest industry with more than 30,000 farmers and ranchers canvasing 39.6 million acres. That's 90% of North Dakota's land area, which is known for producing top-quality spring wheat, durum, sunflowers, canola, honey and so much more.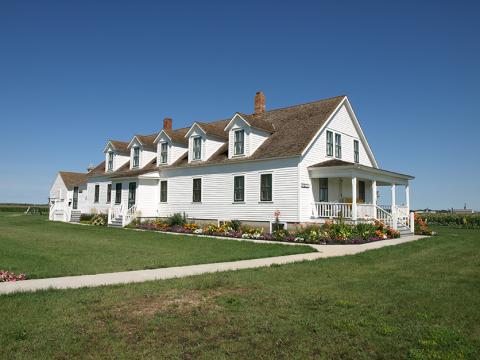 Agritourism, the combination of agriculture and tourism, is growing in numbers and diversifying in product to include working farms and ranch visits, vineyards, wineries and breweries, pumpkin patches, orchards for farm festivals, corn mazes and u-pick fun. Be curious enough to book a farm stay and discover the many reasons why this family loves and works the land. Blooming trees, flowering blossoms and lilac fragrances may adorn a garden tour leading to a winery, where you can sip on the product of the vines. 
We make it easy for you to enjoy the flavors of the farmers markets, food festivals and farm and ranch experiences in North Dakota.
Click here for more about agritourism in North Dakota.
With farms and ranches covering almost 90% of the state — 39 million acres — agriculture is sure to be important to our way of life. This is where our ranchers raise 1.7 million cattle, 160,000 pigs, 1.2 million turkeys and 88,000 sheep. And thanks to our farmers, we lead the nation in production of spring wheat, durum, honey, canola, sunflowers and more. We make it easy for you to enjoy our bounty with farmers markets and food festivals across the state!
Farm Stays and Gardens
The most productive acres in the country lead to some of the most intriguing farms. Stay on a North Dakota farm and learn about the latest farming methods while enjoying home-cooked delicious meals. Tour one of our farmsteads or community gardens and learn about healthy, locally sourced foods. Consider the following when you plan an agritourism trip across North Dakota.
Coteau des Prairies
Rutland
Beautiful 13-bedroom lodge with sweeping views and exclusive farm excursions with an educational tour of a modern family farm operation.
Bagg Bonanza Farm
Mooreton
This plantation of the prairie is a national landmark dating back to the 1800s.
Bonanzaville
West Fargo
Life as it was in a small prairie town at the turn of the century, with a collection of 43 buildings and 400,000 artifacts on 12 acres.
Boondocks
Jamestown
The early 1990s barn was renovated into a beautiful venue with a country-rustic feel. It's perfect for parties or corporate meetings. It also hosts barn dances and can accommodate wedding parties.
Dakota Sun Gardens
Carrington
Not your typical garden, but a farmstead with 30 flowerbeds, fruit plots and a winery.
Crooked Lane Farm Folk School and Event Center
Colfax
The family farmstead offers activities, classes, workshops, and events that encourage arts and crafts reflective of the community's history.
Ostlie's Sunnyside Acres
Carrington
Garlic and hops are its specialty, but there is so much more to experience at this hands-on farm in central North Dakota.
gardendwellers FARM
Esmond
North Dakota's largest herb farm delivering high-quality herbs and educational opportunities from June through October.
Pipestem Creek Bed and Birding
Carrington
Lodging among beautiful flower gardens with a mile of trails for birding or just enjoying. Two fully furnished homes and two quaint cabins available.
Slavic Heritage Farm
Rugby
Growing the best farm fresh organic foods and offering workshops on gardening and raising livestock, all with a European flare.
Vineyards and breweries
We've made it easy to discover our wine producers and microbreweries — just hop on the North Dakota Beer and Wine Trail. Each stop has its own special flavor and personality, with many using North Dakota agricultural products in their beverages, like wheat, honey and fruit. We're also home to a thriving microbrewery culture. Find your new favorite IPA, stout, pilsner, porter and other tasty surprising choices. Who knows, you just might be served by the brewmaster himself. Click here for a list of North Dakota wineries and vineyards.
Ranch vacations
Nothing is more real than a North Dakota ranch — which is why staying at one means great stories to share. Spend the day riding the range and keeping your eye on the herd. Then enjoy a hearty ranch meal with the family and ranch hands followed by making s'mores around the campfire. It's a true ranch experience without the "roughing it" part.
Logging Camp Ranch
Amidon
Working cattle ranch from the 1880s to present. Experience the true western lifestyle.
Lone Butte Ranch
Grassy Butte
Ranch experience with log cabins and horse boarding. Spectacular views of the Badlands.
Rolling Plains Adventures at Black Leg Ranch
McKenzie
Try your hand at horseback riding and cattle branding at a real working ranch.
Farmers Markets
Visit one of our popular farmers markets and not only are you supporting local farmers, you'll be enjoying some of the freshest and healthiest foods you can find. Find your favorite fruits and vegetables along with mouth-watering pies, honey, jellies and jams.
Farm-to-Table
North Dakota restaurants take pride in working with neighboring farms and ranches. Mezzaluna in Fargo uses locally sourced ingredients throughout its menu. Blackbird Woodfire in Fargo uses flour milled from North Dakota wheat in its pizzas and 10 North Main in Minot serves locally raised bison. The proof is in every mouth-watering bite.