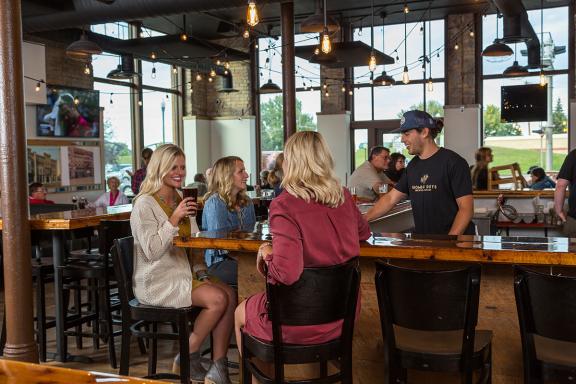 Breweries, Wineries and Distilleries
Cheers! Enjoy a pint, a goblet, a highball, or maybe all three.
Whether you like your beer robust and rich, hoppy, or light, these breweries are sure to please your senses with their award-winning, in-house brews. An array of wineries and distilleries produce aromatic wines and signature spirits from locally grown grape vines, fruits and berries, grains, potatoes and more. These breweries, wineries and distilleries offer a one-of-a-kind experience.
Bismarck
Big Dog Distillery
Big Dog Distillery and Big Dog Tiki Bar is the home of Heart River Spirits. Producing both rum and moonshine, Big Dog Distillery is the first of it's kind in the area. The rum is distilled in single-run, copper-pot stills that are designed to bring out the smoothest and richest flavor profiles available.
Bismarck Brewing Company
Craft brewery located upstairs in the taproom - enjoy locally brewed craft beer, games, conversation, and more. Cheers!
Laughing Sun Brewing Company
Voted the "Best of the Best" of Bismarck's breweries, and the "Best BBQ" in town. Join in the fun with axe throwing, live music, art installations, and art and yoga classes.
Colfax
Dakota Vines Winery
Dakota Vines is dedicated to producing high-quality North Dakota and regional cold climate grape and fruit wines and offers a unique, rural experience for wine enthusiasts and those interested in learning more about wine and winemaking.
Dickinson
Fluffy Fields Vineyard & Winery
North Dakotas first year-round full-service winery offering a selections of exclusive North Dakota wines, ales, and fine food.
de Porres House of Barbering and Lounge
This one-of-a-kind lounge has a great atmosphere with brews on tap, a wine selection and cigars available.
Grand Forks
Half Brothers Brewing Company
Sit down to enjoy the live music, signature menu, and noteworthy concoctions like the Bully Brew Coffee Brown Ale, Lemon + Peach Sour Gummy Göse, and their rotating Smash Bros Series.
Red Pine Distillery
Red Pine Distillery is a craft distillery that handcrafts ultra-premium distilled spirits from crops grown in the Red River Valley. Red Pine's biggest accomplishment has been the release of its first product, Sugar Beet Vodka, into the market.
Rhombus Guys Brewing Company
Serving up iconic ales, this 15-barrel brewhouse brings new life to age-old styles including ambers, IPAs, pales, sours and stouts. Don't miss out on the great eats from the kitchen while you are here.
Fargo
Bear Creek Winery
Offers a relaxing escape where you can enjoy our beautiful vineyard and golf course with your family and friends and sip delicious, award-winning North Dakota wine. The tasting room is seasonal.
Drekker Brewing Company
They believe in create experiences and destroying expectations. Crank up the good, turn down the bad. They are all about creating a community and having a good time, and of course serving extremely good brews.
Proof Artisan Distillers
As the first legal whiskey distillery in North Dakota they share a passion for quality, and it shows through the production of nationally awarded 2Docks, Minions Gins, Crooked Furrow Bourbons and Glen Fargo American Malt Whiskey. All utilizing North Dakota grown potatoes, barley, and corn.
Wild Terra Cider and Brewing
Serving up fun and experimental ciders and brews on tap in a groovy atmosphere with an outdoor patio area as well.
Mapleton
4e Winery
They specialize in amazing wines made from fruit and grapes that are hardy enough to survive this climate. Experience the best of North Dakota wine tasting experiences while enjoying a glass or flight of wine in the quiet of rural Cass County.
Icewind Brewing
Whether you're looking for classic styles or something more experimental, they've got you covered. They take pride in providing both excellent customer service and beer.
Minot
Atypical Brewery
A craft brewery that focuses on Barrel-Aged sour ales, as well as other specialized beers.
Pointe of View Winery
North Dakota's first winery, specializing in native fruit, grape and honey wines. Free tastings available.
Souris River Brewing
They locally brew a growing variety of quality craft beers, with locally sourced ingredients and focus on serving the best, freshest locally-produced menu available.
Urban Winery & Gallery
Get your friends together for a tasting party, or choose and make your wine. Delight in all of our art, from the paintings to the furniture, which has been hand painted by Eric Hansen.
Watford City
Stonehome Brewing
Local BrewPub featuring craft beer, and mouth-watering wood fired pizza and pasta.
Wheatland
Rookery Rock Winery
They feature locally made and sourced grape and fruit wines. They are located on the beautiful shores of Lake Agassiz.