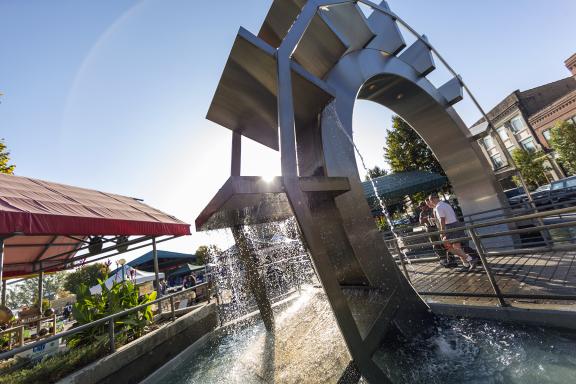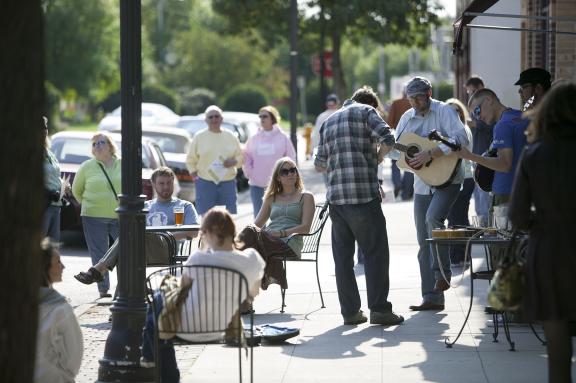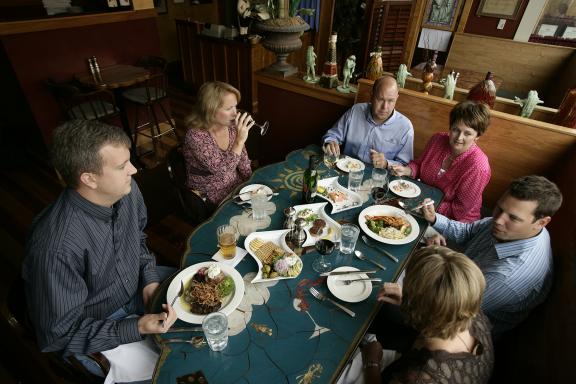 Distinctly Downtown Grand Forks
When visiting Grand Forks, you won't want to miss the distinctive downtown district. Here are a few must-sees to put on your list:
The Paddlewheel – Downtown Grand Forks sits on the storied banks of the Red River of the North, where fur traders, bootleggers and river captains made their mark. After the historic flood of 1997, the downtown district underwent revitalization, and today, this vibrant area features exciting public art, bold levees, unique shopping and locally owned eateries. Enter the distinctive downtown district through the iconic paddlewheel, a stainless steel wheel that serves as a welcoming entryway, while nodding to the district's past.
Shopping – The bustling downtown district has an array of retail options to suit any style of shopping. Whether you want to unearth unique finds in art and antique shops, stock up on brand name fashions at a shopping mall or find something special in an indie boutique, you'll find what you're looking for in Grand Forks and East Grand Forks.
Events – There's always something going on, from arts and culture to exciting foodie events. Sip wine and stroll downtown during the Art & Wine Walk, peruse fascinating pieces by local and international artists at Grand Cities Art Fest or catch one of many outdoor concerts during the summer. During winter months, take in a ballet, musical production or symphony performance. See what's coming up in the events calendar.
Dining – Looking for a bite to eat? North Forks' downtown area is compact, easy-to-navigate, and offers plenty of affordable restaurants. Explore a variety of eateries, which include farm-to-table local bakeries, cozy coffee shops, mom-and-pop restaurants and recognizable dining spots.
Nightlife – Have a little fun once the sun goes down with the local vibrant nightlife scene. Find happy hour at a new hot spot, go bowling, sing karaoke, pick up tickets to an Empire Arts Center show or hear some late-night live music at a nearby tavern.
Downtown Events
Mark your calendar with these ever-exciting events in Grand Forks:
Outdoor Farmer's Market
Town Square
This open-air markets occurs every Saturday morning, mid-June through September.
Blues on the Red
Town Square
This three-part live music series takes place the fourth Saturday of June, July and August.
Art & Wine Walk
Red Roof Inn TownHouse and the Blue Moose Bar & Grill
This adults-only event combines unique wines and works from regional artists, every third Saturday of June through October.
Rockin' on the Red Festival
Greenway Parking Lot
This family-friendly outdoor concert takes place in September.
Grand Cities Art Fest
Downtown Grand Forks & East Grand Forks
This festival features more than 150 artisans and crafters from around the U.S. and Canada the second weekend in June.
Empire Theatre Company
Empire Arts Center
This production company produces plays and musicals throughout the year at the Empire Arts Center, which also is the location of the Backstage Project, a series of live music in an intimate setting.