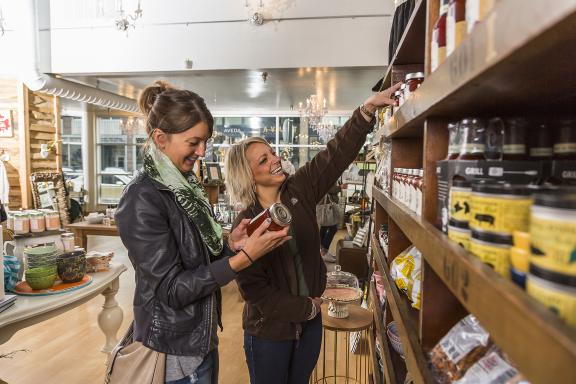 Shopping
Our state is big on small business. In our local shops you'll find goods that are legendarily North Dakotan. Whether you're looking for a place to pick up that perfect souvenir, or a specialty shop to find unique gifts for family, friends or maybe even yourself, you will certainly find something that exudes North Dakota pride here!
Click here for the legendary North Dakota Holiday Gift Guide
Be sure to check out the North Dakota Be Legendary gear, the local CVB gift shops, ShopND.com, and the various other shopping options as well! Remember to plan ahead, if there is a big event coming up (like the holidays) don't wait until the last minute to get your gifts.
Iconic Gifts
Take some of these iconic North Dakota souvenirs home with you. Click on the items that catch your eye to learn the story behind the product, and where to get it.
Top Local Picks
Locals know all the best spots right? Check out these must-stop shops to load up on North Dakota-themed art, food and gifts; each one with its own unique experience the second you step inside.
The Gift of Travel
The gift of travel brings lifelong memories for all of your family and friends looking forward to their next adventure. #LetsMakePlans
Pride of Dakota
Pride of Dakota is your ultimate resource to locally made North Dakota products. Developed in 1985 by the North Dakota Agriculture Department and local business leaders, what started as a list of less than two dozen vendors now has more than 500 businesses from large-scale companies to small "mom and pop" shops. Keep an eye out for this stamp as you travel and shop to support proud North Dakota businesses or buy online.