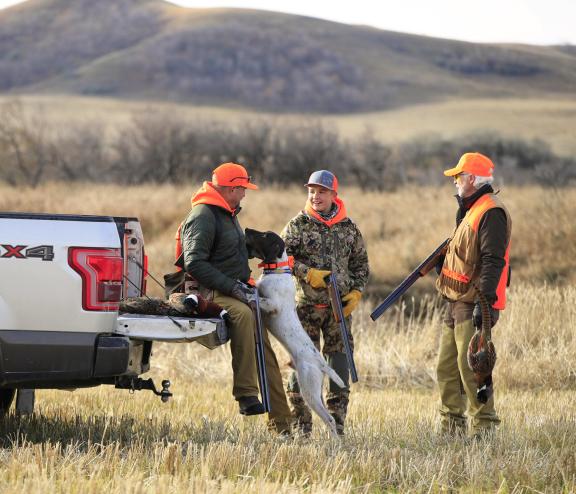 Fall Hunting in North Dakota
Hunters preparing for another season in North Dakota
Fall means more than football and cooler temperatures in North Dakota. It's a colorful time as foliage begins to change, leaves fall and hunters take to the field. Waterfowlers and upland game hunters can hunt until the season ends in early December to early January. Upland game - pheasant, grouse and partridge - are plentiful as spring crowing counts were up 30% statewide.
North Dakota's location along the Central Flyway means vast flocks of migratory birds will be making their way across the middle of the state, making it a special time for goose and duck hunters. 2023 breeding duck index isup 39%.
Now is the time to make sure all of your hunting needs - including purchasing licenses - are taken care of. And don't forget your hunting partner. Gun Dog magazine recommends a pre-hunt vet checkup and vaccinations to prevent infections that can be transmitted from wildlife to dogs. And if your dog hasn't been in the field for a while, it might be time to start conditioning for the hunt ahead.
Finally, in early November, hunters put down their shotguns and take up their rifles as deer season gets under way. Deer hunting is a traditional rite of passage for young hunting enthusiasts in North Dakota.
The North Dakota Game and Fish Department has comprehensive details regarding big game, upland game, waterfowl, furbearers, other migratory birds, and more.
You can also find information on public (PLOTS) land.