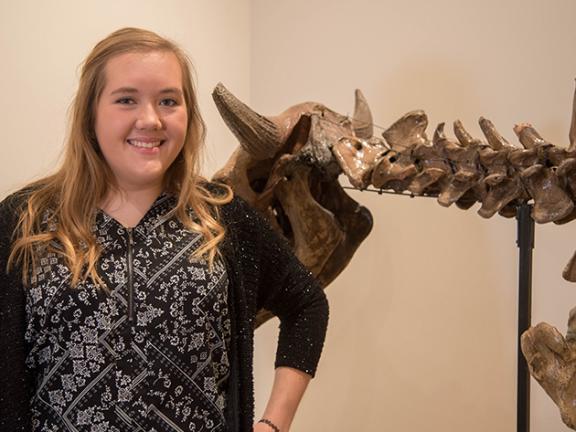 Jennifer Nannega: Young Bison Advocate
"My perception of the bison has changed since I've worked at the museum. I understand more their purpose to our prairie ecology which makes them more meaningful."
During summer breaks from working towards her degree at NDSU, Jennifer Nannega returns to her hometown to work at a childhood favorite. "I used to come to the National Buffalo Museum with my family all the time when I was little," Jennifer says. "That just got me interested. I thought it was a fun place to work." Now she runs the till, assists customers, watches over the gift shop and makes sure everyone is enjoying their time at the museum. Jennifer adds, "and if you have any questions, I'm there to help answer them as well."
In addition to answering questions about our national mammal, Jennifer points museum visitors to the live bison herd with a rare white buffalo in the pasture land adjacent to the museum. "People don't realize how big bison are," Jennifer explains. She always sees people surprised at the size of the herd as well as the size of the skulls and skeletons within he museum.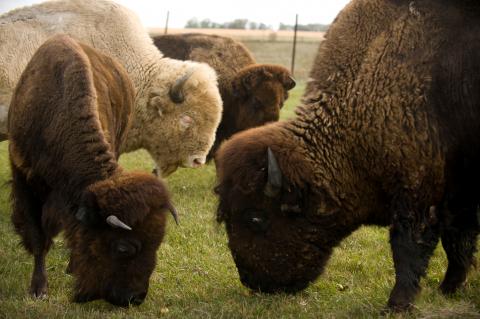 Daily interaction with visitors gives Jennifer the opportunity to hear what other people think of the area. She gets to meet people from around the world. "We always think the people we see around us are from the area, but that's not always the case. We have been getting people from at least 22 different countries here," she says. "People really find it beautiful here, more than they expected. It's like a little hidden gem that they can come and just enjoy for a weekend."
Jennifer enjoys telling the story of the American bison, from the importance of the animal to native cultures to the population demise and what it has taken to build the population back up. "They're not just another animal," she says. "They're a living creature that we need to work to save to get our ecology back up to where it used to be, so we can have a healthy grassland."
In addition to the National Buffalo Museum, Jennifer recommends visiting the other historic sites in Jamestown, including North Dakota's oldest surviving courthouse, the 1883 Stutsman County Courthouse State Historic Site; the Stutsman County Memorial Museum, housed in an early 1900s Arts and Crafts-style mansion; and Fort Seward, a fort that protected railroad construction in the late 1800s. Jennifer also recommends Hansen's Art Park, a recently renovated downtown space welcoming arts in all forms throughout the summer.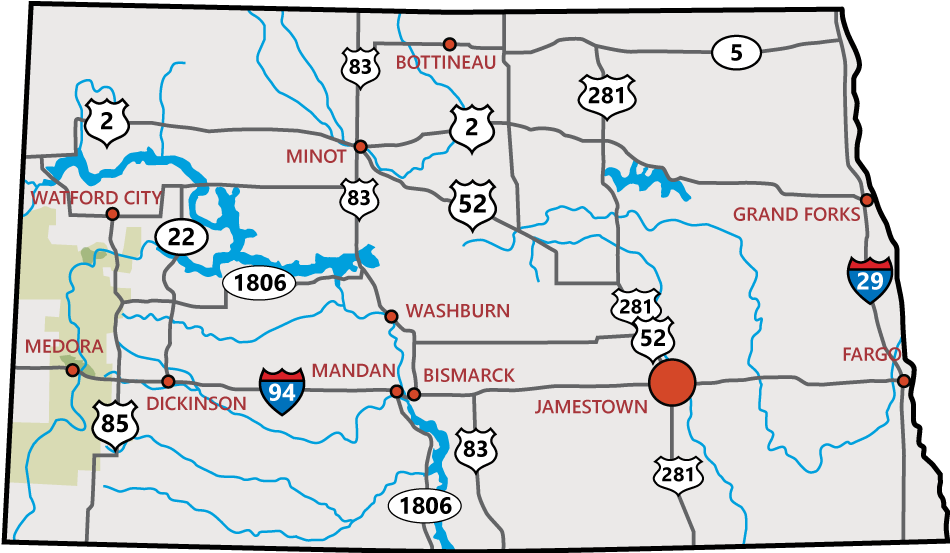 Fun fact: The term "buffalo" is actually a nickname. Bison is the correct term for the animal but both words are often used interchangeably.
For more stories, go to ND TravelMatters.
  Video created with help from Jamestown Tourism