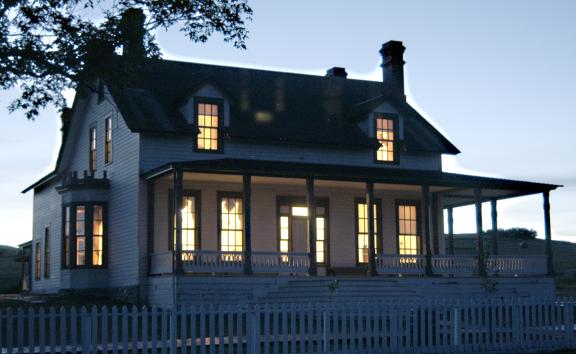 North Dakota Legend and Lore
Experience haunted mansions, Wild West lore and other North Dakota legends.
Ghosts of the Custer House
Tour guides and other workers at the reconstructed house of General George and Libbie Custer at Fort Abraham Lincoln near Mandan say the mansion is haunted with a "presence" that has tapped people on the shoulder, moved dishes and candlesticks and wiped its hands on valuable linen. Lore has it that spirits of people who die traumatically sometimes return to the place where they were most happy. In Custer's case, that could be his spacious mansion on the Missouri River bluffs.
The Darkest Place-Aurora
Theodore Roosevelt National Park in western North Dakota is rated one of the 10 darkest places in North America. For people from urban areas, a cloudless, moonless night in North Dakota can produce a memory they hold for a long time after they see the Northern Lights. The British Astronomical Association, which analyzed the visibility of Northern Lights worldwide, came to the conclusion "the best place so far identified to see the storm aurora (Northern Lights) with a minimum of cloud cover appears to be North Dakota." 
Wild Bismarck
Bismarck was at one time considered the second wildest town in the early West, second only to Dodge City, Kan. Each late fall, before the town became snowed in, the "good" townspeople would round up the rowdies and usher them out of Bismarck at gunpoint for the last train east to civilization. It is said Bismarck had at one time more saloons than private homes, with wild shootouts not uncommon.
Bloody Knife's Horse
Bloody Knife, an Arikara Indian scout who was killed at the Battle of Little Bighorn, was the favorite scout of Gen. George Armstrong Custer and was at his side in the Yellowstone, Black Hills and Little Bighorn campaigns of 1873-1876. To this day, Bloody Knife's people tell the story of his horse. During the pivotal summer of 1876, after the Battle of Little Bighorn, the buckskin horse belonging to the Arikara warrior found its way home, 500 miles distant, to Like-A-Fishhook Village near what is now Garrison, N.D. The Arikara say the spirits of all the men, both warriors and soldiers, who fell in the battle were embodied in the horse, which returned home to tell the story of their brave deeds.