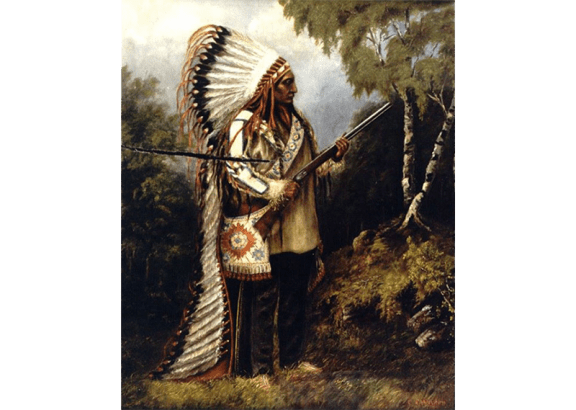 Portrait of Sitting Bull on Display at North Dakota Heritage Center
Original painting done by Catherine (Caroline) Weldon from "Woman Walks Ahead"
Forget for a moment that the movie "Woman Walks Ahead" is anything more than a great story: that a woman from New York City came to Fort Yates Agency in the late 1800s and painted Sitting Bull, one of the greatest and most well-known Native American chiefs in our country's history.
That alone is a great story, as is any involving the people living on the Northern Plains in the 1800s. It was a time when westward expansion was creeping into the lands that had long been home to various tribes, whose relationships with other tribes – friendly and not – created a hard landscape to traverse.
The real purpose of Caroline (Catherine) Weldon's appearance in Dakota Territory has been debated. Even if it were politically unpopular at the time, the fact is she came here with her son in tow and lived among the Sioux tribe and Sitting Bull in what is now North Dakota. She painted portraits, was active politically, and returned home.
One of her portraits is still on display at the North Dakota Heritage Center and State Museum on the Capitol Grounds in Bismarck. A rip in the canvas is damage done to the portrait after Sitting Bull was killed and before the artwork was saved from destruction by a U.S Army soldier. That person eventually gifted it to another, who turned it over the the North Dakota State Historical Society.
An informational panel at the Heritage Center and State Museum tells more about the people, the portrait, and the story behind it.
Among the many galleries detailing the history of North Dakota are displays central to the experiences of Native American and settlers to the state.