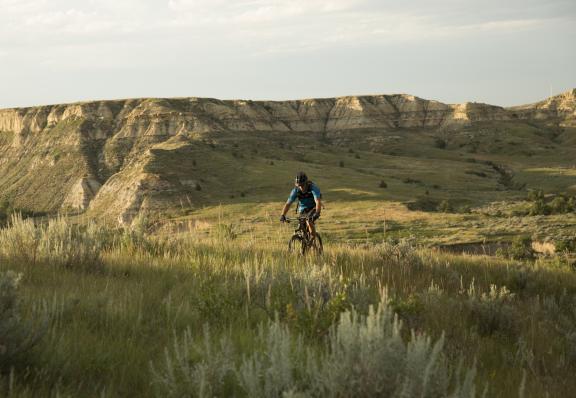 20 Ways to Make the Most of Summer
Summer is a beautiful time of year to get out and enjoy the weather and all that there is to do here in North Dakota!
North Dakota road trips are calling. Discover the best routes through vibrant cities, Theodore Roosevelt National Park, historic attractions, the great outdoors and more. Follow your curiosity, not the crowds to a land of legends, scenic wonders and a vast array out outdoor recreation. Enjoy these activities as you travel around the state.
Diggin' for Dinos
History is big here. Pre-history is bigger. A LOT bigger. Dinosaurs were common travelers across North Dakota, which makes it a perfect destination to dig for their skeletal remains on guided fossil digs this summer. *Tip – Plan ahead as space is limited.
Healthy Hikes
Lower your stress, improve your mood and enhance your mental well-being on our legendary trails. North Dakota's 13 state parks provide access to 185 miles of hiking trails through wooded areas and rolling hillsides. Trails across the state are waiting for you to leave your non-carbon footprint. *Tip – Stay hydrated as you explore the trails.
Theodore Roosevelt National Park
Theodore Roosevelt came to the Badlands looking for inspiration and found what he needed to become President. You, too, could be inspired at Theodore Roosevelt National Park and the Little Missouri River that flows through the park's three units. *Tip – Wildlife tend to be more active in the morning and evenings.
Get Yer Motor Running
North Dakota's open roads are made for two wheeling. Small towns, light traffic and sites to see are reasons enough to hit the road. Take a tour down the Enchanted Highway and to a myriad of other larger-than-life tributes along North Dakota's highways and byways. *Tip – Top off the tank and check for road work before heading out.
The Big FORE!
Nobody cares if you shave scores when you golf one of our premier courses: Bully Pulpit, Hawktree, Links of North Dakota or King's Walk. Who hasn't used a footwedge or three to card that 25-over? Regardless of your skill level, these courses can fit your game, the scenery is an add-on. *Tip – Try the Triple Golf Challenge.
Is That Sprague's Pipit?
It is! But it's only one of the many species of birds you'll see during a stay at Pipestem Creek and nature retreat. Treat yourself to some quiet time with family and friends and stroll the gardens in search of species that inhabit the Central Flyway near Carrington. *Tip – Bring your birding checklist.
How Bad Are You?
Bad enough to ride a mountain bike for 100 miles through the Badlands? The Maah Daah Hey 100 from the north unit of Theodore Roosevelt National Park to the south unit will push your biking skills and endurance to the limit. *Tip – Reserve your spot early and carb-load for this one.
OHV … Oh My Goodness
Off-roading is one great way to get into nature without having to hike or bike. Let your ride take you into the wilderness on some of North Dakota's maintained OHV trails. Adventure awaits from the Badlands to the Desert to the Gorge. *Tip – North Dakota's sunsets and sunrises are legendary, so bring your camera.
White Horse Hill
The name has changed from Sullys Hill to White Horse Hill, but 250 species of birds still soar over bison, elk and deer at this national game preserve on the shores of Devils Lake. Driving and walking trails are within the preserve. *Tip – Be sure to stop at the points of interest and see the spectacular views.
Batter Up!
What's summer without baseball? The Fargo-Moorhead RedHawks are an independent minor league baseball team in the state's largest city. And you won't strike out watching the Northwood League's Bismarck Larks or the Expedition League's Badlands Big Sticks in Dickinson and Hot Tots in Minot. Batter up! *Tip – Call ahead for tickets.
Roughing it? Hardly
Why rough it in Medora when you can sleep in comfort that Teddy only dreamed of when he stayed at the Rough Riders Hotel. Luxury meets western charm right downtown. And fine dining awaits at Theodore's Dining Room. *Tip – Ask about the fireplace in Theodore's Dining Room.
Let's go Fishing!
Cast a line from shore or the boat into some of the best fishing waters in the country! There's plenty of space for anglers of any age and the season is eternal. That's right, it never ends! *Tip – A North Dakota fishing license can be acquired online.
Peace … And Quiet
In a time of uncertainty, there is one place you can be certain to find peace and quiet. The International Peace Garden on the U.S.-Canada border is a place for reflection and relaxation. Take a deep breath, smell the thousands of fresh flowers, and just relax for a spell. *Tip – The gardens are typically in full bloom mid-July.
Fabulous Forts
Forts on the prairie served as places of commerce and protection. Revisit North Dakota's historic forts to get a glimpse of what life was like during the fur trade and expansion eras. *Tip – Ask an interpreter how forts changed the landscape in North Dakota.
The Mural of the Story
Street art has embraced culturally diverse Fargo, where murals on selected buildings and walls tell unique stories through art and the viewpoint of artists. *Tip – Plenty of photo ops on this tour, so bring your camera or smartphone.
Sip the Day Away
Warm weather beckons and so do close friends wanting to get together to reconnect.Wineries throughout North Dakota are intimate gathering places for besties to sip away the afternoon. *Tip – Ask about the health benefits of the Aronia Wine at Dakota Sun Gardens.
Tubing, Sliding and Floating
For those who prefer tubing with a friend, roaring down a slide by themselves or floating lazily in the summer sun, waterparks like Raging Rivers in Mandan and Davies Recreational Pool have ways to beat the heat. *Tip – Pack the sunscreen!
Monkeying Around
There's more to do than horse around in North Dakota. Laugh at the antics of monkeys and marvel at exquisite tigers and giraffes at North Dakota's zoos. *Tip – Kids love the petting zoo.
It's up to You
This is only a small sampling of the many ways to Be Legendary this summer in North Dakota. There are many other things to see and do. 
Click here for all the ways to Be Legendary