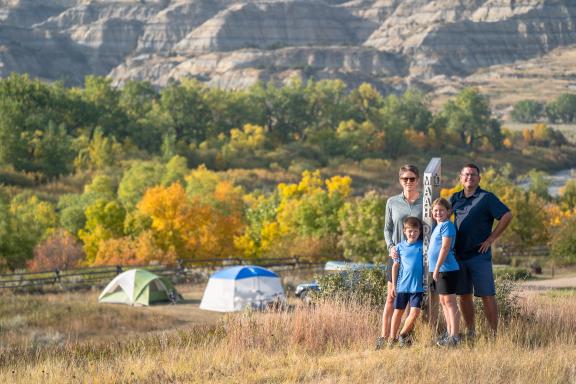 20 Fall Adventures Await
Spending time outdoors with family has never been more important. North Dakota's outdoors are a great way to keep keep active and make memories.
Fall is the perfect time for adventure in the wide-open, uncrowded spaces of North Dakota. Temperatures are just right for outdoor activities and exploration. Hiking and biking trails remain in prime condition. Fall festivals and farmers' markets have that perfect weekend appeal.
If you need ideas for a day trip, weekend getaway or road trip ideas, following are 20 ideas to get started.
Gorge Yourself  
Feast on the great outdoor recreation offered in the Pembina Gorge. Kayak or canoe the Pembina River through forested hills. (Rentals are available.) Mountain bike the terrain park down to the valley floor and take the chair lift up at Frostfire Park. ATV or dirt bike on miles of trails along the hillsides.  
That's Corny  
Leave the GPS at home. Trust your instincts and sense of direction as you weave your way through one of North Dakota's amazing corn mazes. Each maze tells a different story. Check out these corn mazes and pumpkin patches.
The END of the Road  
Take fall to the extreme, literally. Extreme North Dakota Racing takes over Turtle River State Park trails in November. END-TRAILS and END-TOMBED is a run-ride doubleheader that's scary fun. 
A Fortnight or 10  
Walk in the footsteps of some of the first North Dakota travelers - Lewis and Clark - who chose, what is now North Dakota, to stop and build a fort to get through the winter. Tour the Corps of Discovery's Fort Mandan along the Missouri River near Washburn.  
A Huntin' We Will Go  
Flights of geese and ducks aren't the only thing filling the air in the fall. Hunters from across the country flock to North Dakota for the excellent pheasant, goose and duck hunting found here. And the deer hunting opener is practically a state holiday. 
Papa's Pumpkin Patch  
Whether you want to sit a spell and enjoy nature, or burn off some extra energy, you'll find opportunities all around you at Papa's Pumpkin Patch! Most activities are free; some are only available on weekends and Thursday evenings. 
TRNP x 3  
When nature squeezes in fewer days of sunshine, wildlife in Theodore Roosevelt National Park make the most of it! Take time to scope out buffalo, wild horses, elk, prairie dogs and more in the park's three units.  
White Horse Hill National game preserve  
You may not see a white horse in the hills among the yellow, red and green leaves, but you will find 250 species of birds, plus bison, elk and deer along driving and walking trails within the preserve.  
Angling for Lunch  
There is still time for a few final trolls around Lake Sakakawea. Drop in the boat, the line and the lure and pull out a whopper walleye or pike. Catch enough to last until ice up, then do it again!   
Leather up and Ride  
It's a Goldilocks time of year for motorcycling. It's not too hot and it's not too cold. It's just right. Leather up, gather a few friends and head out on the highway where it's just you and the open road.  
Maah Daah Hey Trailing
Fall on the Maah Daah Hey Trail is a spectacular time. The trail cuts a 144-mile swatch through the Badlands and grassland of western North Dakota. Hikers, bikers and horseback riders embrace the cool breezes and blue skies. Click here for more on the Maah Daah Hey Trail.  
Native American Culture 
Native American sites all across North Dakota provide a glimpse of what life was like in the diverse tribes in North Dakota. Celebrate Native American Heritage Month in November with a visit to historically significant sites to learn more about these indigenous cultures.   
Roadtripping  
Want to get away? Fill up the tank and experience the sights, sounds and overall "feeling of fall" on North Dakota's scenic byways and backways and even more road trip adventures.
Yurt Me  
For centuries, yurts have been the lodging of choice among nomadic people on the Asia steppes. Now you can experience a modern version of this ancient lodging at North Dakota's state parks. 
Ice Fishing  
Lakes will ice up sometime this fall, winter will settle in and little towns of ice houses will spring up on area lakes. Experience one of North Dakota's top recreational activities from the comfort of your own fishing hole. 
Drive, Chip, Putt 
Tee it up with your friends for a few final rounds at your favorite golf course. The Triple Golf Challenge and Lewis and Clark Golf Trail are waiting. 
Lessons From the Road 
Make your travels a learning experience for the kids. U.S. history was made here; legends lived here. What was it like a century or two ago on the Northern Plains? Find out here. 
Past, Present and Future 
Study North Dakota's interesting history, vibrant cultures and bright future at our museums. Native America culture, art, aircraft and more are featured prominently. 
Smith and Curran 
Enjoy a smorgasbord of culturally unique food and drink during your tour of North Dakota. Sample ethnic cuisine from around the globe and drinks unique to North Dakota, like the Smith and Curran, created in 1952 in Bismarck. 
'Friluftstliv' 
North Dakota is an outdoor playground for all ages and all seasons. Embrace the changing season and cherish the outdoor opportunities - like hiking and biking – that it brings. Norwegians have a word for it - "friluftsliv" - and we have a state made for it.