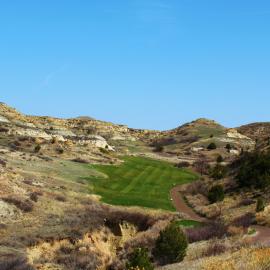 19 Must-Play Courses on the Lewis and Clark Golf Trail
Create legendary experiences along the Lewis & Clark Golf Trail. The diverse landscape and wide-open spaces provide a picturesque setting for the state's premier golf courses.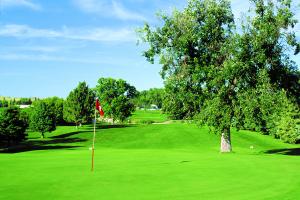 Linton Country Club
Quaint 9-hole, par-36 course features two long par-5s, including the 579-yard third hole.  
PO Box 490
Linton, ND 58552
United States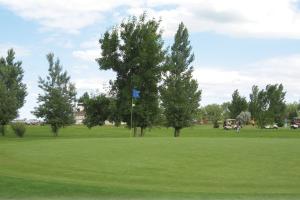 Cottonwood Golf Club
Remember the days when you could walk onto a course and golf a whole round without someone yelling "Fore!"? That day is today at Cottonwood Golf Club in Steele. A 9-hole, par-34 layout.
2241 Highway 10
Steele, ND 58482
United States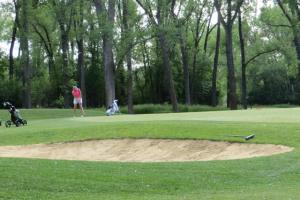 Riverwood Golf Course
Challenging 18-hole layout in the cottonwoods along the Missouri River in Bismarck. True test to shot-making skills. The 7,000-yard course plays to a par-72. Look for deer among the quiet solitude of the woods.
725 Riverwood Drive
Bismarck, ND 58504
United States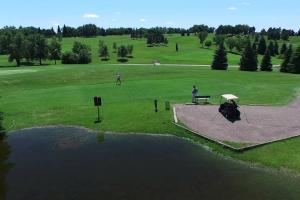 Tom O'Leary Golf Course
It's not a long course, but this hilly course in the middle of Bismarck is a test of a skills. When do you lay up? When do you take a chance? How does this hill affect the distance? This 18-hole, par-69 course will leave you second-guessing yourself.
1200 N. Washington St.
Bismarck, ND 58501
United States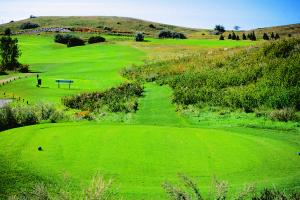 Pebble Creek Golf Course
This 9-hole, par-35 layout challenges golfers with a variety of elevation changes. Links-style course has water in play on five holes and large, quick greens.
2525 N. 19th St.
Bismarck, ND 58503
United States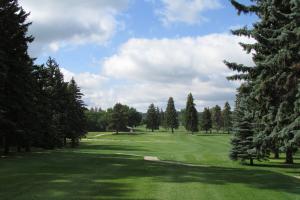 The Vardon Golf Club
Hosting golfers since 1929 over rolling, lush river bottoms, the 18-hole Vardon Golf Club has been completely rebuilt in the "classic" style.
7101 County Road 15 W.
Minot, ND
United States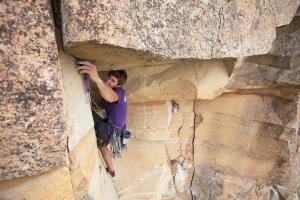 Square Butte Creek Golf Course
Get your round started on the 9-hole, par-36 course with a par-three first hole that drops 100 feet from tee-to-green. Some holes with blind shots and elevation changes challenge all golfers. 
56 Center Ave
Center, ND 58530
United States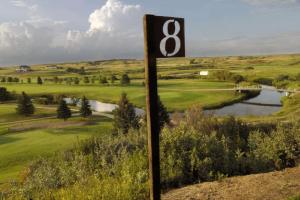 Painted Woods Golf Course
Great views, challenging holes - many with water to contend with - and undulating greens make this 9-hole, par-36 layout a true test. Beat the crowds in the larger cities and play all day at Washburn.
1156 Highway 83 S
Washburn, ND 58577
United States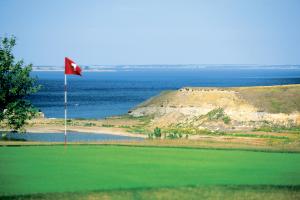 Riverdale Golf Club
Course offers spectacular views of Lake Sakakawea and includes artificial greens on a 9-hole, par-35 track.
Tenth St. N.
Riverdale, ND 58565
United States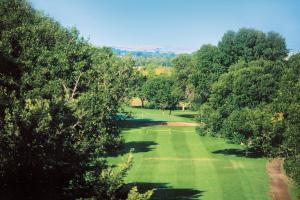 Hazen Golf Club
The No. 1 handicap hole here is called the "shortest par-5 in North Dakota." It is, in fact, a par-3, 200-yard fifth hole with an extremely crowned green that makes it incredibly tough. The 9-hole course plays to a par 35. 
Highway 200 E.
Hazen, ND 58545
United States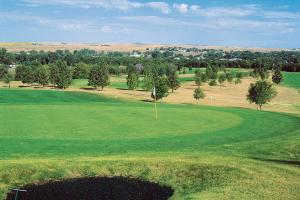 Black Sands Golf Course
A 9-hole, par-35 course that gets its name from the black coal slag bunkers. Water and grass bunkers test your shot-making skills.
1130 Highway 49 S
Beulah, ND 58623
United States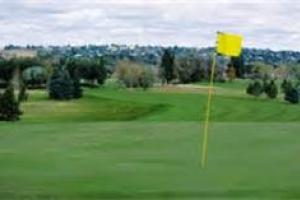 Souris Valley Golf Course
Situated along the winding Souris River, this 6,700-yard, par-72 course tests every part of your game. Keep your keeps and approaches out of the water and trees. You will cross the river about a half-dozen times.
2400 14th Ave. SW
Minot, ND 58702
United States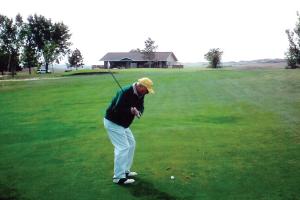 Fox Hills Golf and Country Club
18-hole course with five different tee boxes to give players different views and distances. The course measures 6,980 yards for 18 holes and plays to a par 72.
Highway 23 E.
Watford City, ND 58854
United States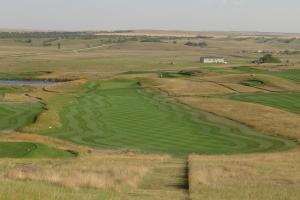 Medicine Hole Golf Course
Great views of the Killdeer Mountains and surrounding area. The 9-hole, par-36 course measure 3,290 yards  and takes full advantage of the natural terrain, water and native grasses.
Highway 22 N.
Killdeer, ND 58640
United States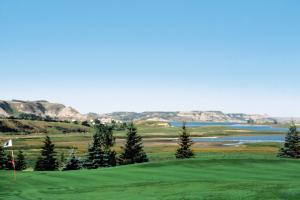 Edgewater Country Club
New Town lies between Van Hook Arm and the main body of Lake Sakakawea. On the shore of the lake like Edgewater Country Club, a 9-hole, par-36 course with a number of challenging holes.
Highway 23 W.
New Town, ND 58763
United States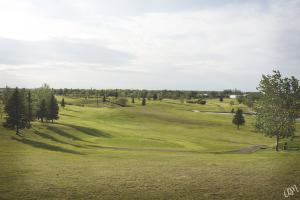 Ray Golf Course
An 18-hole, par-72  will that gives the longer hitter a chance to make an eagle or two, but only if they are willing to challenge small greens that test the best chipping and putting skills.
101 Golf Course Road
Ray, ND 58849
United States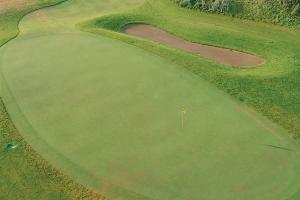 The Links of North Dakota
Nationally recognized links-style layout on the banks of Lake Sakakawea is a challenge for golfers of all skill levels. Water isn't a factor but 70-80 grass bunkers are. And have you challenged yourself in the legendary North Dakota wind? Course is 18 holes and par 72.
5153 109th Ave. NW
Ray, ND 58849
United States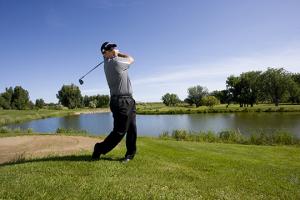 Heart River Golf Course
The scenic Heart River winds through this course, which actually is two courses in one: the more wide-open top side and tree-lined bottom with river in play on most holes. The 18-hole, par-72 course has one of the longest playing seasons in the state. 
Eighth St. SW
Dickinson, ND 58601
United States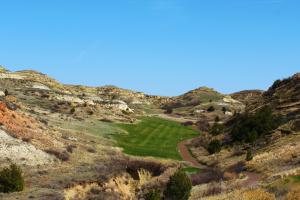 Bully Pulpit Golf Course
This 18-hole, par-72 course along the Little Missouri River and in the jagged buttes of the Badlands has been named No. 1 in Golf Digest's rating of "New Affordable Courses." Some holes play in woodlands, some in meadows and the most scenic high above the river in the Badlands.
Three miles south
Medora, ND 58645
United States