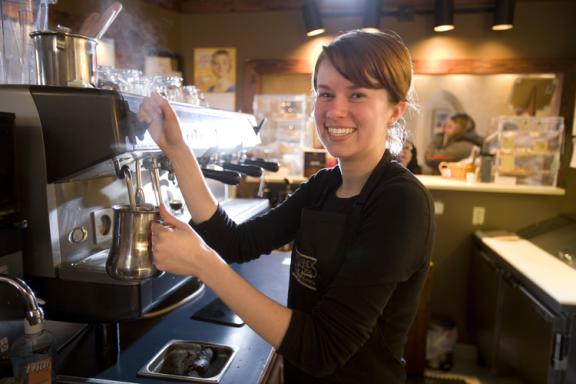 Cup of Joe
Relax and indulge in some aromatic coffee
When you are ready to slow down and enjoy a quality, hand-crafted coffee drink, sip on some tea, or munch on some savory baked goods and sandwiches, these Cup of Joe locations have a cozy spot just for you.
Bismarck
Boneshaker Coffee
Amazing coffee brewed fresh daily, along with tea, smoothies and fresh baked goods can be enjoyed on comfortable plush chairs and couches by the fireplace.
Mighty Missouri Coffee Company
Located within Missouri Valley Family YMCA, Mighty Missouri is a gathering place for those who enjoy high-quality roasted coffee and an active lifestyle.
Dickinson
Market Press Coffee Company
Looking for a quick snack or coffee for the road? Market Press offers a variety of fresh brewed coffee and other miscellaneous drinks along with fresh baked pastries, soups and sandwiches.
Fargo
Twenty Below Coffee
Sip, share, savor. Slow down with us and enjoy some savory coffee in the top ranked coffee shop in North Dakota by the Food Network.
BABB'S COFFEE HOUSE
Fun relaxing atmosphere to chill with friends, relax on your own or entertain business clients.
Grand Forks
Bully Brew Coffee
Serves up fresh roasted coffee, specialty coffee drinks, blended drinks, and tasty breakfast treats and snacks. Their belief is that "Conversation is better with Coffee." (Also open in Fargo)
Urban Stampede
A landmark coffee bar welcoming students, professionals and leisure patrons for gourmet coffee drinks and baked goods, and art exhibitions in "The World's Smallest Gallery."
Jamestown
Plantation Coffee Bar
Locally sourced espresso and coffee beans, teas, Fit Frappes, and savory and sweet food options from sourced from local dairy suppliers and bakeries for the freshest offerings.
Mandan to Medora
The Coffee Cruise
The coffee cruise features unique coffee shoppes along the Old Red Old Ten Scenic Byway.
Minot
Broadway Bean and Bagel
Minot's oldest coffee shop with the freshest cup of coffee around. There is something to please everyone from bagels Eggels, muffins, sandwiches and fresh salads and soups.
Minot's Daily Bread
Minot's Daily Bread offers a rich and smooth blend of coffee brewed through a unique reverse osmosis water system. Each cup provides a bold and satisfying experience, perfect for starting your day or enjoying with a treat from their bakery.
With Room Coffee
Offering a variety of specialty drinks, a curated selection of plants, and trendy pre-loved clothing items, With Room Coffee's unique vibes are hard to beat.
Watford City
Door 204
Take a pick of more than 50 flavors served pristine hot, cold, or uncomfortably lukewarm. As coffee lovers they work to make sure their flavors are dialed in.