Best Places to View Fall Foliage in North Dakota
In North Dakota, fall foliage begins showing up in early September and reaches its peak by the mid-October, depending on the location. Visitors use this time to tour areas of heavy forest growth like the Turtle Mountains or tree-lined river valleys.
This Fall Foliage Prediction Map displays estimated timelines for fall foliage color changes, but please keep in mind that this is just an estimate and the weather and wind can also play a role in the changes. This map can be a helpful resource for planning your trip to see the best fall colors throughout the state.
Following is a guide to some of the most beautiful, and scenic areas in North Dakota for viewing nature's array of breathtaking colors.
Southern Red River Valley
Look for changes along the Red River, in parks and in shelterbelts through fields.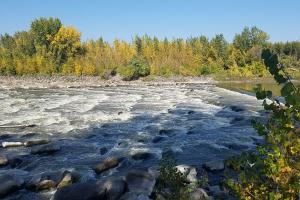 Northern Red River Valley
Look for early changes along the Red River and in shelterbelts through fields.
Grand Forks, ND
United States
Turtle River State Park
The heavily wooded park glows with fall colors.
Arvilla, ND
United States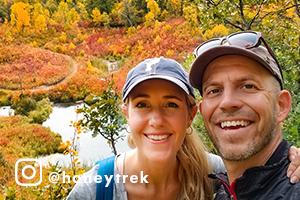 Pembina Gorge
The heavily wooded Pembina Gorge displays a mosaic of color when fall arrives near the Canadian border.
Walhalla, ND
United States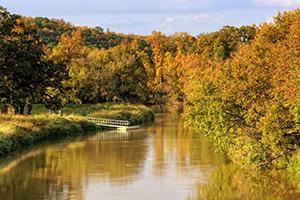 Fort Ransom State Park
Forested hillsides at the southern end of the Sheyenne River Valley National Scenic Byway come alive with colors.
Fort Ransom, ND
United States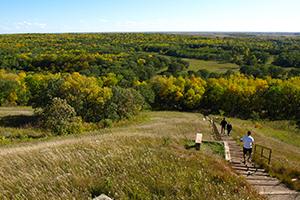 Devils Lake
Woodlands around the lake are brightly lit with color when the leaves start to change.
Devils Lake, ND
United States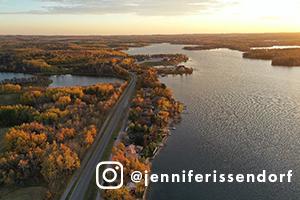 Turtle Mountains/Lake Metigoshe
One of the most colorful landscapes in North Dakota during the fall is near Lake Metigoshe in the Turtle Mountains.
Bottineau, ND
United States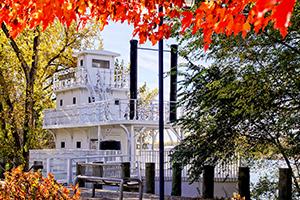 Bismarck
Fall brings a rich, vibrant color change to sites all along the Missouri River, especially on the hillsides and bottom lands in the Bismarck area.
Bismarck, ND
United States
Fort Abraham Lincoln State Park
The hills above the Missouri River take on a colorful glow when the days turn shorter.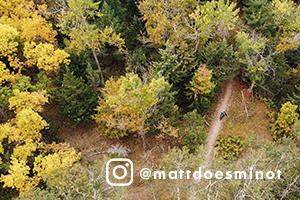 Denbigh Forest
This forest is located on 640 acres, and is home to thousands of trees and natural prairie habitat.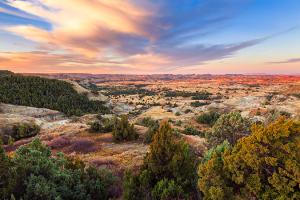 Theodore Roosevelt National Park North and South Units
The Badlands of western North Dakota take on a whole new look in fall as trees along the river bottoms begin their annual change.

Medora and Watford City, ND
United States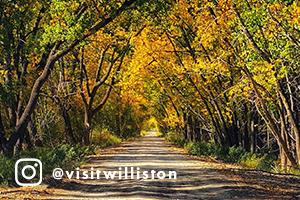 Trenton Wildlife Management
A large, wooded area along Trenton Lake perfect for taking in the beauty of fall colors.

Williston, ND
United States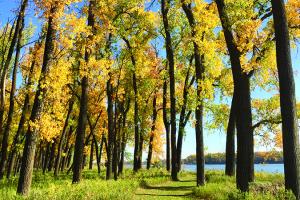 Cross Ranch State Park
The trail system allows access to a 5,000-acre nature preserve with beautiful fall colors along the river bottom forests and woody draws.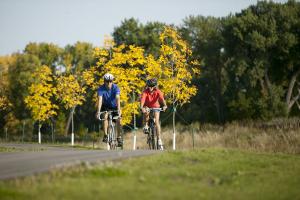 The Greenway
The Greenway is approximately 2,200 acres of natural open space in the heart of Grand Forks, ND, and East Grand Forks, MN offering ample opportunity to view the fall colors.
Grand Forks, ND
United States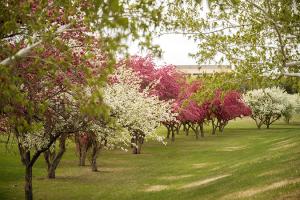 State Capitol Arboretum Trail
This beautiful nature trail gives a unique view of the mixing of nature, art, and architecture. Along the trail posts identify approximately 75 different species of trees planted on the grounds, all displaying amazing colors in the fall.
Bismarck, ND
United States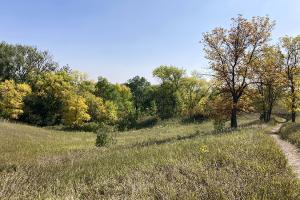 Beaver Lake State Park
Park guests will find plenty of fall colors to enjoy while discovering the plentiful natural resources, taking in the areas history, or just relaxing under a colorful American elm tree.