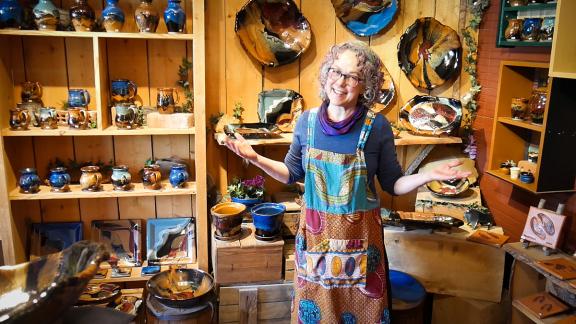 Tama Smith: Prairie Fire Pottery
"What I love about having a store is being able to meet the customers who are going to have my pottery in their lives. I think it's such an honor to do that."
It's not uncommon to find treasures on a beach, or in this case in the small town of Beach, North Dakota.
Shimmering dining platters, coffee mugs and colorful bowls – each with hints of the North Dakota Badlands – glisten in the morning sun at Prairie Fire Pottery. Every piece has been meticulously crafted by potter Tama Smith and displayed in her gallery. Her works are easily recognizable by the three small dots lined horizontally. "I leave three dots on each piece of my work. It's a bit of a hello, from me to whoever is going to have this piece in their life," Smith says as she knocks her knuckles three times against her work table.
Walking into Prairie Fire Pottery is a bit like wrapping up in a warm blanket. The warm colors pull you in, making you feel at home. And knowing that everything from massive serving bowls to the chalkboard art welcoming you is hand-crafted gives you a personal connection to each piece.
"What I love about having a store is being able to meet the customers who are going to have my pottery in their lives. I think it's such an honor to be able to do that," Smith says.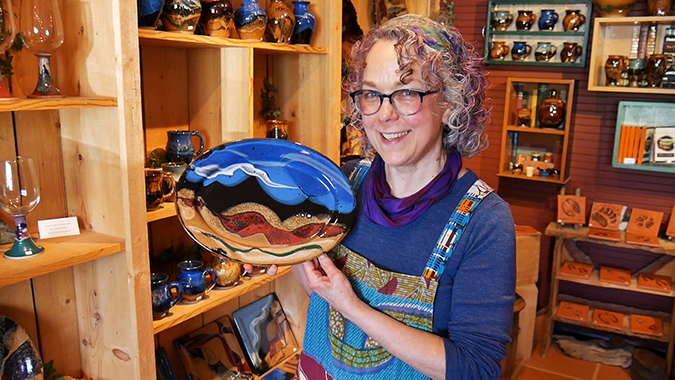 Listening to Smith, it becomes obvious she wants a personal connection between her pottery and the customer who is going to make her pottery a part of their home or business. It goes deeper than just her three signature dots. She welcomes people to come and see how their pieces are made from start to finish. Watch as she checks on the oxygen levels of her kiln and how they affect the colors. Every time Smith pulls a brick out of the kiln, you can feel the heat and see a touch of smoke escape from the 2,400-degree flames. She calls herself an "old-school potter" because many potters now only use electric kilns.
"When I make mugs, I make a lot of mugs at one time. When I glaze, I glaze a whole kiln of pieces," Smith explains. "The piece might be made one day but it might not be finished for another six weeks or six months down the road. But when people ask me how long it takes to make a piece, I say 'Well, it took me 30 years to make this piece.'"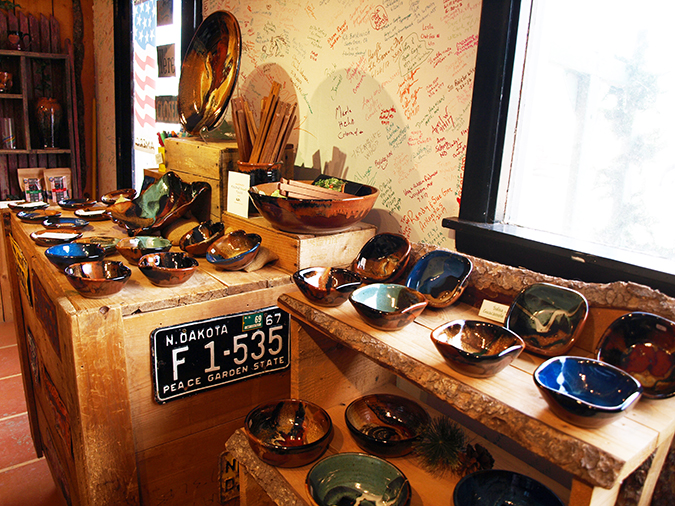 There is a newspaper clipping displayed at Prairie Fire Pottery showing a photo of Tama around the time she first started her business. Since then, she's brought more than just pottery lovers off the interstate and into the little town of Beach. Pinned onto her wall is currency from places like Russia, Japan, England and many more foreign places, as well as the signatures of families who have stopped by. She says most of them never fail to ask the classic "What the heck are you doing in Beach?" question.
 "As far as businesses going to larger towns to stand out, well, if everyone is going this way, we want to go the other way to stand out," Smith says. "Besides, living in a small town is wonderful."