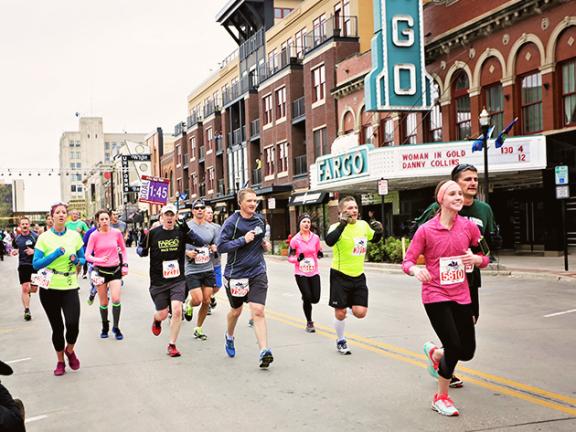 Mark Knutson: Fargo Marathon
"Most people don't expect Fargo to be as much as it is. They expect woodchippers all over and that accent. It is always great to hear the comments from people when they get done with the race to first talk about how great the race was, and secondly to talk about how great the people were."
Fargo's Mark Knutson takes running seriously. Real seriously.
"I do love running," Knutson says. "It just becomes a part of your life. I kid with my family that the day I get hurt and can't run anymore, you're all just going to want to leave. If I don't get my run in in the morning, I'm not a happy person."
Not satisfied going for a daily jog, Knutson now shares his love of running with more than 20,000 people every May. As executive director for the Fargo Marathon, it's his job to oversee preparations for the event that he grew from a couple hundred fundraisers to a week-long celebration with as many as 24,000 runners, cyclists – and even dogs – from all around the world.
Race week is broken down into 10 uniquely different events, from 5K walks to the half and full marathons. To Knutson, one of the best parts of the marathon is the way it benefits Shoes for Kids. Each registrant has the option to donate to the program that provides shoes to children in the community.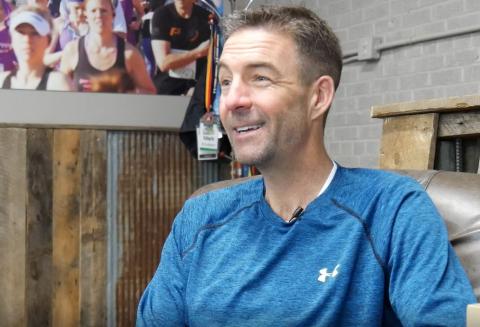 Knutson was there at the start of the Run for Children half-marathon on 2003. By the 2005 race, 400 of the registered entrants ran the first marathon. "The numbers kept going up and up and we thought, we're going to have a problem here. We thought maybe 1,000 people at most," he recalls.
Word spread and within a few years, Knutson was overseeing an explosion in runners. With it came a need for more workers, more work with city leaders and a need to keep things exciting. Knutson's group now sends out notices to homeowners along the route so they can come out and cheer. Bands line the route for what has now become a 26.2-mile-long party, making it more than a celebration for runners only.
"We pair up homeowners with bands," Knutson says. "So, we go 'OK homeowner, here's a band, you bring the party and celebrate the runners coming through.' Now, they just know … it's marathon day so they go and this band will be here and this band will be there and we will have mimosas and people out partying."
The race begins and ends inside the Fargodome. Everything else is a tour of the unexpected.
"Most people don't expect Fargo to be as much as it is," Knutson says. "They expect woodchippers all over and that accent. It is always great to hear the comments from people when they get done with the race to first talk about how great the race was, and secondly to talk about how great the people were."