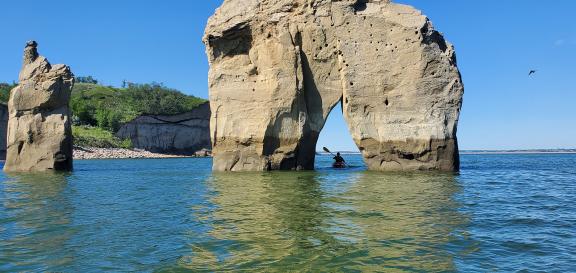 Paddle North Dakota's Rivers and Lakes
Discover the state's best waterways for canoeing and kayaking.
North Dakota's canoeing and kayaking waters are as diverse as the state itself. Whether canoeists prefer the scenery presented by agricultural plains, rugged Badlands, thickly wooded slopes or gentle river bluffs, North Dakota's rivers offer a challenge to beginners and experienced paddlers alike.
Contact K5 Rentals in Dickinson, Missouri River Kayak Rentals,  Missouri Kayak Adventures or Paddle On Rentals in Bismarck/Mandan, Minot Parks Kayak Rentals in Minot, and many more locations below, to line up your next kayaking trip.
The following rivers are considered the best for canoeing in North Dakota. To receive additional information on these rivers, contact the North Dakota Parks and Recreation Department at 701-328-5357.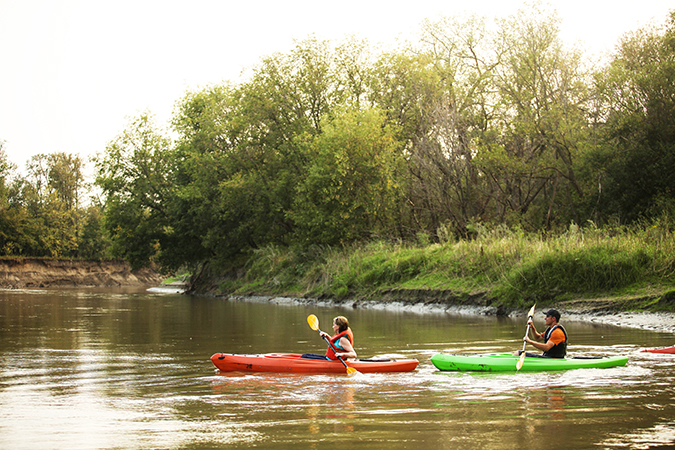 Sheyenne River
278 miles, May-July
The Sheyenne River offers a variety of terrains. The river traverses eastern North Dakota, winding through rolling hills, hardwood forests, open prairie and rich agricultural land along the Sheyenne River Valley National Scenic Byway. A kayak kiosk is located at Bjornson Golf Course in Valley City and canoe and kayak rentals are available at Fort Ransom State Park. 
Little Missouri River
274 miles, May
The Little Missouri, North Dakota's only designated State Scenic River, offers canoeists a unique perspective from which to revel in the surrounding Badlands splendor. From the river vantage, buttes, ravines and plateaus rise to cast abstract landforms against the horizon. The river passes through Sully Creek State Recreation Area, the Little Missouri National Grassland and Theodore Roosevelt National Park.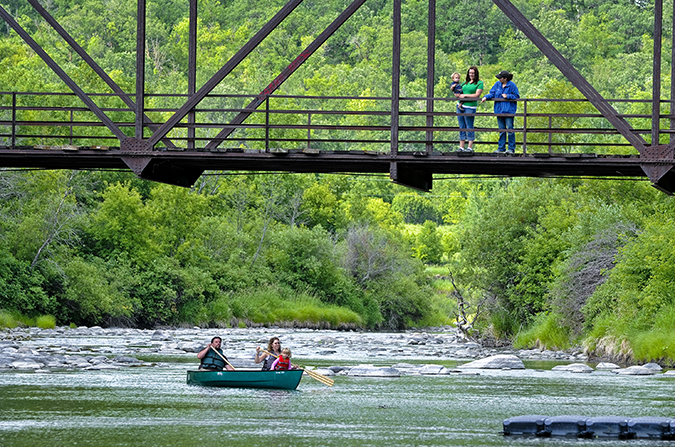 Pembina River
70 miles, May-June
Framed by the secluded valley of the Pembina Gorge, the Pembina River flows through miles of lush, unbroken forest between steep banks it once carved. Canoeing has become a popular activity on this sheltered river recognized for its tranquil beauty and diverse natural features. The Pembina Gorge State Recreation Area offers kayak rentals.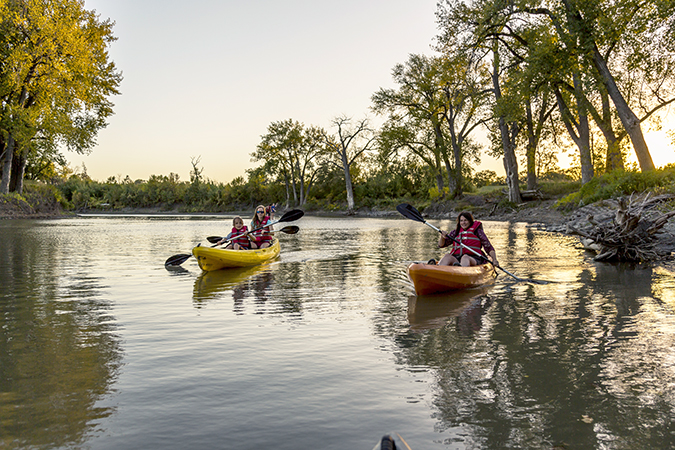 Red River
304 miles, May-August
Canoeists of the Red River travel through the heart of the Red River Valley, one of the nation's most fertile agricultural regions. The winding river, flanked by North Dakota to the west and Minnesota to the east, passes bountiful farmland checkered with bottom-land forest and tall grass prairies. You can rent kayaks at the Canoe & Kayak Rentals at Hjemkomst Landing located in the parking lot of the Hjemkomst Center in Moorhead; or at the Boathouse on the Red in Grand Forks.
Mouse River (Souris)
131 miles, May-July
Beaver, wood ducks, white-tailed deer, muskrat and raccoons are just a few of the animals you may encounter while canoeing on the Mouse River. Bordered by three national wildlife refuges, the waterway is a haven for North Dakota wildlife species. Two of the refuges, Upper Souris and J. Clark Salyer, contain canoe trails varying in length from three to 13 miles. For the curious canoeists, the Mouse River system also contains several river oxbows worthy of exploration.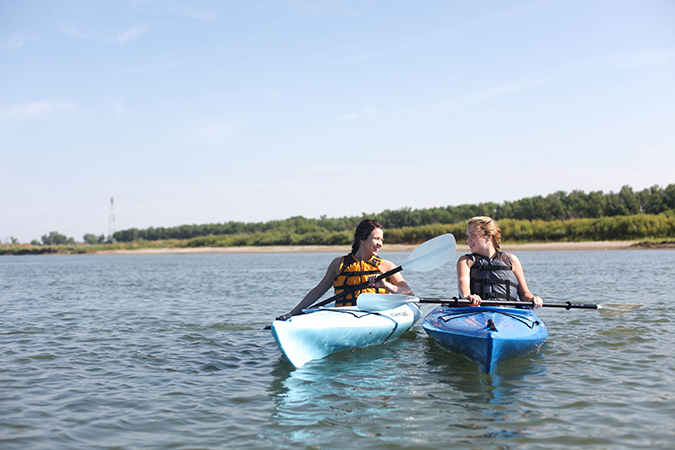 Missouri River
83 miles, May-September
Dotted with sandbars and lined by gentle river bluffs, the Missouri River offers a challenging, scenic route to canoeists. The river's course, once followed by the Lewis & Clark Expedition, carves through a region abundant with North Dakota's cultural and natural heritage. Lunds Landing in Ray offers kayaks, canoes and boat rentals.
Missouri River System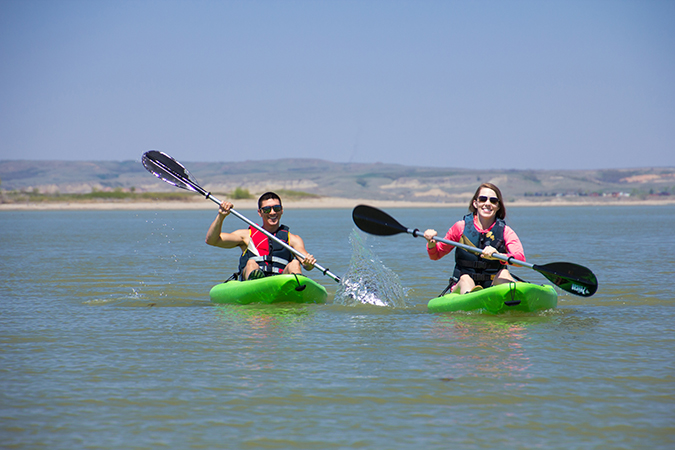 Lake Sakakawea
Nearly 180 miles long and up to six miles wide, Lake Sakakawea is one of the largest man-made lakes in the United States. The lake was created with the completion of the Garrison Dam, one of six dams built under the Pick-Sloan Plan along the Missouri River. The lake's biggest attraction is fishing, particularly for walleye, Chinook salmon and northern pike. More information: US Army Corps of Engineers, Riverdale Office, Box 527, Riverdale, ND 58565, 701-654-7411.
Lake Oahe
To the south of Bismarck on the Missouri River System is Lake Oahe, which spans the North Dakota-South Dakota border. Construction of Oahe Dam above Pierre, S.D., backed up the Missouri River to create this 231-mile-long, deepwater lake and its awesome fishing. More information: US Army Corps of Engineers, Bismarck Office, 1513 S 12th St, Bismarck, ND 58504, 701-255-0015.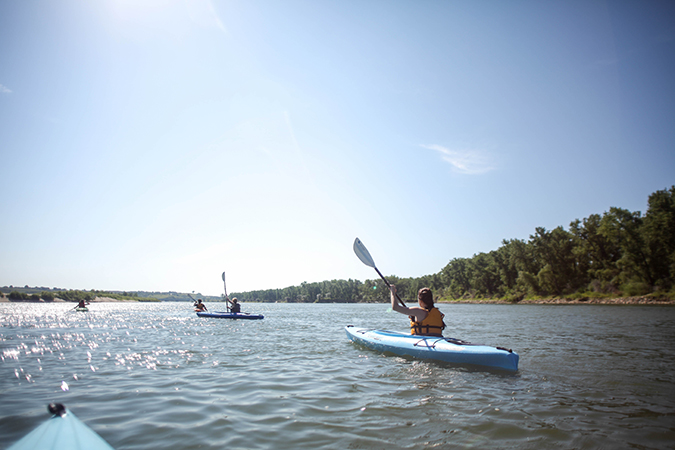 Missouri River
Follow Lewis and Clark's river highway north out of Bismarck to Garrison Dam. Dotted with sandbars, this segment of the river is popular with experienced canoeists that find its swift current and surrounding scenery challenging. Nature lovers also find a wealth of wildlife along its shores. Watch for both bald and golden eagles, osprey, beaver and white-tailed deer. Take care not to disturb the least terns, an endangered species or the piping plovers, a threatened species, both of which make their nests on the sandbars. Canoe rentals are available at Cross Ranch State Park, Missouri River Kayak Rentals and Missouri Kayak Adventures in Bismarck and Mandan.
Lakes and Rivers
The North Dakota Game and Fish Department lists more than 150 fishing waters in every corner of the state, most of them offering modern camping facilities, water skiing, boating, hiking trails and well-stocked concessions.
Where Mother Nature did not provide natural lakes, man has stepped in to make North Dakota a water vacation playground. From our giant lakes, Sakakawea and Oahe on the Missouri River to growing Devils Lake and tiny Dion Lake near the Canadian border, you'll find everything from modern resorts to primitive campgrounds. Here's a look at some of our major recreational lakes and rivers.
Lake Ashtabula
The waters of Lake Ashtabula, backed up by Bald Hill Dam, can't be beaten as a panfish fishery. The lake also is home to muskie, pike, walleye and perch. Located just north of Valley City, the lake is one of the state's best developed reservoirs. Four campgrounds, operated by the U.S. Army Corps of Engineers, surround the lake. In addition, there are eight different boat ramps. More information: US Army Corps of Engineers, Bald Hill Dam, 26301 14th Ave, SE, Valley City, ND 58072, 701-845-2970.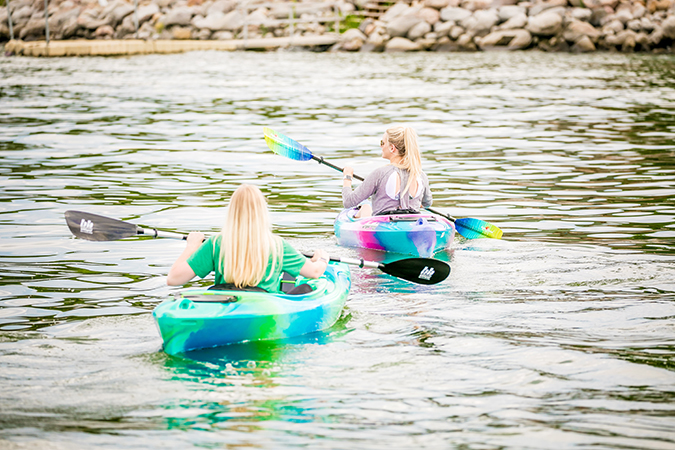 Devils Lake
North Dakota's largest natural lake is the perfect spot for a family fishing outing for perch, walleye and northern pike. The lake offers great winter recreation, too, for both ice fishing and snowmobiling. Next to the lake is White Horse Hill National Game Preserve with its herd of buffalo and elk. More information: Devils Lake Tourism, PO Box 879, Devils Lake, ND 58301, 1-800-233-8048.
Jamestown/Pipestem Reservoirs
Twin reservoirs just north of Jamestown are full-service, seasonal resort areas. Both feature walleye, northern pike, perch and crappie fisheries, boat ramps and docks, swimming beaches, campgrounds and picnicking areas. More information: Jamestown Promotion and Tourism Bureau, 212 Third Ave, NE, Jamestown, ND 58401, 701-252-7666, or 701-252-9200.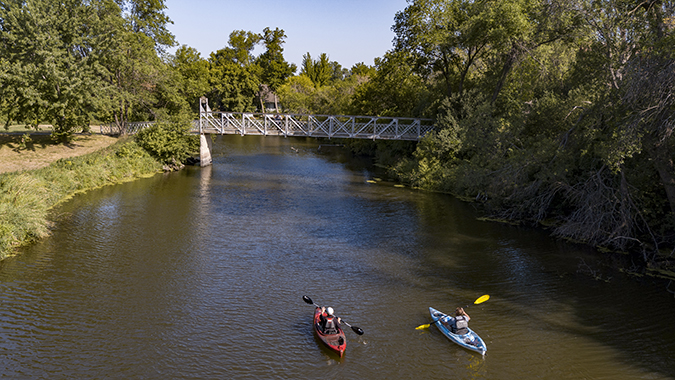 James River
A popular canoe run has been the James River, starting in Grand Rapids and canoeing down to the James River Dam site in LaMoure. Bring your own canoe. Fort Ransom State Park offers canoeing within the park and also has rentals available.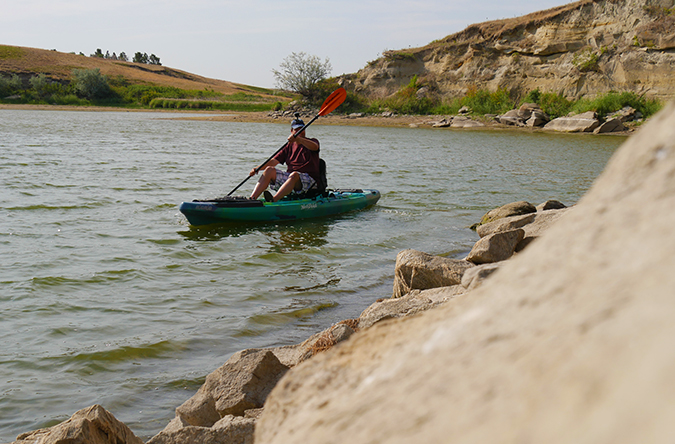 Lake Tschida
Created in 1949 by the construction of the Heart Butte Dam, Lake Tschida serves south-central North Dakota. The lake is 14 miles north of Elgin on Highway 49. Its eight recreation areas offer excellent opportunities for shoreline fishing, boating, primitive camping, picnicking and swimming. More information: Bureau of Reclamation, Route 2 Box 40, Elgin, ND 58533, 701-584-3642.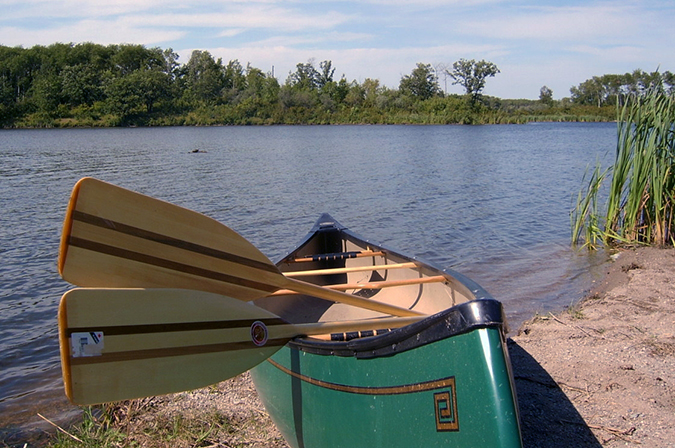 Lake Metigoshe/Turtle Mountains
For water recreation with an international flavor, visit Lake Metigoshe and other smaller lakes that can be found in the Turtle Mountains. Paddle  across the U. S.-Canadian border, golf at one of the several manicured golf courses, mountain bike in our state forests or visit during the winter for some exciting downhill or cross-country skiing and snowmobiling. More information: North Dakota Parks and Recreation Department #2, Lake Metigoshe State Park, Bottineau, ND 58318, 701-263-4651; North Dakota Forest Service, 307 First St E, Bottineau, ND 58318, 701-228-5422.