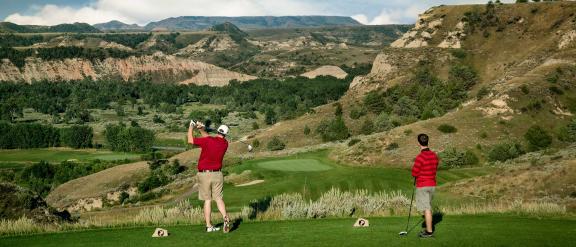 Golf
Tee it up on some of the nation's best golf courses
Great golf courses, each featuring their own signature landscapes and challenges, can be found throughout North Dakota.
There is the Lewis and Clark Golf Trail, a series of of 18- and nine-hole courses along the same route Lewis and Clark took through central North Dakota, including Painted Woods Golf Course a hidden gem on the prairies.
Also the Triple Golf Challenge includes discounted rounds at three of the state's - and nation's - top-rated golf courses: The Links of North Dakota near Ray, Hawktree Golf Club in Bismarck, and Bully Pulpit Golf Course in Medora. Hawktree ranked #1, Bully Pulpit #3 and The Links ranked #5 in state rankings by Golf Digest. Golfweek's top 100 U.S. best ranked public-access courses in 2023 includes the Minot Country Club at #54, Hawktree Golf Club at #74 and The Links of North Dakota at #75 in the nation.
In the Red River Valley, Edgewood Public Golf Course and Grand Forks' King's Walk are two highly-rated links, as is the Vardon Golf Club in Minot.
North Dakota has more golf courses per capita than any other state in the country, meaning it's easy for you to get on and play our nationally acclaimed courses at very reasonable rates. Grab your clubs and some friends for a fun and relaxing outdoor adventure and discover for yourself why North Dakota is an emerging golf destination.
Find more champion and unique golf courses throughout North Dakota here
Click here for a printable itinerary