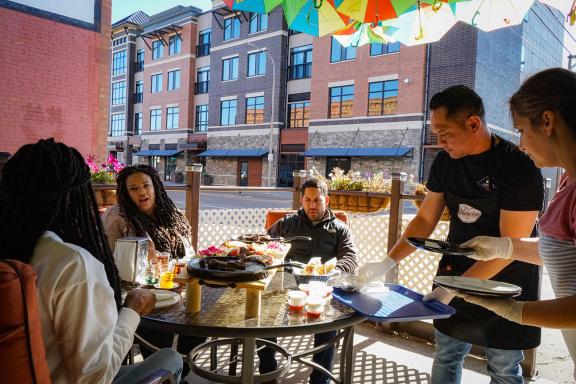 Williston
 Surfing in Williston? Only on a computer or at the Williston Area Recreation Center. The city most commonly associated with the Bakken oil boom is also bustling with things to see and do in the city and the nearby area. Most notably is the ARC, a hub for recreation enthusiasts, including surfers. Flow Rider is an indoor wave machine that allows users to simulate surfing or wakeboarding. It's just one of the many options at the ARC. There's also an indoor waterpark, golf simulator and batting cages.
Those who prefer to unwind on a real gold course can venture over to the 18-hole Eagle Ridge Golf Club or the 9-hole Williston Municipal Golf Course. Participants in shooting sports can take aim on targets or sight in their favorite weapons at the Painted Woods Sporting Complex. If you speed and challenges are your thing, then Thunder Valley Speedway Go-Karts is for you. If you are an art enthusiast, the James Memorial Art Center is a historic building that was developed into a center for the visual arts and features exhibits and instruction.
Just outside of Williston you'll find more history, outdoor recreation and entertainment such as boating and fishing on Lake Sakakawea; or step back in history with a visit to nearby Fort Buford State Historic Site, site of the surrender of Sitting Bull, or Fort Union Trading Post National Historic Site. The Missouri-Yellowstone Confluence Interpretive Center is adjacent to Fort Buford and showcases the history of the area where the two great rivers merge into one.
The movie "The Revenant" features the exploits of mountain man Hugh Glass, who worked as a hunter for Fort Union during its heyday as a fur trading post. Visitors to the post will be entertained by National Park Service ranger Loren Yellow Bird, an Arikara-Hidatsa tribal member who taught the language to actors in the movie. His detailed stories of events at the fort leaves guests spellbound. 
Dining options in Williston run the gamut from the upscale (The Williston) to bar and grills, and so much more.
Click here for more things to see and do in the Williston area