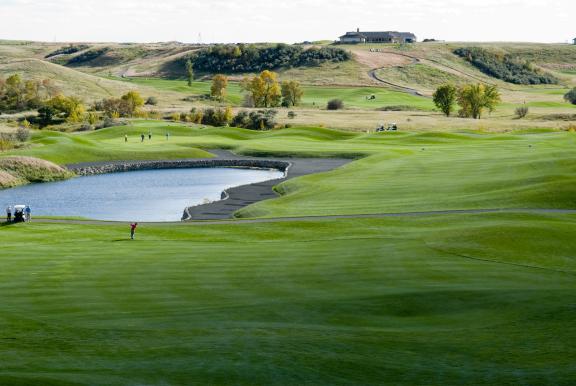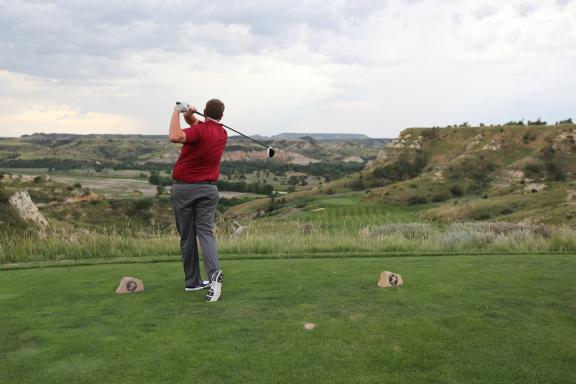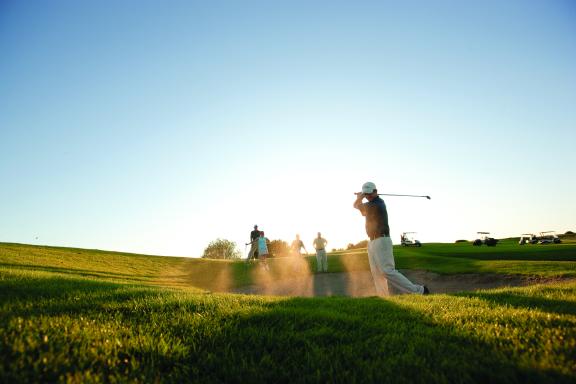 Championship and Unique Golf Courses in North Dakota
Golfing is great in North Dakota.
Plan your multi-day golf trip around North Dakota, one that encompasses some of the top-rated courses in the four corners of the state, or a triple golf challenge or a tour up the Missouri River.
With more golf courses per capita than any other state, you'll never have to worry about fighting a crowd or waiting in line.
Wahpeton Area
Bois de Sioux Golf Club - The Bois de Sioux Golf Club is the only public golf course in the nation to have nine holes in one state and nine holes in another. The front side in Wahpeton, N.D., and the back side in Breckenridge, Minn. The course measures approximately 6,700 yards and is challenging for the skilled and entertaining for the novice.
Fargo-West Fargo Area
Edgewood Golf Course - Established in the mid 1920s, Edgewood is perhaps the most popular traditional type golf course in the Fargo metro area today. Edgewood is an 18-hole, par-71 championship golf course along the Red River. With its beautiful, tree-lined fairways, this golf course provides a challenge to every level of golfer.  
Grand Forks Area
King's Walk - This 18-hole Arnold Palmer Signature Champion Golf Course was designed and developed by the Palmer Course Design Company. The 7,230-yard, par-72 course is designed to offer an exciting experience to golfers with a variety of abilities. The links-style course is characterized with mounds, moguls, native grasses and pine trees interspersed with lakes styled in a dry southwestern arroyo landscape. The signature golf course opened in 2002 and is one of the area's premier golf courses. The clubhouse includes a golf shop, dining room and lounge.  
Portal
Gateway Cities Golf Club -  This course is right on the border of Canada and the United States. The big attraction for this course is that eight holes are in Canada and one is in the United States. The course also borders two different time zones. The clubhouse is located on the United States side. The course is flat and has only one dogleg fairway. Even though it looks easy, it's a rare occurrence for someone to shoot a thirty-four. The course has wide-open fairways and large greens.
Minot Area
Souris Valley - This 18-hole course measures 6759 from the tips and plays to a par 72. The Souris River winds through the course, and you will cross it about half a dozen times during your round. Four tee boxes give players of any ability a chance to test their golfing skills and have an enjoyable round of golf on a course that provides a challenge, as well as a scenic backdrop. Snack bar, pro shop, practice range, cart rental, golf lessons and a PGA Professional are all available. 
Williston Area
Links of North Dakota – Water doesn't come into play on this par-72 championship course but 71 to 80 sand bunkers do, and wind will almost always factor into your round at Red Mike. Players have the option of five tee boxes to choose from as they set out for 18 holes of links golf on a course with wide-open fairways, but punishing native prairie grass rough. Architect Stephen Kay moved a minimal amount of dirt in placing this course on the rolling land overlooking the big lake, and you can expect some uneven lies as you navigate this world-class venue. For more information, check the website of the course ranked No.1 in North Dakota by Golf Week and No. 57 in Golf Week's 100 Best Modern Courses.   
Medora
Bully Pulpit - Course designer Dr. Michael Hurdzan has created a golf course in the area just south of Medora along the Little Missouri River bottoms and up into the Badlands that will provide golfers of all levels a fantastic golfing experience. The 18-hole course will play to a par 72 and you will have the choice of five tee boxes from which to challenge this course. The course will give players different looks from the walkable Little Missouri bottoms to the challenging elevation changes and dramatic setting of the holes in the Badlands section of the course. The course will measure 7,413 yards from the black tees, 6,897 yards from the gold tees, 6,449 yards from the blue tees, 5,834 yards from the silver tees and 5,000 yards from the green tees. 
Bismarck-Mandan Area
Hawktree Golf Club - Hawktree's architect Jim Engh has created a wonderful course that presents the player with a Scottish-links look but also a modern touch. Engh uses elevation changes, native prairie grasses, large greens and four tee boxes to give players of any age or ability a chance to enjoy a great golf experience.  This visually beautiful layout is also about wind and water. Another distinctive feature of Hawktree is Engh's use of black coal slag in the bunkers. Rated No. 68 in Best 100 Modern Courses by Golfweek 2002; No. 2 in Golf Digest's 2000 list of Best New Affordable Public Courses in America; Rated 4½ stars out of five in Golf Digest Guide "Places to Play 2002-2003."