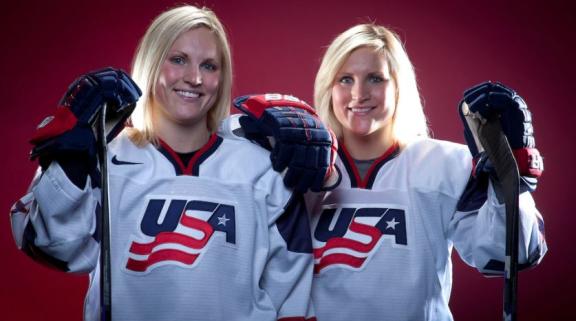 How the Lamoureux Twins are Golden On and Off the Ice
They gained world wide fame in their Olympic wins, but call North Dakota's "Hockey Town" of Grand Forks home
North Dakota sisters Jocelyne (Davidson) and Monique (Morando) Lamoureux of Grand Forks are considered golden in North Dakota. And we mean that literally! They do have multiple Olympics medals under their belt.  Each gained notoriety around the country for their success at the collegiate and professional careers on USA Hockey. They went on to fight for equity within women's hockey and still contribute to the North Dakota community today.
The "hockey twins," are graduates of the University of North Dakota where they skated for most of their collegiate career. Jocelyne amassed 125 goals and 160 assists in 149 games. Monique had 113 goals and 152 assists in 149 games. Many of these took place in North Dakota's proclaimed "Taj Mahal of Hockey" the Ralph Engelstad Arena.
The twins went on to win silver medals in the 2010 and 2014 Winter Olympics. They are all-time leading scorers in the WCHA. And they hail from a family of six siblings who all play hockey at an elite level. Sports Illustrated even published a piece about the legacy of the Lamoureux family, called The House of Hockey.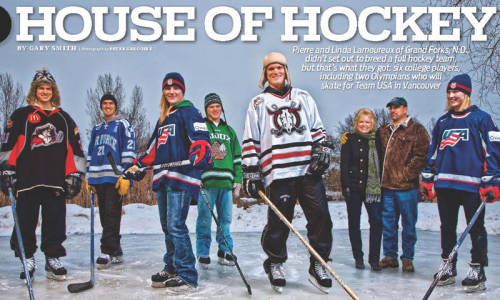 Jump ahead to 2018 in PyeongChang Winter Olympics, the Lamoureux twins scored a goal in an epic win over Canada. Jocelyne's goal in the sudden-death shootout - 38 years to the day of the U.S. men's hockey team's Miracle on Ice - snapped Canada's streak of four straight gold medals. Just like the men's miracle, this win also snapped a 20-year gold-medal drought by the U.S., which last won gold in 1998.
Jocelyne, who set an Olympic record with goals six seconds apart against the Russian team in a pool-play game earlier in the tournament, finished the Games with four goals and an assist. Monique scored late in the third period to send the game into overtime. She had two goals and an assist in the tournament.
Jocelyne has called the shot she used in the shootout "Oops I did it Again."
However, one of their biggest battles came after their Olympic wins after bringing light to the lack of equity between men's and women's teams under USA Hockey. They chronicle their journey in their book "Dare to Make History".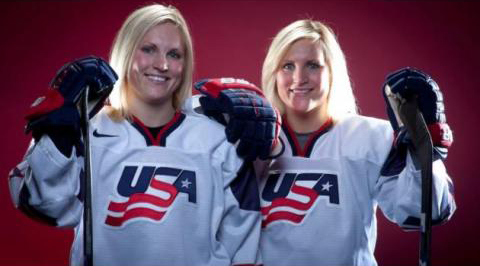 More recently, the Lamoureux twins were recognized at both the state and national level. Governor Doug Burgum inducted the sisters into North Dakota's Rough Rider Hall of Fame in 2020. In late 2022 they joined other hockey legends in the U.S. Hockey Hall of Fame for their extensive contributions both on and off the ice.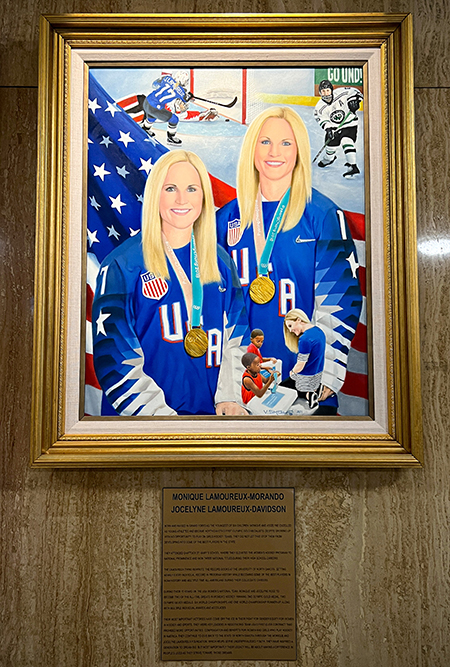 Today, that Lamoureux "House of Hockey" is still contributing to the North Dakota Community. Lamoureux Hockey is run by their family and holds multiple camps, tournaments, and coaching opportunities for future hockey stars of all ages. The Lamoureux Twins Foundation also works today provide local grants for disadvantaged communities. If you would like to learn more about their work, check out their website here.
Monique and Jocelyn continue to live and thrive in their hometown of Grand Forks, also known as "hockey town U.S.A."