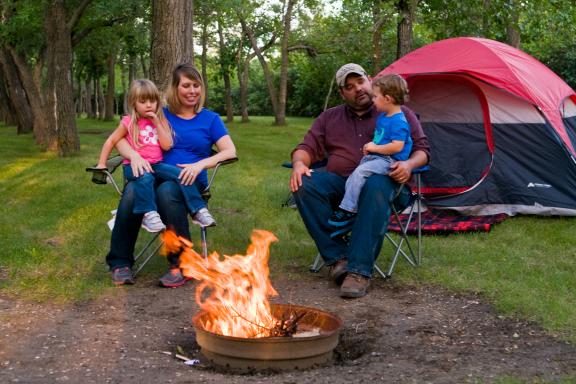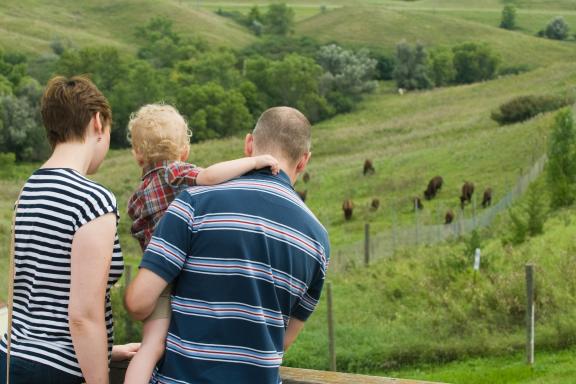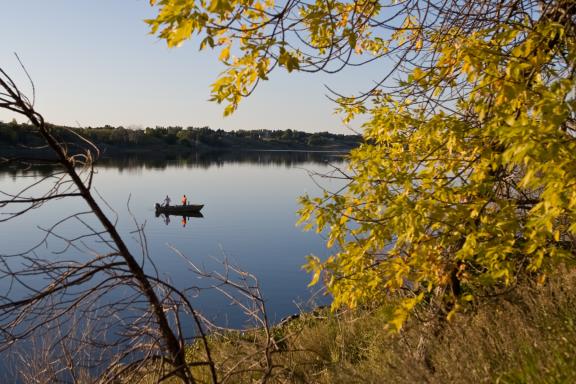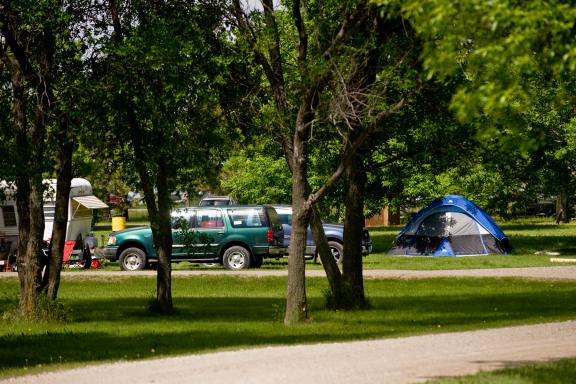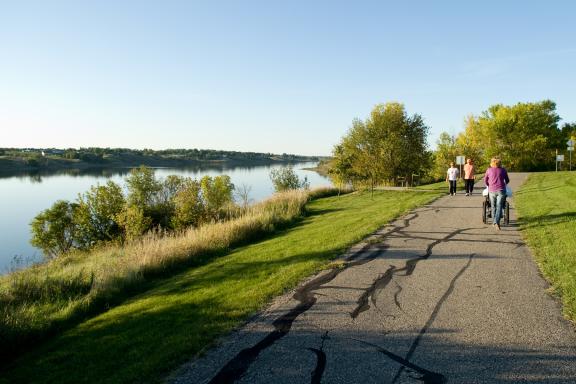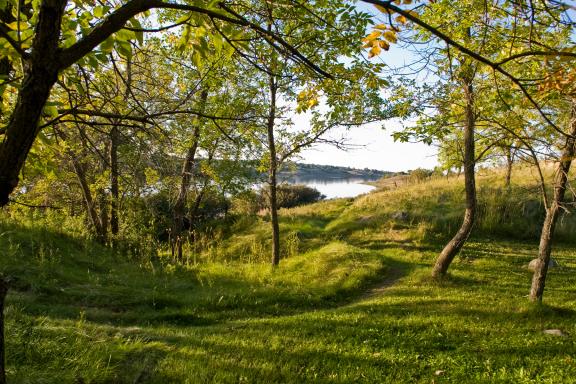 Camping in Jamestown
There's nothing like gathering around a campfire — sharing laughs, stories and maybe even a few roasted marshmallows. Discover the ideal location for your next North Dakota camping trip in Jamestown, a small town with a great sense of adventure and exciting things to do for the whole family.
First, pick your perfect campsite. With five campgrounds and more than 250 sites within 15 miles of Jamestown, you can choose from RV campgrounds and no-frills cabins to serene, lakeside tent sites.
Then, choose your own adventure.
Anglers will love spending quiet, misty mornings at one of the 21 local fishing holes located within 40 miles, reeling in walleye, perch, Northern pike, bluegill, small-mouth bass and crappie. Discover an off-the-beaten path experience at one of the smaller lakes, or head to Jamestown Reservoir or Pipestem Dam & Lake for convenience and amenities. Launch your boat from one of the seven launch points in the Jamestown Reservoir, or set up a spot along its Lakeside Marina or Pelican Point. The reservoir's Little Britches Fishing Pond is perfect for teaching young anglers the finer points of reeling in a catch. Pipestem Dam & Lake is the second largest body of water in the Jamestown area, offering premier perch fishing.
With more than 35 miles of trails, from paved and easy to unpaved and challenging, you don't have to venture far from your campsite to explore the natural beauty of the Jamestown area. Mountain bike along the rolling hillsides of Pipestem Trail, ride horses through the prairie on North Ridge Trail, or trek White Cloud Trail, a wooded nature pathway traversing alongside James River and bison-grazed pastures.
In Jamestown, you can revel in the feeling of escaping to the wilderness, while enjoying the close proximity to historical attractions, bison viewing areas and a charming downtown. Start at the National Buffalo Museum, where visitors can marvel at Dakota Miracle, a rare white buffalo, and take a picture next to Dakota Thunder, the World's Largest Buffalo Monument.
For a glimpse into Jamestown's past, examine artifacts and records from early settlers at the Stutsman County Memorial Museum, or explore a former Army post at historic Fort Seward, which boasts the largest United States flag on display in the state of North Dakota.
Or, take a break from camping to stroll along First Avenue South, First Street South and 10th Street Southeast and do some shopping in the many independent boutiques. Stop into one of the mom-and-pop restaurants or local coffee shops along the way.