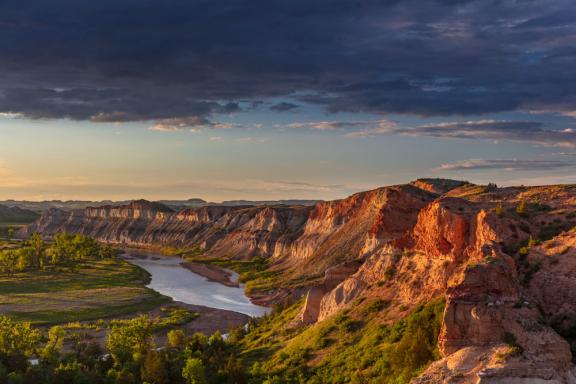 WIDE-OPEN ADVENTURE CALLS
North Dakota: Follow your curiosity, not the crowds
See why North Dakota is known for its uncrowded, expansive landscapes and warm hospitality. Our 70,000 square miles offer immense outdoor recreation opportunities and wide-open spaces. The clean, fresh air, rugged terrain and sparkling waters all scream one thing: adventure. There's something special about getting outside in North Dakota, whether you're reeling in a walleye on Lake Sakakawea, reaching the summit of a hike through the Badlands or sleeping under the stars at a state park. Here are some of the most popular ways to enjoy the great outdoors.
Be Inspired in North Dakota Parks
The great outdoors are even greater in North Dakota's largest and most famous park, Theodore Roosevelt National Park. More than 70,000 acres of majestic rocky landscape await, ripe with opportunities to hike, camp, go for a scenic drive or even get a history lesson. Each of the three units feature distinctive views of towering buttes carved by the Little Missouri River. Bison, elk, mountain lions, eagles, wild horses and bighorn sheep roam the seemingly endless landscape. 
Head to one of North Dakota's 13 state parks and our celebrated national park and you'll find year-round fun. Stay in a yurt or cabin and rent cross-country skis at Fort Ransom State Park or Cross Ranch State Park. Between our many parks and 63 national wildlife refuges, this is also a great place for birding and wildlife viewing. There are endless ways to get out and play in North Dakota's state parks.
Follow the Trail
North Dakota has hundreds of miles of paved and unpaved trails. Our most famous is the renowned 144-mile-long Maah Daah Hey Trail, which passes by all three units of Theodore Roosevelt National Park. This single-track trail offers extreme challenges for serious mountain bikers, trail runners and hikers, as well as casual and family-friendly space for biking, hiking and horseback riding. Less rugged but equally interesting options are trails in our state parks or the North Country National Scenic Trail, which starts in New York state and ends at Lake Sakakawea State Park in North Dakota (hikers only). For excitement on a different level, race the mountain bike terrain course at Pembina Gorge Recreation Area.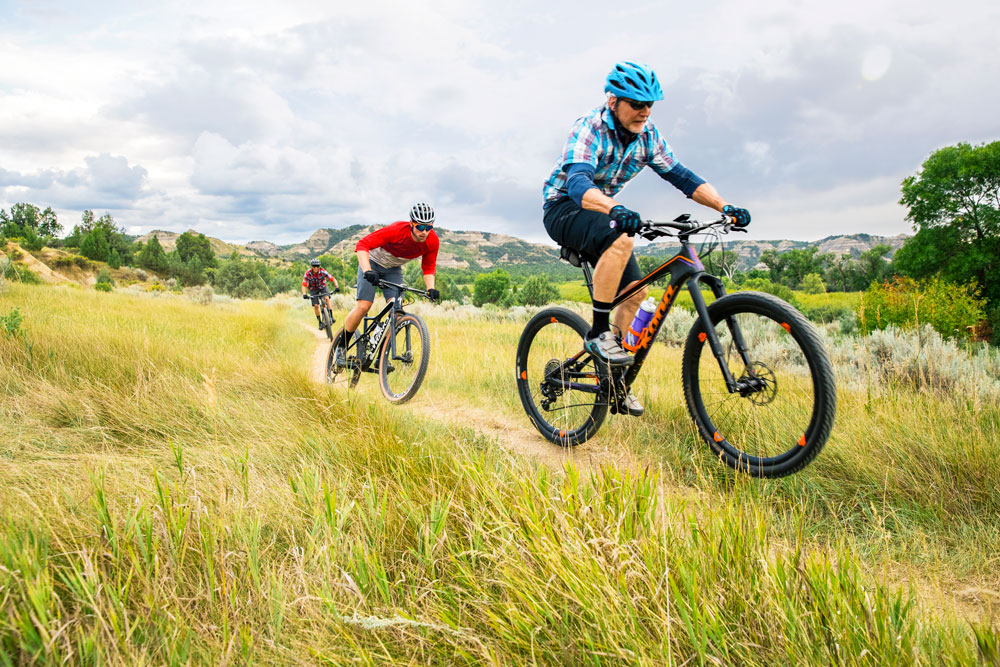 Fun on the Water
Some of our best trails are traveled by kayak or canoe. Try the Lewis & Clark Legacy Canoe Trails near Williston or the Sheyenne and Pembina rivers, which flow through beautiful oak, ash and aspen forests. Or let someone else do the paddling on a Lewis & Clark Riverboat cruise on the Missouri River separating Bismarck and Mandan. For a faster pace, bring your boat or personal watercraft and make your own waves.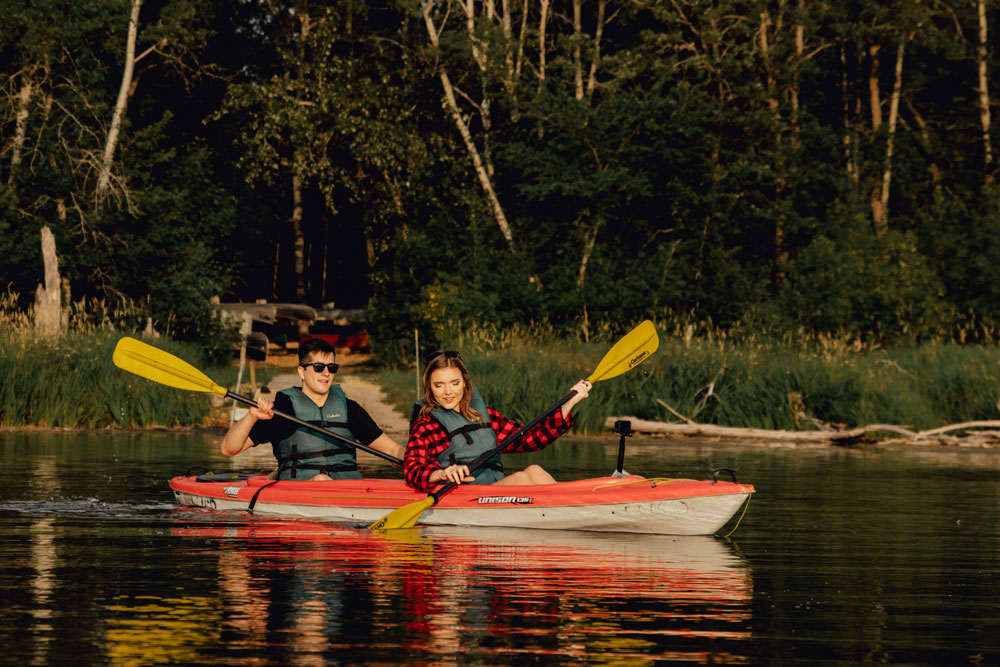 World-Class Fishing
Come fish our pristine waters, including Lake Sakakawea, a reservoir on the Missouri River with a shoreline longer than the California Pacific Coast. Fisheries statewide offer world-class angling for walleye, northern pike and perch. Find many boat ramps, public fishing piers, lodges and tackle shops to outfit a perfect day on the water — or in an ice house. Plan your fishing trip with our official Hunting and Fishing Guide.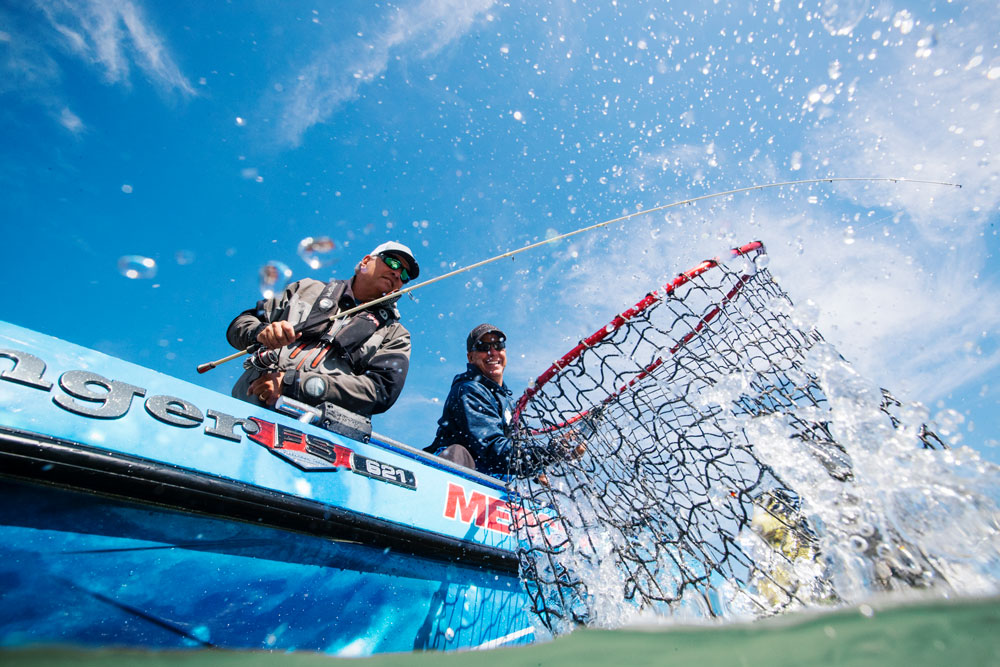 A Hunter's Dream
If you and your bird dog are searching for the best upland game and waterfowl hunting, some of the nation's best is right here. Every year, North Dakota becomes a super-highway for migrating ducks and geese — with plenty of public lands and private guides and outfitters. If you dream of pheasants, our hillsides, corn fields and cat-tailed river bottoms can make your dreams come true.
 
Golfing to Remember
For memorable and affordable golf, tee off at King's Walk Golf Course in Grand Forks, nationally ranked Hawktree Golf Club in Bismarck, The Links of North Dakota near Williston, or Bully Pulpit Golf Course near Medora for a breathtaking 18 holes atop buttes through canyons and along the Little Missouri River in the Badlands.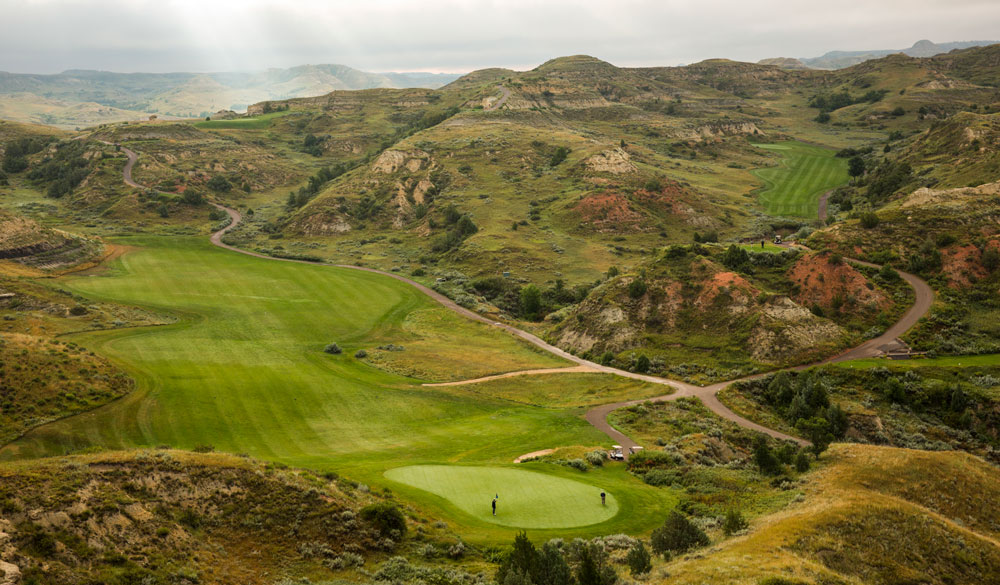 Byways to Adventure
Summer and fall are picturesque times to enjoy North Dakota's 10 scenic byways and backways and to take in the diverse North Dakota topography: from buttes, Badlands and gorges to hills, prairies and forests. 
Follow your curiosity to North Dakota, away from the crowds and into genuine adventure. An unforgettable vacation awaits.