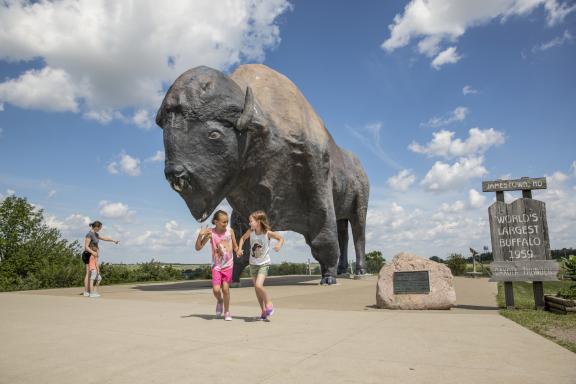 Jamestown
Jamestown has long been known for its buffalo, but there is a lot more to this eastern North Dakota city than the World's Largest Buffalo and the National Buffalo Museum.
Learn of the region's pioneer and military history at Fort Seward Military Post. Visit the Stutsman County Memorial Museum to see a collection of memorabilia from the region.  Keep in mind that legendary western writer Louis L'Amour walked the streets and gained inspiration for his novel. A walking trail takes guest to sites frequented by the late writer.
You will also find the great sports legends of North Dakota enshrined at the state's Sports Hall of Fame. Also down is Hansen Arts Park, a central location that hosts arts activities in association with The Arts Center.
When the need to get into the great outdoors arises, there are several options to choose, beginning with the Jamestown Reservoir. With seven boat launches, seven picnic shelters, two swimming beaches, three miles of hard-surfaced walking and biking trails, a world-class disc golf course and 2,492 acres of water surface area, the reservoir is Jamestown's premier recreation area. Fishing in the reservoir or river is a popular activity.
Of course, no trip to Jamestown would be complete with a meal at IDK Bar and Grill the Depot Cafe and Sabir's Buffalo Grill. If you prefer to grab coffee with a friend, visit Babb's Coffee House. After eating, do some shopping on Main Street for one-of-a-kind items. Find unique gifts, decorating items and specialty coffees at Simply Home.